Who Is Elia Kane in The Mandalorian? Katy O'Brian Character Explained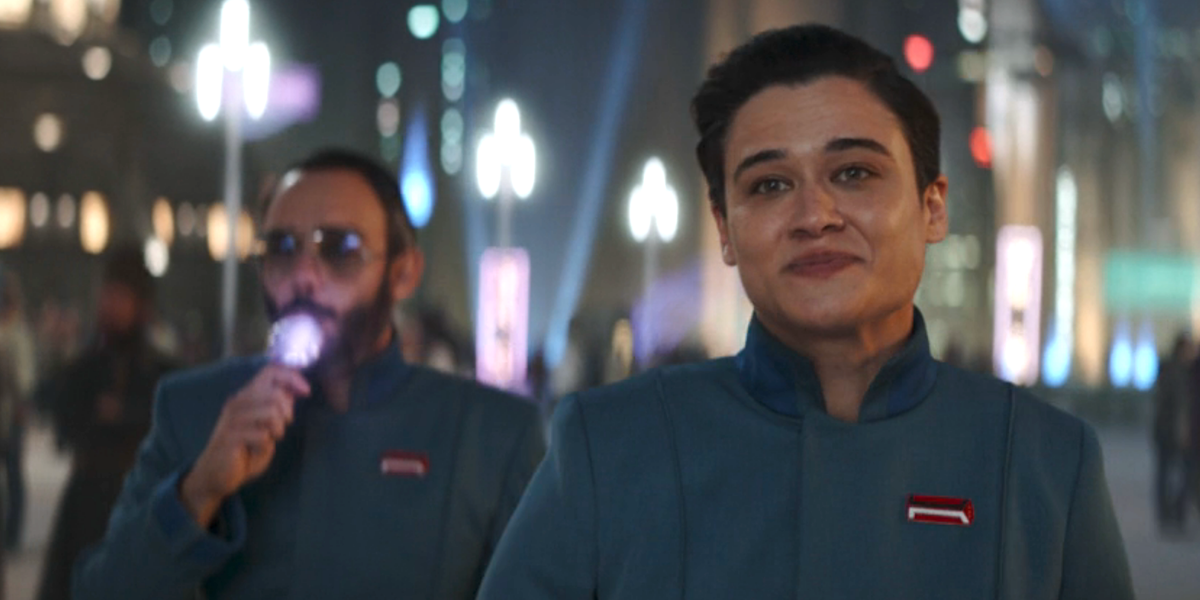 The following story contains spoilers for The Mandalorian Season 3 Episode 3, "The Convert."
---
THE MANDALORIAN starts, and ends, the third episode of its third season like most other episodes: with The Mandalorian (Pedro Pascal), his little pal Grogu, and a friend (in this case, Bo-Katan Kryze, played by Katee Sackhoff) on some sort of intergalactic adventure.
There's a space dogfight, there's action, and it's a lot of fun. But it's the middle of the episode—titled "The Convert" and directed by Minari's Lee Isaac Chung—that really blew us away; the action shifts away from Mando and company, and instead centers on a pair of characters we've seen before. There's Dr. Penn Pershing (Omid Abtahi), who popped up periodically throughout the first two seasons of the show as some kind of vague Space Nazi scientist that Moff Gideon (Giancarlo Esposito) wants to experiment on poor little Grogu, and there's the previously unnamed Imperial communications officer played by Katy M. O'Brian, who we learn in this episode is named Elia Kane.
And this middle portion of the episode introduces a story that is immensely interesting right off the bat. The episode opens in Elia's POV, as we see her watching Dr. Pershing give a speech about The New Republic's Amnesty program; essentially the Star Wars version of Operation Paperclip, allowing former Imperial officers to contribute to a reformed society. It seems like Dr. Pershing genuinely wants to be better and make the galaxy a better place. But he also really wants to keep working on cloning—just not for Moff Gideon, the Emperor, or anyone like that.
Elia appears to be part of the amnesty program as well, telling Dr. Pershing that she, too worked for Moff Gideon aboard his ship. She's basically the devil on Dr. Pershing's shoulder all episode long. He's content with his new boring, monotonous life, but she essentially eggs him into pursuing more cloning research on the side. She even takes him to a secret Imperial lab to get what he needs for his research… only to turn on him, revealing herself as an Amnesty officer, and selling him right up the river.
We next see Dr. Pershing in a machine called a "mind-flayer" (not the one from Stranger Things), where he's essentially having his mind wiped. And then Elia raises the voltage, and his brain really would seem to be wiped. Something sinister certainly seems to be afoot.
It kind of makes you wonder in an Eternal Sunshine of the Spotless Mind kind of way if maybe Elia and Dr. Pershing have been through this all before. But that much remains to be seen—and we'll surely see more of this story as Season 3 of The Mandalorian continues.
Has Elia Kane been in The Mandalorian before?
She sure has. Elia Kane certainly told plenty of lies to Dr. Pershing about all kinds of things throughout the events of "The Convert," but being the communications officer for Moff Gideon wasn't one of them.
She appeared in four episodes of The Mandalorian Season 4, usually alongside Gideon, and was instrumental in acquiring information that led to Gideon's capture of Grogu, Gideon's deployment of the Dark Troopers to fight Mando, Boba Fett, and Fennec Shand, and basically all of Gideon's evildoing throughout that season. Her character was only known as "Communications Officer" then, but we learn in "The Convert' is named Elia Kane.
However she's managed to get herself involved in this Amnesty program was a good deal, because she was certainly up to no good before.
What's Elia Kane's plan in Season 3 of The Mandalorian?

We'll have to see how the season plays out to know for sure. But based on "The Convert," it seems like at least one portion of her plan was to steal whatever information and materials Dr. Pershing needed to continue his cloning program, and likely either pursue it herself, or find someone else (likely more sinister) who could continue.
What is her plan from there? Well, we've already heard rumors that Moff Gideon escaped from custody and is at-large. She could easily still be working with him to continue pursuit of Grogu and whatever their plans were with him. She could also still be working with Emperor Palpatine, who at this point is still "dead," but we know by the time of Rise of Skywalker has "somehow returned." Perhaps Elia Kane is a key part of that "somehow."
We also know from Rise of Skywalker that Supreme Leader Snoke was some sort of a psyop set up by Emperor Palptaine. It's possible that whatever cloning scheme Elia is involved in could lead to his creation as well.
No matter what's happening here, our interest is 100% piqued. This felt more like an Andor story than our typical Mandalorian side quest, and we're here for it.
Who plays Elia Kane in The Mandalorian?
It's been a good start to 2023 for actress Katy M. O'Brian, who plays Elia Kane in The Mandalorian; in addition to returning to The Mandalorian with what clearly seems to be an immensely increased role, she also played a key character in Ant-Man and the Wasp: Quantumania named Jentorra, who leads a group of rebels that Scott Lang (Paul Rudd) and company meet while down in the Quantum Realm.
O'Brian has also appeared in shows such as Z Nation, Black Lightning, and had guest spots in shows like Westworld and The Walking Dead.

Evan is the culture editor for Men's Health, with bylines in The New York Times, MTV News, Brooklyn Magazine, and VICE. He loves weird movies, watches too much TV, and listens to music more often than he doesn't.