Valley National (VLY) Gets Regulatory Nod to Buy Bank Leumi USA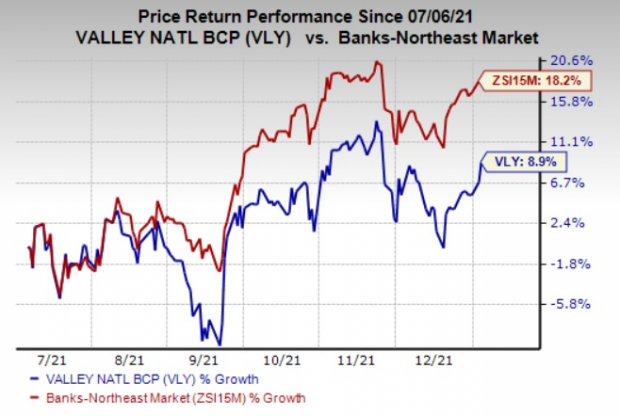 Valley National Bancorp VLY has received regulatory approval from the Federal Reserve Bank of New York and the Office of the Comptroller of the Currency to complete its previously announced acquisition of Bank Leumi Le-Israel B.M.'s U.S. banking arm — Bank Leumi USA. The closing of the deal (announced in September 2021) is expected by late first-quarter 2022 or early second quarter.
Deal closure remains subject to additional regulatory approvals, including that by the New York State Department of Financial Services and the Bank of Israel, and other closing conditions, including approval by shareholders of Valley National.
Notably, Valley National signed the deal to buy Bank Leumi USA in an effort to diversify revenues. With the acquisition, Valley National will be able to broaden its commercial product offerings, and expand its technology and venture capital banking business, thereby solidifying its position as a top-tier, relationship-focused commercial bank.
The pro-forma company, which will be formed as a result of the merger, will be the 29th largest publicly traded U.S. bank by assets.
Bank Leumi, which provides full-service relationship banking for middle-market commercial clients and private banking services for high net-worth individuals, has a strategically distributed network as it operates five commercial offices in New York, Los Angeles, Palo Alto, Chicago, and Miami.
Terms of the Deal and Financial Impact
At the time of the deal announcement, it was decided that Bank Leumi shareholders will receive 3.8025 shares of Valley National's common stock along with $5.08 in cash (subject to specified adjustments) for each of their shares held. Once the deal is complete, Bank Leumi Le-Israel B.M. will own more than 14% of Valley National's common stock.
Also, it was projected that the transaction would be 7% accretive to Valley National's earnings (on a fully phased-in basis) in 2023. A 1% dilution to tangible book value has been projected, which will be earned back in nearly a year post-closing.
The deal is expected to be effectively neutral to Valley National's tangible common equity to tangible asset ratio.
Notably, Valley National and Bank Leumi Le-Israel B.M. also entered an agreement providing for an ongoing business relationship, including loan participations and customer referrals, which will enable Bank Leumi Le-Israel B.M. to expand its activity in the United States.
Effective as of and contingent upon the merger, Valley National will add two directors designated by Bank Leumi Le-Israel B.M. to its board of directors.
Bank Leumi Le-Israel B.M. agreed to a four-year lock-up with respect to shares of Valley National's common stock to be issued in the transaction, with 25% of the shares being released from the lock-up on each anniversary of closing. Notably, following the closure, Bank Leumi Le-Israel B.M. will be subject to customary voting and standstill agreements.
Our Take
Valley National has been taking inorganic expansion plans to diversify its revenue mix amid the low interest rate environment. Further, the company is leveraging digital technology and has launched its online bank — Valley Direct. This will help it reach beyond its current footprint in New York, New Jersey, Florida and Alabama.
Over the past six months, shares of Valley National have gained 8.9% compared with 18.2% growth recorded by the industry.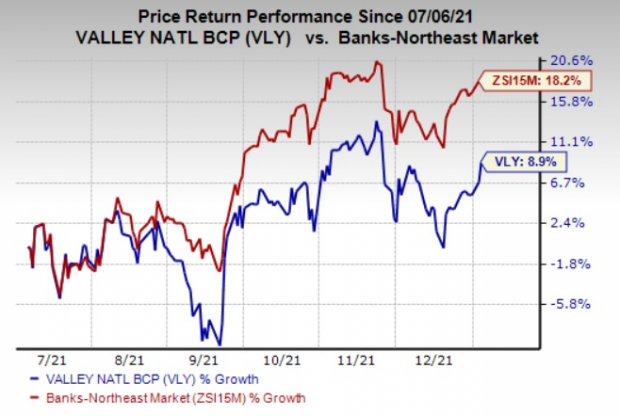 Image Source: Zacks Investment Research
Currently, Valley National carries a Zacks Rank #3 (Hold). You can see the complete list of today's Zacks #1 Rank (Strong Buy) stocks here.
Inorganic Growth Efforts by Other Finance Companies
Over the past few months, several finance sector companies have made consolidation efforts to counter the low-interest-rate environment and heightened costs of investments in technology.
FirstCash Holdings, Inc. FCFS completed the acquisition of American First Finance, a technology-driven, virtual lease-to-own and retail finance provider for underserved, non-prime customers. The cash-and-stock transaction, valued at $916 million, was announced in October 2021.
FirstCash has a proven performance history in retail-based operations, primarily for cash-and-credit constrained consumers. Via the acquisition, FCFS will become a pioneer in the complementary and burgeoning point-of-sale and buy-now-pay-later payment space.
In early December, United Bankshares, Inc. UBSI announced the completion of its merger deal with Community Bankers Trust Corporation.
The buyout brought together two high-performing banking companies. It also bolsters United Bankshares' position as one of the largest and best-performing regional banking companies in the Mid-Atlantic and Southeast. The combined entity will now operate across 250 locations in opportunistic markets in the United States.
Infrastructure Stock Boom to Sweep America
A massive push to rebuild the crumbling U.S. infrastructure will soon be underway. It's bipartisan, urgent, and inevitable. Trillions will be spent. Fortunes will be made.
The only question is "Will you get into the right stocks early when their growth potential is greatest?"
Zacks has released a Special Report to help you do just that, and today it's free. Discover 5 special companies that look to gain the most from construction and repair to roads, bridges, and buildings, plus cargo hauling and energy transformation on an almost unimaginable scale.
Download FREE: How to Profit from Trillions on Spending for Infrastructure >>
Click to get this free report
FirstCash Holdings, Inc. (FCFS): Free Stock Analysis Report
United Bankshares, Inc. (UBSI): Free Stock Analysis Report
Valley National Bancorp (VLY): Free Stock Analysis Report
To read this article on Zacks.com click here.
Zacks Investment Research
The views and opinions expressed herein are the views and opinions of the author and do not necessarily reflect those of Nasdaq, Inc.