Upside falters just ahead of 14.0000… for now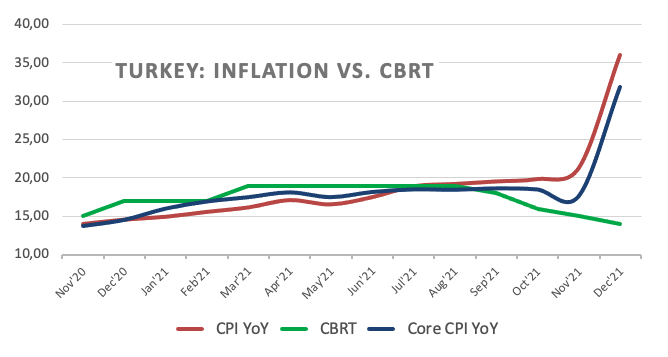 USD/TRY extends the rebound to the 14.00 area on Monday.
Turkish headline CPI rose 13.58% MoM, 36.08% YoY in December.
Turkish Manufacturing PMI improved a tad to 52.10 last month.
The Turkish lira extends the rout and pushes USD/TRY to fresh 2-week peaks in levels just shy of the 14.00 hurdle on Monday.
USD/TRY stronger on higher CPI
USD/TRY advances for the sixth consecutive session on Monday in response to a resumption of buying interest in the greenback and further domestic headwinds facing the lira.
TRY suffered another bout of selling pressure after Turkey's inflation figures showed the CPI rose at a shocking 13.58% MoM in December and 36.08% from a year earlier, while the Core CPI gained 31.88% over the last twelve months.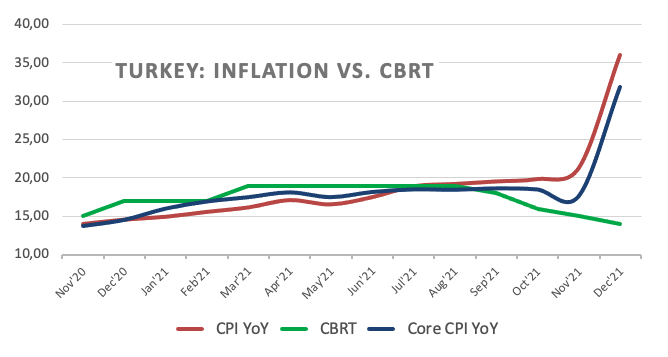 The lira continues to give back part of the strong gains recorded soon after the government announced a plan aimed at preventing further dollarization of its economy in past days, as enthusiasm among Turks continues to fizzle out.
Economic data from Turkey showed Producer Prices rose 19.08% on a monthly basis and 79.89% over the last twelve months and a slight improvement in the Manufacturing PMI to 52.10 in December.
What to look for around TRY
The lira resumed its downtrend in past sessions, as markets (and Turks) appeared to digest the recently announced government measures to promote the shift from dollars to the domestic currency. The CBRT's reluctance to change (collision) course and the omnipresent political pressure to favour lower interest rates in the current context of rampant inflation are forecast to keep the lira under persistent pressure. Another visit to the all-time high north of the 18.00 mark in USD/JPY should not be ruled out just yet.
Key events in Turkey this week: December Inflation Rate, Producer Prices, Manufacturing PMI (Monday).
Eminent issues on the back boiler: Progress (or lack of it) of the new scheme oriented to support the lira. Constant government pressure on the CBRT vs. bank's credibility/independence. Bouts of geopolitical concerns. Much-needed structural reforms. Growth outlook vs. progress of the coronavirus pandemic. Potential assistance from the IMF in case another currency crisis re-emerges.
USD/TRY key levels
The pair is gaining 1.15% at 13.3675 and a drop below 11.6665 (55-day SMA) would open the door to 10.2027 (monthly low Dec.23) and finally 9.3734 (200-day SMA). On the other hand, the next up barrier lines up at 18.2582 (all-time high Dec.20) followed by 19.0000 (round level).