Trump's Multi-Million Dollar Fraud Trial Takes A Twist As Insurance Underwriter Alleges CFO Gave Misleading Information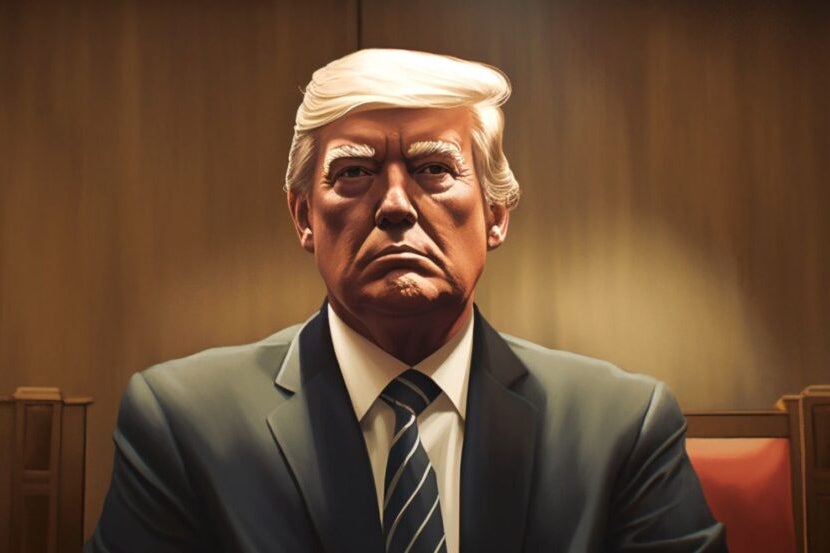 Former U.S. President Donald Trump's ongoing legal battle concerning a $250 million fraud case in New York, which could massively dent his personal wealth, has unveiled a new development. The lawsuit accuses Trump, along with his sons Eric and Don Jr., and executives from the Trump Organization of defrauding lenders.
What Happened: According to an ABC News report on Sunday, the lawsuit alleges that Trump and his associates engaged in "numerous acts of fraud and misrepresentation" over a decade to inflate Trump's net worth, thereby securing more favorable loan terms. New York Attorney General Letitia James initiated the case.
Former CFO of the Trump Organization, Allen Weisselberg, allegedly gave misleading information about Trump's assets. This came to light through Claudia Mouradian, an insurance underwriter who had dealings with Weisselberg in 2018 and 2020.
According to Mouradian, Weisselberg stated that Trump held strong cash assets and stable properties, which had been appraised by third parties. This influenced her conclusion that the Trump Organization was financially robust.
See Also: Trump's Niece Says 'Santos Had To Go' After Fellow Republicans Seek Expulsion Of New York Congressman: '1 Down, 146 Insurrectionists To Go'
However, Weisselberg subsequently admitted during his deposition that the Trump Organization did not have outside property valuers, contradicting his previous statements to Mouradian. The court adjourned for the day following this revelation.
Testimony from Ivanka Trump is expected on Wednesday, Nov. 8, while Donald Trump Jr. will begin his testimony this Wednesday. Donald Trump is slated to testify on Monday.
Why It Matters: This case follows a series of controversies over property valuations related to Trump's Mar-a-Lago resort. Eric Trump had previously criticized the judge the judge's valuation of the property, claiming it to be grossly undervalued.
The trial, which began following a ruling that fraud had been committed, has seen numerous twists and turns. With the former CFO's recent admissions, the narrative continues to unfold.
Trump has consistently objected to the valuation of his properties in the case, claiming it to be a ploy by the New York Attorney General to damage his businesses. With the trial ongoing, these revelations could have far-reaching implications.
Read Next: Trump Says Legal Bills Exceed $100M Amid Multiple Legal Disputes: 'Cost Me A Couple Of Billion Dollars To Be A Politician'
---
Engineered by Benzinga Neuro, Edited by
Shivdeep Dhaliwal

---
The GPT-4-based Benzinga Neuro content generation system exploits the extensive Benzinga Ecosystem, including native data, APIs, and more to create comprehensive and timely stories for you.
Learn more.
---