The 'Tesla Road Rage' Guy Had A Violent Past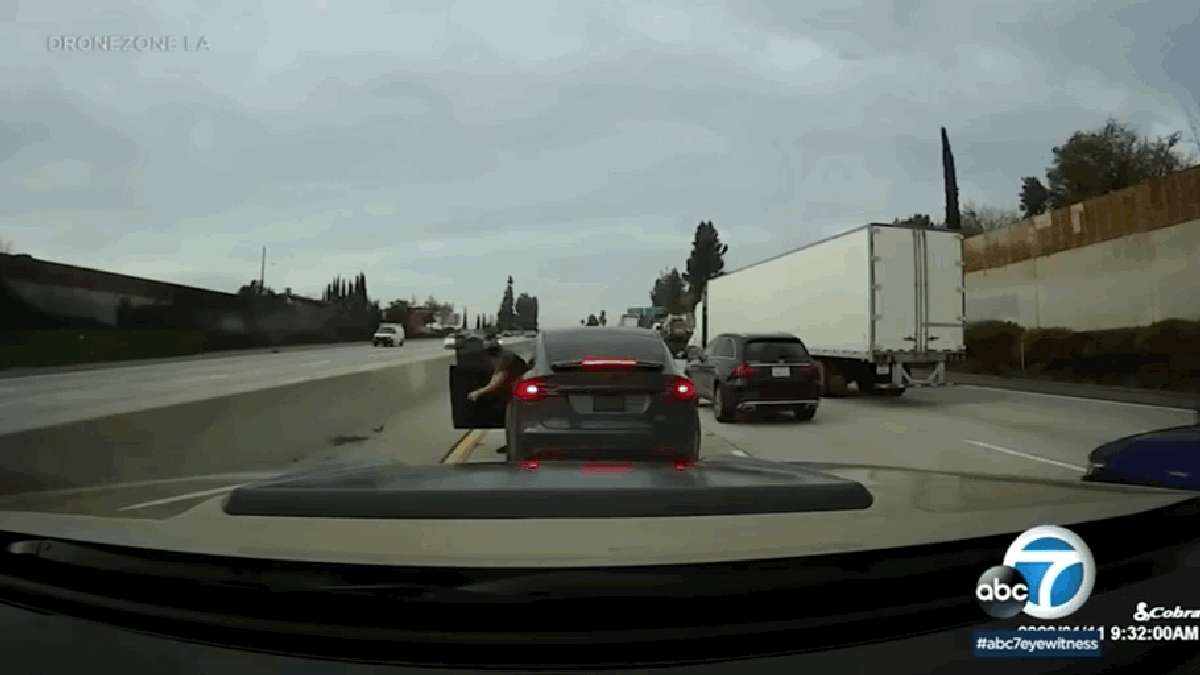 "Tesla Road Rage Guy" Nathaniel Radimak literally terrorized Southern California freeways in late 2022 and early 2023 before he was arrested in February. Road rage is one thing, but this guy was something else. While his reasons for the attacks appeared to be random, the LA Times shows Randimak had a history of violence that might explain his random outbursts.
The Hype Behind Tesla Stock Success In 2023
For weeks, no one had any idea who this guy was. The only thing people knew about him was that he drove a black Tesla and that he would attack cars with a pipe. His attacks were swift and left people — mostly women — shaken.
In June, he threatened a 74-year-old woman outside a doctor's office in Glendale, and then in November he threatened a woman at a storage facility in Atwater Village, prosecutors said. That same day, they allege, he got out of his Tesla, threatened a woman on a freeway and broke one of her headlights.

On Jan. 11, prosecutors say, he struck another vehicle with a pipe on the 2 Freeway near York Boulevard, an incident caught on dashcam video. He is also accused of following a car from a Pasadena mall later that day, nearly hitting it with his vehicle, then striking it with a metal pole.
His road rage started a few years earlier, in 2020, Radimak was found to be connected to a road rage incident in Hollywood. When police searched his car, they found $30,000 in cash and steroids. He faced battery and drug distribution charges from that incident.
An ex-girlfriend he dated who spoke with The Times painted a picture of a man prone to violent and terrible outbursts. She described how he hit her repeatedly and "and threatened to kill her and her family." Their time together was hell.
During one of his outbursts, he threatened her with a baseball bat while beating on the outside of her house; another incident involved him swinging another bat at her face when she tried to talk to him. Once when she told him to leave, she says that he threw a milk crate and a bucket of water at her. The woman's aunt even stepped in to try and get Radimak to leave. He threatened the aunt and her family and tried to choke and punch her.
"He said he'll beat me up and that no one will recognize me and that I will make headlines," the woman said.
Another incident happened over something she wasn't even a part of. She said he came home mad over an incident that happened at Best Buy and blamed her for it. Because of it, he head butted her and tried to choke her.
Yet another incident happened during the woman's friend's wedding. When Radimak picked her up, he took her to a parking lot and threatened her with a tire iron and punched her in the stomach.
Eventually they broke up, but even then, she says Radimak would send her threatening emails and texts. "A massacre is coming," she says one of the messages read. She filed a restraining order against Randimak in 2022. While it's great to see this guy finally behind bars, he's definitely a monster and five years isn't nearly enough for the things he's done.