'The Little Mermaid' Virtual Press Conference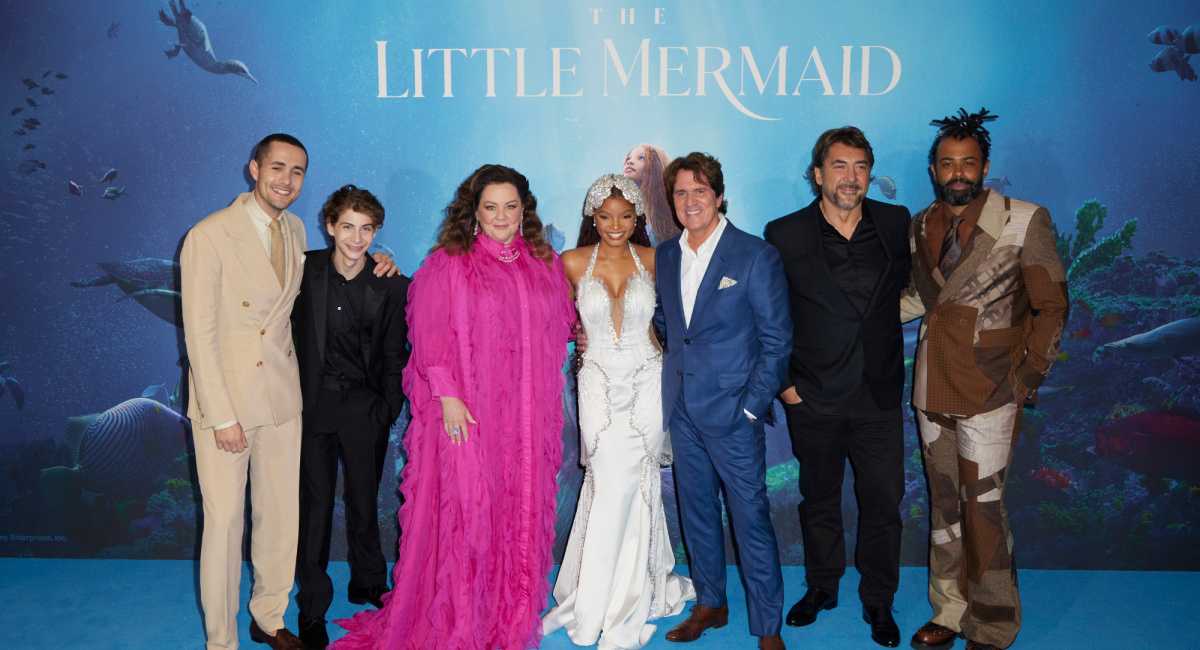 The upcoming 'The Little Mermaid' is a live-action reimagining of the original 1989 animated feature film. The Halle Bailey-led movie swims into theaters on May 23rd.
The official synopsis for 'The Little Mermaid' is:
"The youngest of King Triton's daughters, Ariel is a beautiful and spirited young mermaid with a thirst for adventure. Longing to find out more about the world beyond the sea, Ariel visits the surface and falls for the dashing Prince Eric. Following her heart, she makes a deal with the evil sea witch, Ursula, to experience life on land."
The movie is directed by Rob Marshall, who has directed musical movies such as Disney's 'Mary Poppins Returns', 'Chicago', and 'Nine'. The film had its first premiere in Los Angeles at the Dolby Theater on May 8, 2023.
'The Little Mermaid' stars Halle Bailey as Ariel, Jonah Hauer-King as Prince Eric, Melissa McCarthy as Ursula, Daveed Diggs as Sebastian, Awkwafina as Scuttle, Jacob Tremblay as Flounder, Javier Bardem as King Triton, and Noma Dumezweni as Queen Selina.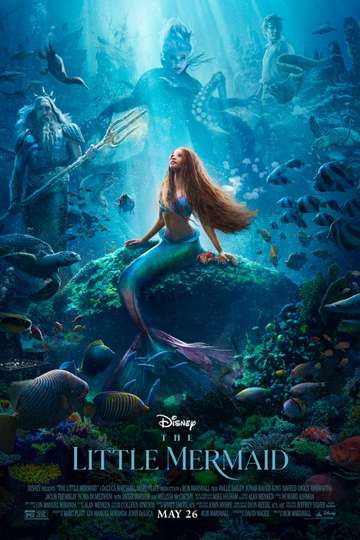 Moviefone recently had the pleasure of attending the virtual press conference for 'The Little Mermaid'. In attendance were cast members Halle Bailey, Jonah Hauer-King, Melissa McCarthy, Daveed Diggs, Awkwafina, Jacob Tremblay, Javier Bardem, Noma Dumezweni, director Rob Marshall, producer John DeLuca, and Academy Award-winning composer Alan Menken.
Here are 10 things we learned from 'The Little Mermaid' virtual press conference:
1. Director Rob Marshall Cried When Halle Sang At Her Audition
Adapting an animated classic like 'The Little Mermaid' is no easy task, as is finding the right actor to play Ariel. Rob Marshall and his team auditioned countless actors, but Bailey's emotional performance stayed with him.
Producer John DeLuca recalls the moment they heard her sing 'A Part Of Your World':
John DeLuca: Well, Rob, when she first auditioned and sang the song for us, I turned to Rob and there were tears streaming down his face.
The director elaborates more on Bailey's audition, and how she was the very first actor they saw for the role.
Rob Marshall: I mean, here's the thing. The first actor we saw for this role was Halle. The first thing she did is she came in and sang for us. And she sang that song. She shut her eyes and started to sing the song. And I thought, I couldn't believe what I was hearing. I just thought she's so deeply connected to what she was singing about. It's so emotional. It's so beautiful. And I thought, [laugh] Oh my gosh, we've been doing this for five minutes. Have we found Ariel? And we had."
Even though Marshall and his team saw tons of actors for the role after Bailey, that was the moment that she landed the role of Ariel,
Rob Marshall: But then we saw hundreds of other actors after that, and Halle kept coming back in. And we saw every ethnicity. We saw everybody. And she claimed the role for hers. That's what happened.
2. 'Under The Sea' Was The Most Complex Number To Shoot
The award-winning song 'Under The Sea' is certainly the one fans will be looking forward to in the live-action adaptation. The upbeat Caribbean-inspired song sang by Sebastian, who is trying desperately to convince the land-curious mermaid how lively the sea is, filled with colorful sea creatures dancing to the tune.
Producer John DeLuca says this was the most complex number to shoot in the movie.
John DeLuca: And to conceive and shoot. And just, to have an idea of what we're gonna do, and then how we were gonna do it. The logistics of that. I remember Rob and I kind of put it aside for a long time.
Rob Marshall: I know, it was so daunting. Because there's one live actor. One live actor in this massive production number.
Marshall really wanted Ariel to sing in 'Under The Sea' and composer Alan Menken came up with the changes on the spot.
Alan Menken: Always at the spur of the moment.
Rob Marshall: Yes, that was the best. I mean, you know, we said, "Alan, we really need her to sing," and he went into the piano and said, "How about this," and, "How about this," and – we tried it on Halle.
Alan Menken: It's what I do. It's what I live for.
3. The Cast Got To Record Together And In Person For The Movie
Jacob Tremblay, who voiced Flounder, talks about being able to rehearse with the cast prior to recording, and how recording in person made a difference for the voice work.
Jacob Tremblay: We were all together for quite some time in the studio in England. And we just got to know each other so well. And that definitely really helped with the voice work. Because I preferred it so much better than kind of being in a booth and especially 'cause of Covid. It would usually be on Zoom, but it was definitely a privilege that we all got to be together and we got to, you know, do our scenes together.
Awkwafina (who voiced Scuttle) chimes in about her experience working on the film
Awkwafina: I mean, definitely for me the first time I've ever read a scene with other actors. Usually, you know, you're in the booth and a lot of the time the other actors are, you know, like the directors just read them with you. But we were all able to do it and yeah. It just all happened there. And there were other people in the room too. It was like pretty crazy. And that one day is where most of our performances came from.
4. Cast Says The Rehearsal Process Was Very Different Than Anything They've Done Before
Rob Marshall approached the movie from a theater point-of-view and the rehearsal process was important to the director. The cast mentioned that the process was so different from what they usually know in films.
Rob Marshall: I think it's something I always do. I mean, you know, obviously I come from the theater. We all (referring to John DeLuca and Alan Menken) come from the theater. So there's a process that I think you have to do. Musicals are kind of a hybrid in a funny way. Movie musicals are a hybrid of theater and film. Because you have to, you know, you can't just walk in and start singing. You have to learn. Or the choreography. It's like all part of it. I mean, I always feel that my job as a director is to protect the actors. Make them feel safe in a space where they can screw up and be terrible, and then get better. And not feel judged. I mean, that to me is the most important part of it. And so, it does feel small. It feels intimate. Because you're creating. And you know what, film is very intimate.
5. Melissa McCarthy's Feet Never Touched The Ground During Filming
Playing the sea witch Ursula had Melissa McCarthy spending most of her time on wires or a rig for the duration of filming.
Melissa McCarthy: I slid down the clamshell occasionally, on my back, but I was never literally on my feet. We were either up in rigs or, you know, there were all different magical things. You know, if you were diving, it was one rig. If you were spinning, it was another. But no, never on the ground.
Rob Marshall and John DeLuca remember back to this, and the massive team of stunt people who helped make this happen.
John DeLuca: Because then we would have to teach all the stunt people, the 10 to 20 stunt people that would take them through on these apparatus, and they had to know every line, every breath.
Rob Marshall: I mean, sometimes I would say, "action," [the actor] would say two lines. And I'd say, "cut," and then we'd put them on another apparatus, put them on wires or something and then go, "Action." And then, one line, cut. Like, literally, it was like a mosaic.
6. Halle Bailey Talks How Playing Ariel Helped Her Find Herself
The actress opens up on playing her favorite childhood Disney Princess, and how the character inspires her in real life.
Halle Bailey: I tell people all the time I feel like Ariel truly has helped me find myself and like this young woman version of me, you know, because I, well, it's been five years of my life now. From 18 to now being 23, so those are like, very intense like transformative years as you're developing as a young woman. But I feel like especially these themes of the film and what she had to go through with her passions and drive, and speaking up for herself, and even though it
may be scary, she went for it. I feel like those things I really try to adopt and give to Halle now. So, she's taught me so much, for sure.
7. New Songs For The Live-Action Adaptation
Composer Alan Menken talks about creating new songs and finding the right place for them in the film.
Alan Menken: It's a group process. Rob and John, David Magee, Lin-Manuel Miranda and me got together. Like first at your apartment, then at my studio. And we went through how the story's being adapted by David, and how the structure is. And then where are the potential spots? So it's simply as simple as that. And those decisions are made, first of all, by character, by moment, but also by sequence of a score, and what's needed at a certain moment. So we chose the moment when Prince Eric, he's been told, "Don't go back out there, you can't," and he just thinks about this girl. And it's a love song to her, and it's a love song to the sea. And to his uncharted waters. So his life is ahead of him. So it ends up being a real important theme throughout the movie.
The composer talks more about collaborating with Lin-Manuel Miranda.
Alan Menken: Then we had the first time she's on land. And was so much fun, because I gave Lin a very sort of lilting tune and he said, "Can we give a kind of a bap-a-bap, mm-bop-bop." So it's a three-against-two kind of feel. Said, "Okay, let's do that," and then boom, the song where she's so excited, everything is so new and so wonderful. And then [Prince Eric] doesn't think it's the girl when he realizes she can't speak. And then she's so, for the first time, heartbroken. And then the Scuttlebutt, which is just, that's a surprise gift of him, 'cause I gave him this Caribbean tune. And Lin sort of did a rap over it that was so perfect. Used the music, but it had this rhythmic pulse to it. It was just pure Lin-Manuel Miranda.
8. Javier Bardem Originally Had A Song In The Film
A few members of the cast acknowledge that they don't see themselves as singers but working with Rob Marshall and Alan Menken brought out the musicality in them, including Javier Bardem. Unfortunately, the song didn't make it to the final version of the film.
Alan Menken: Javier sang a song that, it happens all the time in musicals, we didn't need that particular spot for the film.
9. Daveed Diggs Says This Is The Coolest Thing He's Ever Been A Part Of
The actor, widely known for his role as Marquis La Lafyette in Broadway's 'Hamilton' talks about his experience in making 'The Little Mermaid', and seeing it premiere on the big screen.
Daveed Diggs: We worked on it like it was a small thing. At least in that work session, it really felt like we were kind of doing, like, community theater. We were pushing boxes around, like, to make sets, you know what I'm saying? And we got in this groove where it was, like, that's how you make art. We made something that we understood, that everybody could wrap their arms around, and that we really believed in and knew inside and out. And then so to show up when they're shutting down the street and, like, the posters are huge, and then you watch the film and it's massive, on this massive screen, and the world, it's a whole world that I never saw at all, you know what I'm saying?
10. Jonah-Hauer King Talks His Favorite New Addition To The Original Story
The romance between Ariel and Prince Eric is an iconic one. Jonah-Hauer King talks about his favorite new additions to their love story.
Jonah Hauer-King: Friendship, I think. Disney romances are always, you know, they're filled with that instinctive attraction to one another. We all wanna see that. But I think what was fun about this, and I think a lot of it came from our off-screen selves as well, was looking at Ariel and Eric as two people who were kindred spirits who felt a little bit restless, who felt like they were behind the four walls of their respective castles, and were very much looking outwards and not in. And I think what was nice about that was that it meant that their relationship feels really earnd. They both felt like they were teaching each other things. They were excited and fascinated by each other's worlds although they didn't actually know it until the end.
He elaborates more on the love story:
Jonah Hauer-King: I think it's a really good message for what it means to be in love and what it means to be in a relationship is ultimately tied to friendship. That's the fundamental thing of it. And that's why it lasts, and that's what makes it special. So, that was really fun to explore and it was easy 'cause, you know, [Halle's] a riot, so we kinda got on fine.
'The Little Mermaid' will swim into in theaters on May 26, 2023.
Other Movies Similar to 'The Little Mermaid:'
'The Little Mermaid' is produced by Walt Disney Pictures, Lucamar Productions, and Marc Platt Productions. It is set to release in theaters on May 26th, 2023.