Thailand Residents Urged to Stay Indoors as Air Pollution Reaches Severe Levels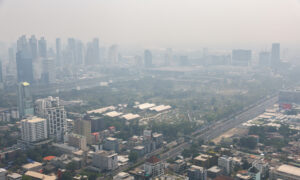 Residents across Thailand have been urged to stay indoors and wear face masks when leaving their houses as the country experiences dangerously high levels of air pollution.
Thai government spokesman Anucha Burapachaisri said Wednesday that Thailand's prime minister had advised companies to allow workers to work from home to reduce air pollution from traffic, The Nation reported.
"Prime Minister Prayut Chan-o-cha is concerned about people's health, especially those in vulnerable groups, and advises them to wear sanitary or N95 masks when leaving the house and to avoid prolonged doors activities," Burapachaisri told reporters.
The country's pollution control department said that "stagnant weather conditions" were exacerbating vehicle emissions and seasonal fires on agricultural lands.
"We have to intensify [efforts to tackle pollution] by encouraging people to work from home. For schools… they might have to avoid outdoor activities in order to prevent impacts on children's health," the department's director general told reporters.
The Bangkok Metropolitan Administration warned that air pollution in the capital city may not improve until Saturday.
PM2.5 in Ang Thong province reached 155 micrograms per cubic meter on Friday, which is 31 times the level recommended by the World Health Organization (WHO), according to the Swiss air quality company IQAir.
Chiang Mai—World's 12th Most Polluted City
Thailand's Chiang Mai city was ranked the 12th most polluted city in the world, with its PM2.5 levels reaching 84.7 micrograms per cubic meter on Friday.
PM2.5 refers to particulate matter with a diameter of less than 2.5 micrometers. The WHO recommends that annual average PM2.5 levels should not exceed 5 micrograms per cubic meter as even low concentrations pose significant health risks.
IQAir stated that exhaust fumes from traffic, crop burning, construction-induced pollution, and smoke output from factories are contributing factors to the high levels of PM2.5 in Thailand's cities.
"Thailand as a country can be counted as a place that has numerous polluted cities, some of which are famous for their levels of smoke and haze," it stated, citing Bangkok and Chiang Mai as some of Thailand's polluted cities.
Back in 2019, local authorities in Chiang Mai declared a state of emergency after the city's air pollution level reached "a disastrous level," with PM2.5 levels exceeding 700 micrograms per cubic meter.
According to the WHO, the burden of disease attributable to air pollution is comparable to other major global health risks such as unhealthy diets and tobacco smoking. High exposure to air pollution could cause lung cancer and acute respiratory diseases, including asthma.
Reuters contributed to this report.