Spider-Man 2 Has Peter And Miles Stop Crime Even When You're Not In Control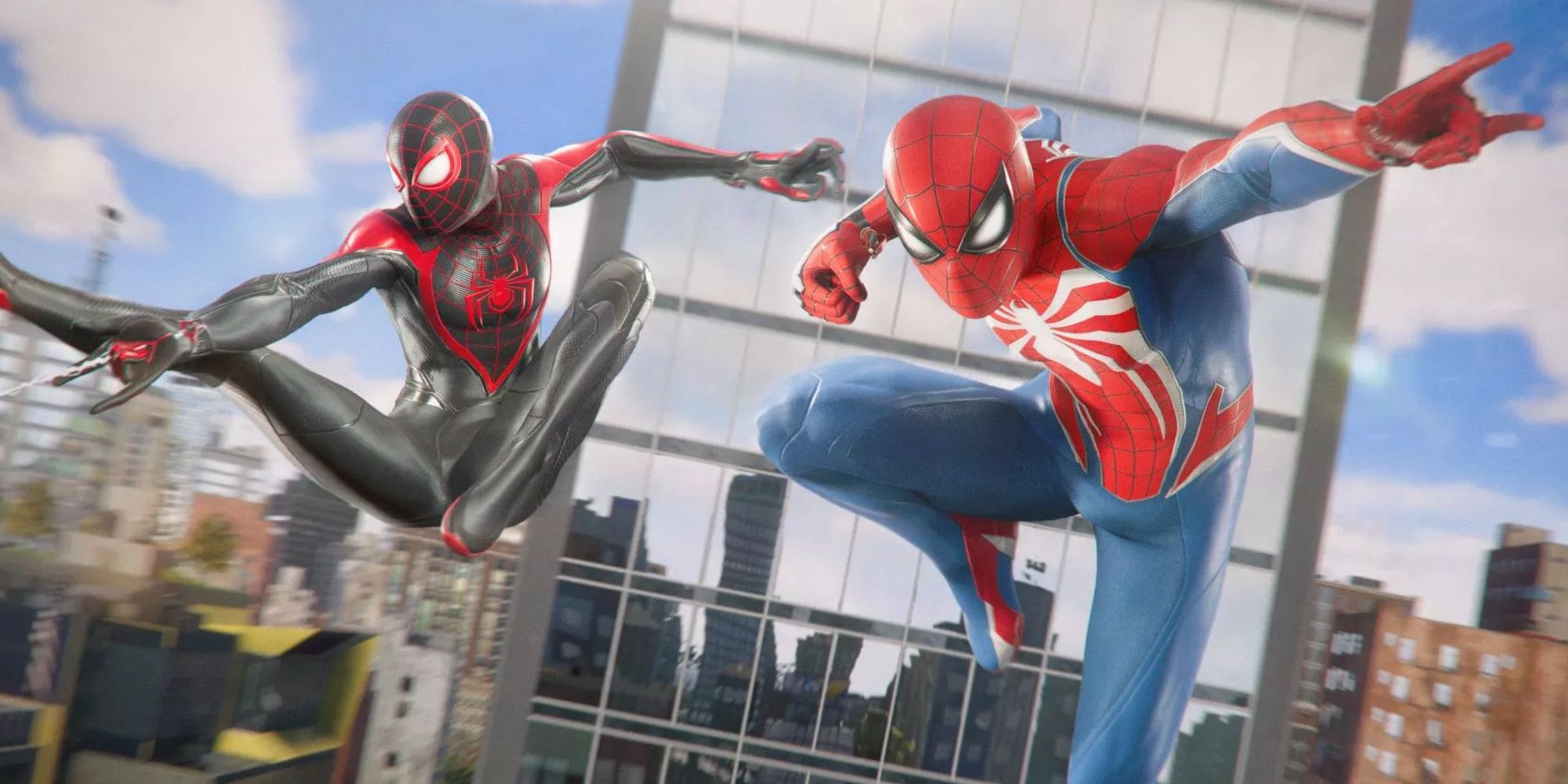 Spider-Man 2 will allow you to play as both Peter Parker and Miles Morales when it launches next month, even allowing you to switch between the two web-slingers with just the push of a single button. While it was never confirmed what the other Spider-Man is actually doing when you're not in control of them, most of us assumed that the other would simply vanish into the ether, prepared to leap into action at a moment's notice whenever the player feels like switching again.
However, it seems we assumed wrong, as a recent interview between Danny Peña and Spider-Man 2 associate animation director James Ham has revealed that players will be able to stumble across Miles Morales when they're playing as Peter Parker, and vice versa. Better yet, Ham claims that you'll also sometimes find the Spider-Man that you're not controlling doing the typical Spider-Man-related activities, such as web-swinging and stopping crimes.
Related: I'm Still Not Sure If Spider-Man 2's Symbiote Suit Is Cool Or Cringe
"There are times where you can be swinging throughout the city and you can see the other Spider-Man sometimes actively doing something or stopping a crime," says Ham. "Sometimes you can hop in and then they'll join you. It's a cool experience to be able to play with both Peter and Miles."
We don't quite know how often this little feature will occur or whether it's something that will just happen naturally as you swing through New York, but it's nice to see that the other Spider-Man won't just be kicking their feet up somewhere while you take the spotlight. It'll also help the world feel a lot more alive than in previous games too, as the city will continue to live and breath without revolving around the main character.
This neat little trick is just one of the exciting new features that are going to be introduced in Spider-Man 2, as we already know that the game will contain web-gliding and two new boroughs in Queens and Brooklyn. It was also recently discovered that the previous games collectable backpacks have been removed, and have instead been replaced by little Spider-Bots that all seem to be references to Spider-Verse movie characters. Definitely an upgrade.
However, for everything that Spider-Man 2 does have, there is something that fans have been asking for that won't be added this time around. We asked Spider-Man 2 narrative lead Jon Paquette whether fan-favorite character Gwen Stacey will make an appearance in the game given that we've seen hide nor hair of Insomniac's version of the character in the past two games. Unfortunately, she won't be in Spider-Man 2 either, as Paquette explained that she "isn't part of [Insomniac's] story".