Skims, 818, Kylie Cosmetics… Which Kardashian-Jenner's Business Is Most Successful?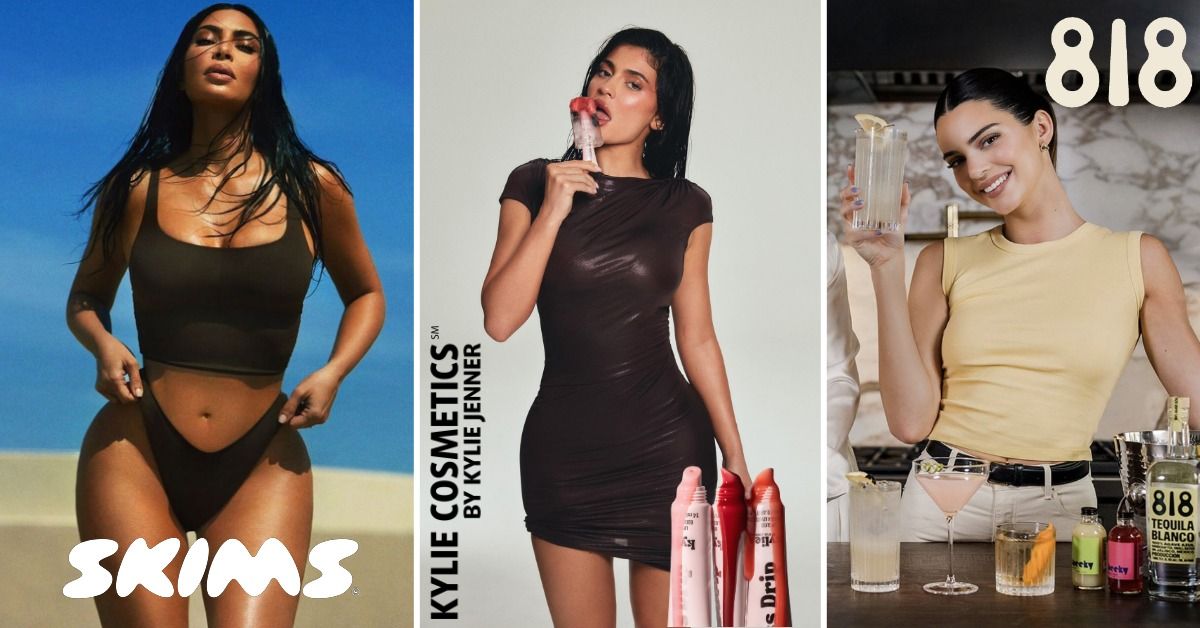 Skims, Kim Kardashian's shapewear line, generated over $500 million in revenue in 2022 and is currently the most successful Kardashian-Jenner brand.
Kylie Cosmetics, founded by Kylie Jenner, earned more than $360 million in a year and became one of the youngest billionaires in the country.
Good American, Khloé Kardashian's denim brand, made $200 million in annual sales in 2022 and stands out for its inclusive range of sizes and body positivity message.
The Kardashian-Jenner clan may have risen to fame on reality television in the early 2000s (debuting on the E! network's Keeping Up With the Kardashians), but they leveraged that reality TV stardom into multiple businesses that have made them millions (and more).
Kim, Kourtney, Khloé, Kendall, and Kylie have come a long way from simply gallivanting around Calabasas for E!'s cameras, and have since found their own ways in the business world around things they're passionate about. While Kim started skincare, beauty, and fragrance lines, she also made her fortune from her innovative shapewear line, Skims. Likewise, Kylie may be the youngest of the bunch, but she used her popularity on social media and created Kylie Cosmetics.
Khloé, Kourtney, and Kendall went on to create their own ventures as well. From Khloe's denim line, to Kendall's tequila brand, to Kourtney's quality vitamins, the Kardashian-Jenners have found paths for themselves outside of TV. Although Kendall's 818 generated more than $6.8 million in sales in 2021 (as noted by The Spirits Business) and Kourtney's Lemme is well on its way to success, the other Kardashian-Jenner brands are more successful.
Related: Kim Kardashian & North West Wear Coordinated Designer Bags Worth A Small Fortune
Skims Made $500 Million In 2022
In 2019, Kim surprised fans with a brand she had been working on for years — Skims. After creating her own shapewear for some time, she set the ball in motion and designed her own bras, underwear, shapewear, and sweats – which were sleek, with modern technology. Along with the high quality material the shapewear is made out of, what truly distinguished Skims from other brands was the sizing, ranging from XXS to 5XL.
Promoting body positivity and a wide range of colors, Skims was an instant success. With 5.3 million followers on Instagram, Skims earned over $500 million in revenue in 2022, according to Reuters. Screen Rant reported that the brand even won the Innovation Award at the 2022 Council of Fashion Designers of America Awards.
Although Kim has other brands under her business umbrella, Skims is far and away her most successful venture due to the materials used, marketing, and campaign collaborations. With $500 million in one year, Skims is currently the most successful Kardashian-Jenner brand.
Kylie Cosmetics Hovers Around $360 Million
While Skims is currently the most successful business for the family, Kylie's Kylie Cosmetics was the first brand in the family to skyrocket in sales and popularity. The youngest sibling created the makeup and skincare line with her mother in 2015. WWD noted that in four years, the company surpassed the $1 billion spot, making her one of the youngest billionaires in the country.
What made Kylie Cosmetics so popular from the start were her lip kits. Known for her pouty lips, Kylie sold lipsticks, glosses, and liners for an affordable price. From there, she collaborated with other gurus and professionals and created palettes. Kylie Cosmetics' success led to Kylie Skin and Kylie Baby, attracting even more followers.
According to WWD, in 2018, Kylie Cosmetics earned more than $360 million in a year, and a year later, she sold 51% of her stake in the company to Coty Inc. Fortune shared that in August 2023, it appeared Kylie had a change of heart – and is looking into reclaiming her stake in the company.
Related: Everything To Know About Kylie Jenner And Timothee Chalamet's Romance
Good American Made $200 Million In Sales In 2o22
As popular as Skims and Kylie Cosmetics are, Khloé's denim brand Good American deserves some recognition, too. What made the denim brand stand out was its remarkable range of sizes. With body positivity at the forefront of the company, Good American sells sizes 00 to 32 plus. Ranging in styles, sizes, and lengths, Good American later launched shoes, swimwear, and other clothing.
In 2022, Good American had $200 million in annual sales and 2.4 million followers on Instagram, according to Entrepreneur. Good American can be found in retail stores like Nordstrom, Neiman Marcus, and Bloomingdale's – and while fans have said that prices are quite high for a pair of jeans, supporters admit the brand is worth the price tag because of its quality. What's more, Good American is known for connecting with its customers and supporting different insecurities through clothing.
Although Skims, Good American, and Kylie Cosmetics are at the forefront of the Kardashian-Jenner businesses, Kendall's 818 tequila brand is steadily moving into additional markets and stores. As for Kourtney, while some fans are hesitant to try Lemme vitamins because Kourtney doesn't have a medical or science background, her lifestyle brand Poosh is still alive and well.