'Shen Yun Is Like a Show From the Heavens': Korean Professor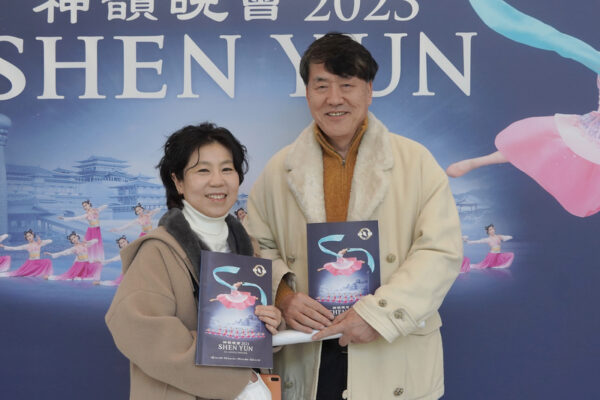 BUSAN, South Korea—A Korean law professor was touched by Shen Yun Performing Arts at the Sohyang Theatre in Busan on Feb. 4. He said "Shen Yun is like a show from the heavens and is as glorious as a divine creation. Extremely beautiful."
Mr. Kim Man-woong, a law professor at Silla University, was wowed by the skills and techniques of Shen Yun dancers.
"I was sitting in the front row, and I could see their movements clearly. Wow! Their skills are superb! This is a really world-class show," he said. "Regular dancers move softly. But Shen Yun dancers have this powerful force, like martial artists. Their dances have both energetic spirit and artistic value."
Mr. Kim was impressed by the difference between Shen Yun's male and female dancers, as well as the harmonious cooperation among them.
"The male dancers danced vigorously and valiantly. The female dancers' movements are very elegant," he said. "Shen Yun is a performance surpasses all other performances. It's very unique."
Mr. Kim used a sentence to conclude his feeling about Shen Yun: "Majestic—a comprehensive artistic feast full of amazing elements."
New York-based Shen Yun is the world's top classical Chinese dance company, and has a mission to show the beauty and goodness of "China before communism." For 5,000 years China's civilization was built on values and virtues from the spiritual teachings of Buddhism, Taoism, and Confucianism.
'It's Captivating'
Ms. Yoon Doo-a is a professor at the Seoul National University of Education. She admired Shen Yun's beauty.
"The colors are very rich and saturated. The dances are enchanting and touching. It's formidably beautiful," she said. "I have been deeply mesmerized by the beauty."
Ms. Yoon said she likes the female dances, in which all dancers are like heavenly maidens and simply gorgeous.
"For example, they dressed in long-sleeve costumes in light green colors in one dance. Their movements are flowing in the air. It's captivating," she said. "I didn't blink my eyes during the entire dance. I was completely mesmerized."
Shen Yun story-based dances tell stories from different eras in China's history. Ms. Yoon enjoyed the stories and said, "It's like reading the whole process of Chinese cultures in different dynasties."
After giving her comments, Ms. Yoon moved her arms and said that is a movement she learned from Shen Yun.
"I still feel very touched when I move my hands like Shen Yun female dancers," she said. "They are very beautiful."
Each Shen Yun performance consists of nearly 20 vignettes, presented through highly-expressive art forms such as classical Chinese dance, original orchestral music performed live, soloists who sing in the bel canto tradition, animated digital backdrops, and more.
'A Splendid and Magic Backdrop'
Mr. Ko Young-sam, a sociology professor at Tongmyong University, admired Shen Yun's dynamic backdrop.
"The dancers can travel back and forth between the backdrop and stage freely and easily. It's magic. I have never seen anything like this in South Korea or abroad," he said. "It's splendid and magnificent."
Mr. Ko was surprised that Shen Yun follows traditional values and standards.
"The show is very rich. It completely follows tradition and is very elegant, easy to understand, and beautiful," he said. "I saw the factors of Buddhism and heaven in Shen Yun. We are familiar with these factors."
Mr. Ko said he appreciated Shen Yun dancers' high techniques and skills, and he saw the universal values in the dances presented. Chinese tradition cherishes virtues like loyalty, propriety, wisdom, justice, and benevolence—values that are universal and shared the world over.
"I love the dance about loyalty. I felt the strong spiritual values in Shen Yun," he said. "The performance uses advanced technologies with the excellent dances to present traditional culture. This is very attractive."
Mr. Ko said he would suggest all his friends attend Shen Yun.
Reporting by Epoch Times Staff in Busan, South Korea.
The Epoch Times is a proud sponsor of Shen Yun Performing Arts. We have covered audience reactions since Shen Yun's inception in 2006.