Seven hot drinks to warm the cockles this winter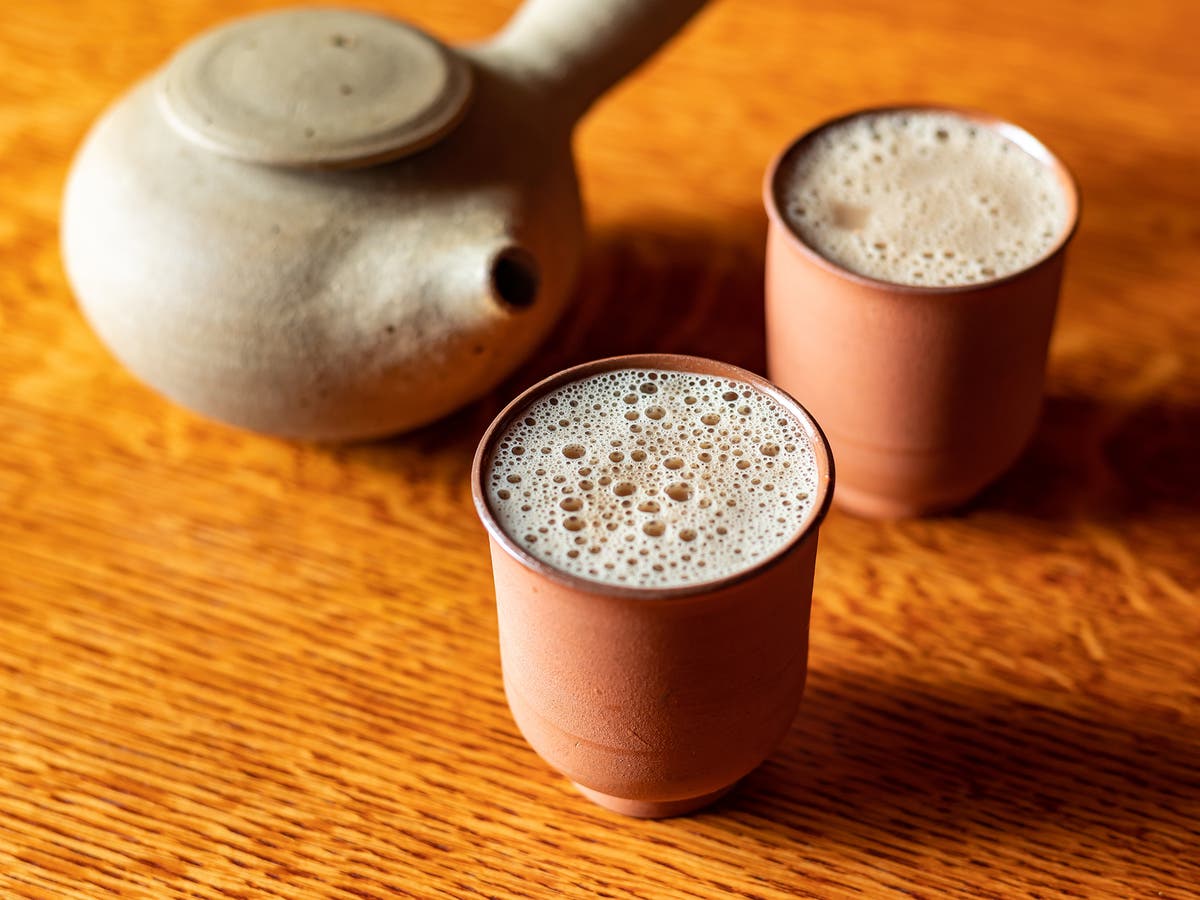 As the cold months keep rolling in, nothing warms us up better than a comforting warm drink.
To help you make the most of wintertime, we've rounded up five delicious recipes for warming winter drinks from some of London's top chefs.
From homemade Chai to boozy hot chocolate and even vegan-friendly cocoa cassis, these creative and witty recipes are sure to be a hot hit.
Homemade Chai
By: Chet Sharma, chef patron of BiBi
Ingredients:
½ inch piece of ginger
1 clove
2 green cardamom pods
A pinch of fennel seeds
1 tsp Darjeeling black tea
Unrefined coconut sugar (to taste)
200ml Oatly barista milk
200ml water
Method:
1. Mix together the ginger and spices in a pestle and mortar. Hit a few times until the ginger and cardamom splits open.
2. Add the spices to the water in a deep saucepan and bring to a rolling boil.
3. Add the tea and boil again.
4. Add the oat milk and boil for 3-5 minutes.
5.Add the sugar, and strain into a teapot. Serve piping hot.
Boozy hot chocolate
By: Greg Marchand, founder Frenchie, Covent Garden
Ingredients:
20ml green Chartreuse
200ml of Monbana Tresor chocolate
Whipped cream with Chartreuse (10ml green Chartreuse)
Method:
Make your favourite hot chocolate with water or a bit of milk (200ml). Stir in 20ml of green Chartreuse and top it up with whipped cream (whip cream with 10ml of Chartreuse).
Grate some chocolate on top and enjoy!
Irish coffee
By: Cormac Gibney, bar manager at Daffodil Mulligan
Ingredients:
50ml Jameson Irish Whiskey
Double shot of espresso and hot water
10ml demerara syrup
Freshly whipped double cream
Fresh nutmeg
Method:
1. Preheat your Irish coffee glass, this is essential to ensure your drink stays at the ideal temperature.
2. Add your whiskey, demerara syrup and coffee to the glass stirring it to mix the ingredients together.
3. Hover your spoon above the liquid and gently layer the freshly whipped cream on top. This is to ensure the cream doesn't mix with the coffee.
4. Finally grate fresh nutmeg on top of the cream, adding a beautiful twist along with an amazing aroma.
Winter warmers
By: Marta Tokarz, group bar operations manager at Cubitt House
Cocoa Cassis (vegan friendly)
A healthy serving of dark hot chocolate (we use vegan certified) dissolved in hot water or oat milk poured over a shot of crème de cassis or blackcurrant liqueur.
Bonfire Tea
Earl Grey served with a splash of smoky whisky (like Ardbeg 10) and lavender-infused honey, finished with a large lemon zest.
(For the lavender-infused honey, use 1 part hot water to 2 parts runny honey and 2 lavender branches. Add water and honey to small pot and stir on a gentle heat to combine. Gently soak lavender and let it sit away from the heat for 5 minutes. Remove the herb or strain the liquid through the sieve.)
A slice of chilli will add some fire to this delicious drink.
Hot Apple Cup
Simmer (cloudy) apple juice with a stick of cinnamon, 3 cloves, 1 star anise, ½ orange peel and a splash of honey. Pour into your favourite cup generously lined with gin, and garnish with a cinnamon stick to add the aroma (flavoured gins like orange-infused will work great too).
Warm-brewed Zobo drink
By: Aji Akokomi, founder of Akoko
What is Zobo?
Zobo is a simple tea brewed from dried hibiscus flowers. Hibiscus flowers are indigenous to West Africa and have spread around the world. The flowers have a deep purple colour and bright, floral flavour, both of which are apparent in the tea. In Nigeria this drink is called Zobo, Sobolo in Ghana and in Senegal, it is Bissap.
Ingredients:
200g dried hibiscus flowers
50g honey or to taste
1L water
250g oranges
350g cucumber
350g pineapple
2g cloves
30g fresh ginger
Method:
1. Discard the skins of the cucumber and cut into small chunks. Peel the pineapple and cut the pineapple into small chunks as well. Peel the ginger and rinse the hibiscus flowers by immersing them in a bowl of water.
2. Juice the oranges and transfer into a blender, add the cucumber, pineapple and ginger, blitz thoroughly and keep aside.
3. Pour the water into a deep saucepan and put on the stove on medium heat, add the rinsed hibiscus flowers, the cloves and pour in the smoothy made with pineapple, cucumber and ginger and then add the cloves, cover and allow to simmer for about 20 mins.
4. Take the pot off the heat, sieve the content and the warm Zobo drink is ready.