'Rustin' Trailer Champions the Man Who Orchestrated the Civil Rights March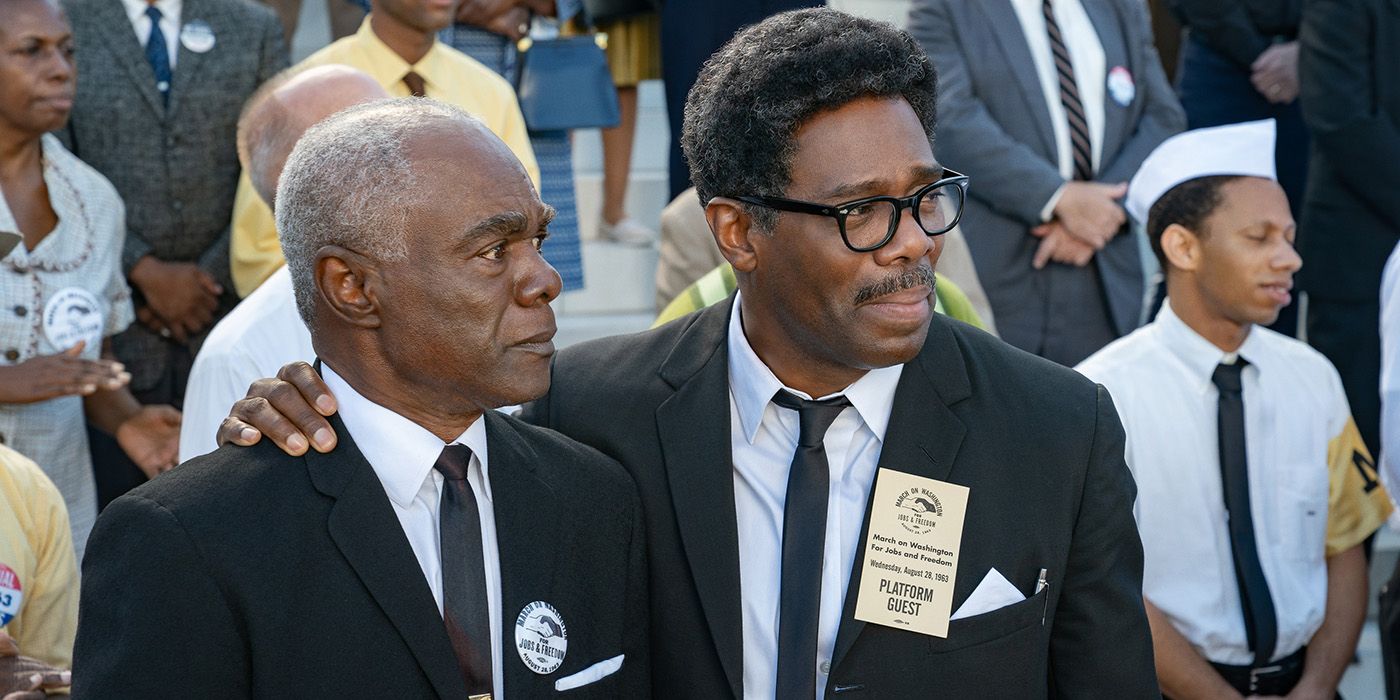 The Big Picture
Bayard Rustin was an activist who organized the historic March on Washington, advocating for universal rights for Black people.
Rustin was charismatic and knew how to mobilize people, understanding that the more people involved, the more powerful the protest.
The biopic Rustin features an all-star cast and is produced by Barack and Michelle Obama, set to release in theaters on November 3, 2023, and on Netflix on November 17, 2023.
Today is a historical day. Sixty years ago, one of the most important protests took place in Washington D.C., and it featured legendary figures such as Martin Luther King Jr., Ella Baker and Adam Clayton Powell Jr. who gathered in order to advocate for basic universal rights for Black people. But all of that would not have been possible without one man. In order to celebrate this anniversary, Netflix decided to release the first trailer for Rustin, a biopic that tells the story of the man who organized the historical march: Bayard Rustin (Colman Domingo).
The trailer for Rustin makes it clear that Bayard was an activist through and through. Black, homosexual and with a clear vision of how the American government and the police were biased against both groups, he decided he couldn't just stand by and watch that happen over and over again. The culmination of his activist work was orchestrating a march that drew around 250,000 people to Washington D.C. to make their voices heard.
Also made clear by the trailer is the fact that Rustin was a force to be reckoned with: Extremely charismatic and wise beyond his years, he knew what he had to say to whom in order to get people to join the march. He also understood that, the more people involved, the less it meant that the powers that be could ignore the protest. So he started an emphatic campaign to gather people and left no one out – rich, poor, young, old, everyone had to be there because it was literally history in the making.
An All-Star Cast Brings Rustin to Life
Last but not least, the trailer for Rustin also showcases the all-star cast that helped bring the real-life story to the screen. Aside from lead Domingo, it also features Aml Ameen (I May Destroy You) as Martin Luther King Jr., Jeffrey Wright (Westworld) as Adam Clayton Powell, Audra McDonald (The Good Fight) as Ella Baker, Chris Rock (Amsterdam) as Roy Wilkins, Glynn Turman (80 For Brady) as A. Philip Randolph, Da'Vine Joy Randolph (The Idol) as Mahalia Jackson and Michael Potts (True Detective) as Cleveland Robinson.
Rustin is produced by none other than Barack and Michelle Obama. The screenplay is by Julian Breece (When They See Us) and Dustin Lance Black (Milk). Five-time Tony award winner and Ma Rainey's Black Bottom director George C. Wolfe helms the biopic – which will have a theatrical release before becoming available on Netflix because this is definitely Oscar material and we'll probably hear a lot about it in early 2024.
Rustin premieres in theaters on November 3. Two weeks later, on November 17, it becomes available globally on Netflix. You can watch the trailer and check out the official synopsis below:
The architect of 1963's momentous March on Washington, Bayard Rustin was one of the greatest

activists and organizers the world has ever known. He challenged authority, never apologized for who he was, what he believed, or who he desired. And he did not back down. He made history, and in turn, he was forgotten. Directed by DGA Award and five-time Tony Award winner George C. Wolfe and starring Emmy Award winner Colman Domingo, Rustin shines a long overdue spotlight on the extraordinary man who, alongside giants like the Reverend Martin Luther King Jr., Adam Clayton Powell Jr., and Ella Baker, dared to imagine a different world, and inspired a movement in a march toward

freedom.