Rishi Sunak accused of being 'too weak' to act over Dominic Raab bullying allegations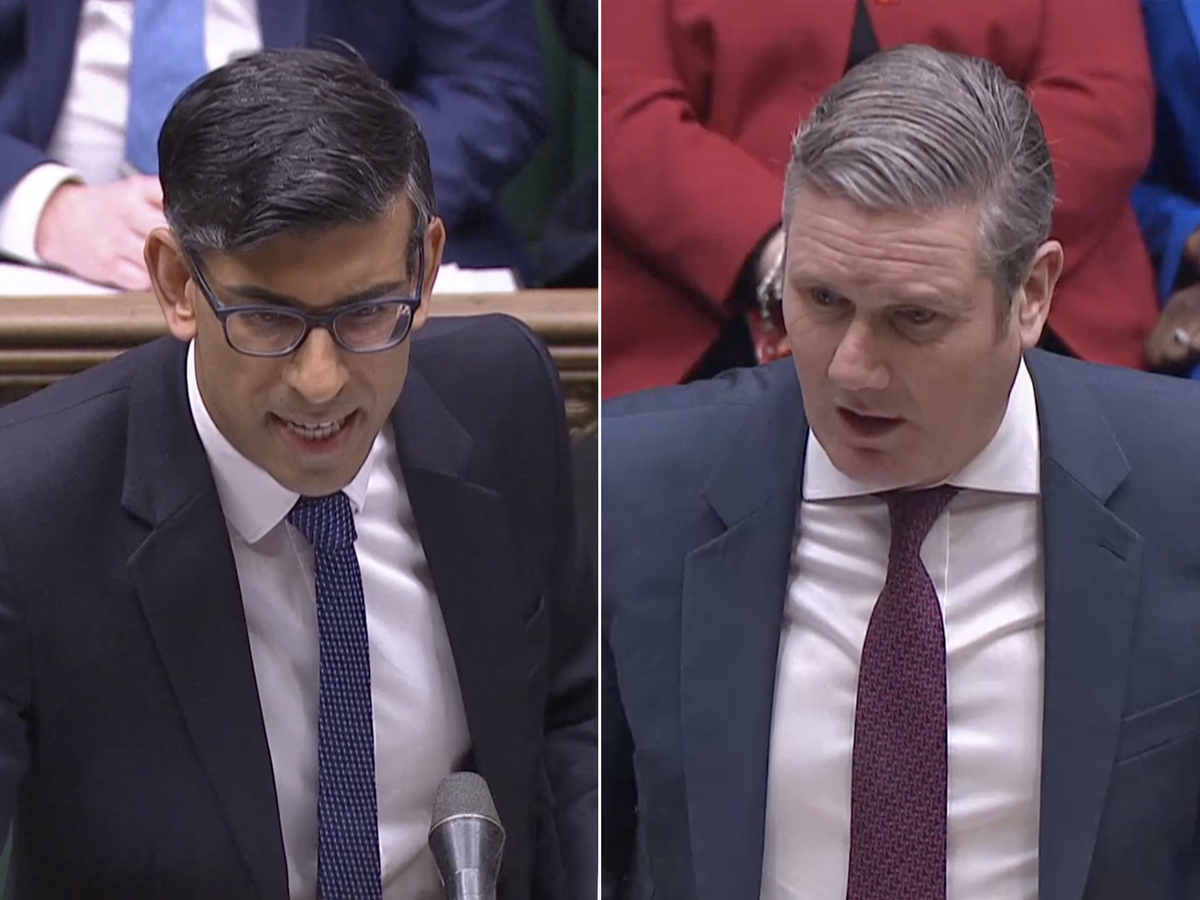 Sir Keir Starmer has accused Rishi Sunak of being "too weak" to act over the bullying allegations made against his deputy prime minister Dominic Raab.
The Labour leader also compared the prime minister to Boris Johnson in his efforts to "brush off" Tory sleaze and duck responsibility during a fiesty exchange at PMQs.
Comparing the current PM to his scandal-ridden predecessor, Sir Keir attacked No 10's handling of Nadhim Zahawi tax scandal, bullying claims against Mr Raab and Mr Johnson's Partygate inquiry.
"The Tory party's addiction to sleaze and scandal has done huge damage to this country," Sir Keir told the Commons at PMQs on Wednesday.
"He's just like one of his predecessors – treating questions about conduct as something brush off, who thought that ducking responsibility was perfectly reasonable for a prime minister."
Referring to Mr Johnson, he added: "In fairness, his predecessor didn't go around pretending to be a paragon of integrity and accountability."
Sir Keir criticised the government for allowing Mr Johnson's £220,000 Partygate inquiry legal fees to be picked up by the taxpayer. "Surely even this PM can put his foot down and stand up to his old boss, and say, 'He made the mess he can pick up the bill'," he said.
Mr Sunak replied: "He can't stand up to his union bosses, he can't stand up for Britain's schoolchildren today, and he can't stand up for the women in his party."
Referring to MP Rosie Duffield comparing being in the Labour party to an abusive relationship after criticism over her trans views, Mr Sunak said Sir Keir "can't even figure out what he believes in".
The Labour leader used PMQs to continue to press the PM over what he knew about bullying allegations against Mr Raab. "His defence is, 'Nobody told me, I didn't know, I didn't ask any questions'.
"Is the prime minister now also going to claim that he's the only person completely unaware of serious allegations of bullying against the deputy prime minister before he appointed him?"
Mr Sunak said he had followed "due process" and appointed independent lawyer Adam Tolley KC to investigate the claims "as soon as I was made aware of new information".
No 10 officials were reportedly warned about informal complaints made about Mr Raab's behaviour before Mr Sunak appointed in October. It comes as three top civil servants running departments where Mr Raab allegedly bullied staff have given evidence to the official probe.
"According to recent reports, some of the complainants were physically sick," said Sir Keir on reports of bullying claims against Mr Raab.
"One says they were left suicidal. How would he feel if one of his friends or relatives was being forced to work for a bully, simply because the man at the top was too weak to do anything about it?" he asked.
"I take action when these things happen," Mr Sunak replied, before raising Mr Starmer's previous support for his predecessor Jeremy Corbyn. "He said at the weekend that hate had been allowed to spread unchallenged in the Labour party … He was speaking as if he wasn't even there."
Starmer cites The Independent's story to attack Sunak over Zahawi apppointment
The prime minister also deflected questions about what he knew about the HMRC investigation in Mr Zahawi's tax affairs before he appointed him Tory chairman in October.
"Oh come on!" sir Sir Keir. "Anyone picking up a newspaper in July last year would have known that HMRC and the National Crime Agency were investigating months before he appointed him."
After noting that The Independent first revealed the HMRC investigation in early July, the Labour leader said: "Is he saying his officials hid this information from him? Or was he just too incurious to ask any questions?"
Mr Sunak said: "No issues were raised with me at the time of his appointment, but as the independent adviser's report makes clear, there was a serious breach of the ministerial code and that is why I took decisive action on receipt of that report."
Sir Philip Rycroft, ex-permanent secretary at the Brexit department, the Foreign Office's former permanent secretary Simon McDonald and Antonia Romeo, current permanent secretary at the Ministry of Justice, and are all thought to have given evidence to the Raab inquiry.
Dave Penman, leader of the FDA union, which represents senior officials, said Mr Raab should be suspended while the investigation is conducted given "the seriousness and extent of those accusations".
The union leader told BBC Radio 4's Today programme: "If that was any other employee, if that was a permanent secretary in the civil service, they would in all likelihood be suspended from their job while the investigation took place."