Residents in Rural China Describe Huge Surge in Deaths Amid COVID Crisis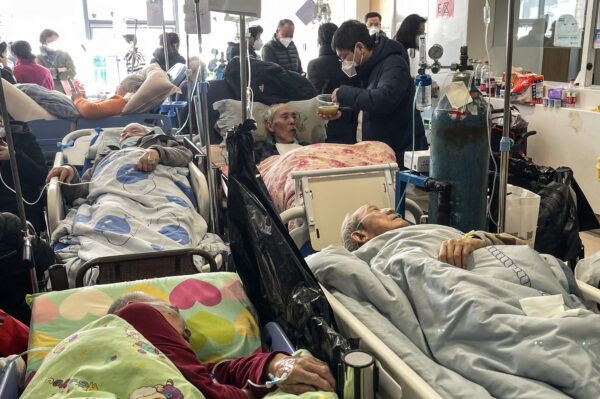 Residents in rural China have described a surge in deaths in their townships and local crematoriums operating around the clock amid a severe COVID wave sweeping the country.
As Chinese officials acknowledge that 80 percent of the population has been infected with COVID-19, concerns have risen about the outbreak situation in the countryside, given the extreme shortage of medical supplies and resources in rural China. This problem has been exacerbated as millions of Chinese traveled from the cities back to their hometowns during the Lunar New Year festivities, which started over the weekend of Jan. 21.
Following its well-worn playbook over the pandemic, the Chinese regime has vastly underreported the number of fatalities in the latest outbreak. But widespread accounts from residents, frontline workers, and crematorium workers point to a death toll significantly higher than the official count.
Residents and a doctor who spoke to the Chinese-language edition of The Epoch Times before the Lunar New Year on Jan. 22 described severe outbreaks in rural China, leading to many deaths, particularly among the elderly.
All interviewees who spoke with The Epoch Times provided their surnames only for fear of reprisals.
Deaths
Mr. Zou, from a township of around 20,000 people in Yueyang, South Central China, estimated that the recent deaths were multiple times that of the same time span in past years.
At least five elderly around him were gone, more than a dozen of his elder brother's friends had died, and it was rumored that there were many more deaths. "I was told about 100 to 200," he said.
And consequently, he said, "The queue for cremation was huge."
Local officials suggested cremation, he said, "But about two-thirds of the dead were buried" because there are many farmlands in the village, aligned by some deserted ditches, canals, embankments, and hillsides, which can be used for burial.
According to Zou, funeral sheds were seen on nearly every street in the village.
"It's really scary when there are so many deaths."
During that time, it felt like the sky was dark and gloomy and filled with a plague atmosphere. He said, "Everyone was panicking and worried if the elderly at home would survive."
He anticipated that there would not be any funerals held during the two-day Lunar New Year time.
He said, "This is very serious, never seen in thousands of years of history, a scar that will forever remain."
Two to 3 Times More Cremations
Mr. Wang, a villager in Qianshan County, Anhui Province, said that at least three elderly among his friends and relatives died in December 2022.
He said, on average, local crematoriums would cremate around 50 bodies daily in a peak month such as December, but in December 2022, the numbers of cremations were two- to threefold higher than in the past year.
With the local situation, he estimated that about 4 million elderly have passed away nationwide.
He said there are four cremation furnaces in his area, and during the peak, they operated overtime all night so that all the deceased in his area were cremated.
He said, "This is a fact, there's no need to exaggerate. The young people accounted for about 2 to 3 percent [deceased], and the rest were elderly, mainly in their 80s and 90s."
A Chinese netizen commented in a post, "There are 691,510 administrative villages nationwide. Even if there is an average of 10 deaths in one village, there'll be a total of 691,510 deaths in the Chinese villages."
According to a 2021 research article from the School of Geography Science and Tourism, Shaanxi Normal University, the 2016 official data showed there were around 520,000 administrative villages in China.
Entire Family Perishes
Ms. Bao from Shijiazhuang, North China, said a family in her apartment complex lost two family members in one day. "The father died in the morning, and the son was gone in the afternoon. It was such a tragedy; it was really a sad day." That was in December 2022, she said.
In less than a month after the regime opened up the borders, her apartment complex had posted 11 deaths. "There were three obituaries on the message board [in the community complex] the other day when I took a walk outside," she said.
Mr. Yang from Jinhua, Zhejiang Province, said that this winter is a difficult time for the elderly. "Those elderly, in their 70s and 80s—many have passed away because of the infection and lack of heat. Some even committed suicide because it's too painful."
A 70-year-old in his village jumped into the river, and someone in the neighboring village died in the pond, he said.
There were about 500 households in his village. "Death happens almost every other day. About eight to 10 people have died," he said. In mid-to-late December 2022, the pandemic hit the locals seriously.
Yang said, "When the COVID policy was relaxed, no one dared go out. The street was empty. Even so, everyone was infected."
A doctor surnamed Li from Shanxi told The Epoch Times that many people died, both old and young, and some died suddenly during the recovery period.
"About 90 percent of the people have contracted the virus, and I tested positive, too. It was said that more than 4,000 people have died in our township, and [there are] around dozens of deaths in each surrounding village."
He said that a family of four all perished after battling the infection for 20 days.
Cheng Jing, Yi Ru, and Xiong Bin contributed to this report.