Phillies on roll heading into series with Angels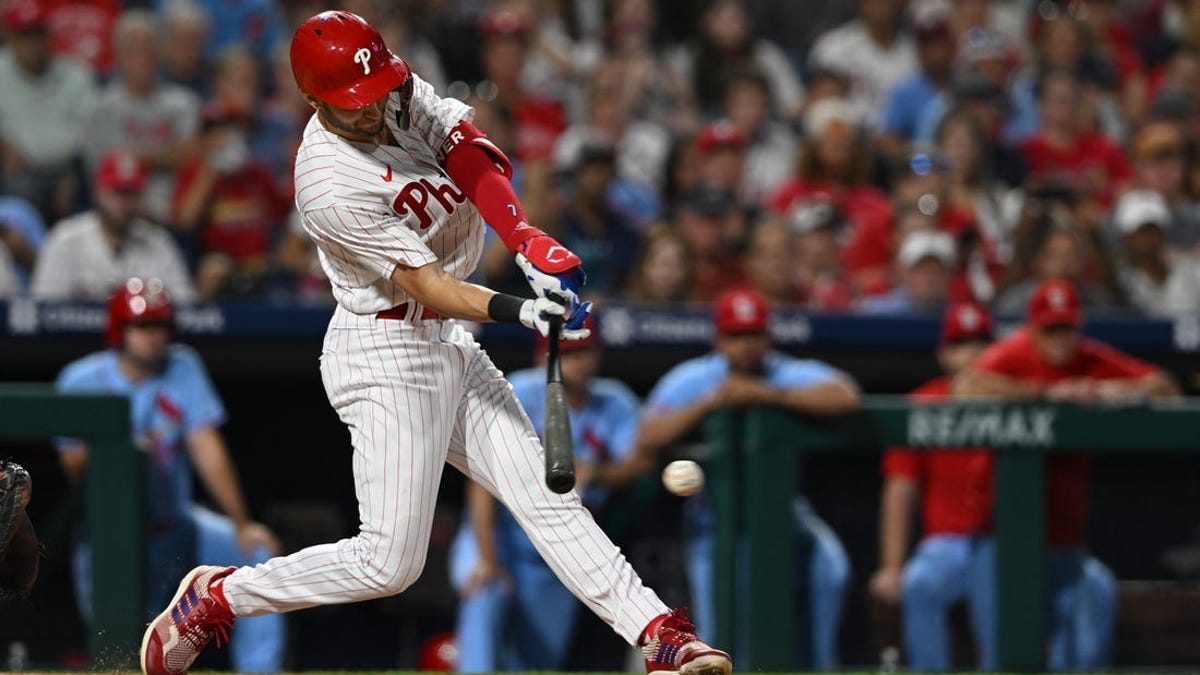 It has been a tale of two seasons for shortstop Trea Turner. But luckily for the Philadelphia Phillies, their $300 million offseason acquisition seems to be peaking at the right time.
Which NFL QB will be the first one benched? | Agree to Disagree
With his team leading the National League wild-card race, Turner will look to continue an impressive month on Monday when Philadelphia opens a three-game series against the visiting Los Angeles Angels.
Turner is 29-for-96 (.302) with five homers and 17 RBIs in August after going 1-for-3 with a sacrifice fly during the Phillies' 3-0 victory over the St. Louis Cardinals on Sunday. He has hit safely in eight consecutive games overall and also is riding a 16-game home hitting streak.
Thanks in part to Turner's recent success, Philadelphia has won five of its last six games to build a three-game lead atop the NL wild-card standings.
Bryce Harper also has been on a tear, going 18-for-37 (.486) with five home runs and 12 RBIs over his last 10 games.
"I don't think that our lineup really has any let up," Phillies catcher Garrett Stubbs said. "Obviously, we have some horses up there at the front, but it's not like you get down to 7-8-9 and there's nobody left."
Right-hander Lucas Giolito (7-10, 4.32 ERA) will be tasked with slowing down Turner and the rest of the Philadelphia offense on Monday when he makes his 27th start of the season.
Five of Giolito's 26 starts have come with the Angels after he was traded from the Chicago White Sox on July 26. So far, his time in Los Angeles has not been kind to him.
Giolito is 1-4 with a 6.67 ERA with the Angels after giving up four runs (one earned) on five hits in six innings against the Cincinnati Reds last Tuesday. He walked two and struck out nine en route to his second consecutive loss.
In his only career start against the Phillies, Giolito logged six scoreless innings to earn a victory on April 18 when he was with Chicago.
Fellow right-hander Taijuan Walker (13-5, 4.02) will oppose Giolito as he squares off against an Angels team that has seemingly had nothing go right over the past two weeks.
In addition to seeing superstar center fielder Mike Trout land back on the injured list due to a left hamate fracture and having to shut down two-way phenom Shohei Ohtani on the mound for the rest of the season, Los Angeles has lost eight of its last 12 games.
The Angels are coming off Sunday's 3-2 loss to the host Mets. They held a 2-1 lead heading into the bottom of the eighth inning, but New York rallied to ward off a three-game sweep.
Despite the recent adversity, Los Angeles isn't backing down.
"We've got a month left of baseball, just about, so anything can happen," Angels right fielder and former Phillie Mickey Moniak told Bally Sports West after Saturday's 5-3 win. "I think we're just focused on trying to go on a run right now."
Walker will look to ensure Los Angeles keeps scuffling after giving up three runs (two earned) on six hits in five innings in his most recent outing, a no-decision against the San Francisco Giants last Tuesday.
Walker is 4-3 with a 5.10 ERA in eight career starts against the Angels.
—Field Level Media