NRL pay dispute: Clint Newton wants showdown with Peter V'Landys, Andrew Abdo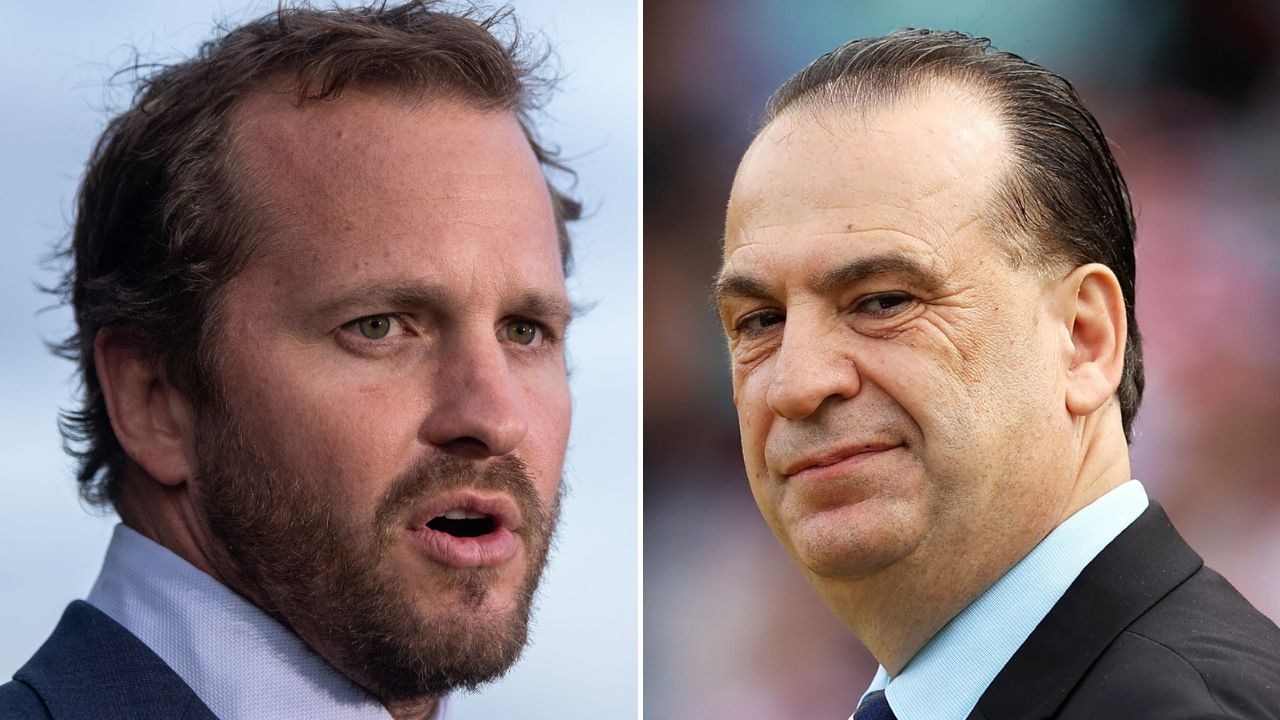 The ugly pay war engulfing the NRL can only be solved one way, according to players' union boss Clint Newton, as players refuse to rule out going on strike.
Clint Newton has called for a lock-in with league bosses Peter V'landys and Andrew Abdo to bring an end to the NRL's messy player pay war.
The NRL is facing a player revolt just five weeks out from the 2023 premiership kick-off with disgruntled stars refusing to rule out strike action.
The players and NRL have not been able to reach a consensus on a new collective bargaining agreement despite months of negotiations.
Players have started boycotting NRL promotional activities and have not ruled out striking, despite pledging to play in next month's All Stars exhibition matches in New Zealand.
The parties have been at loggerheads on a number of issues including revenue shares, salary cap structure, funding programs and the women's game.
Negotiations have moved at a snail's pace and Rugby League Players' Association CEO Newton said the only way to solve the stand-off was for parties to lock themselves in a room until an agreement was reached.
"Absolutely," Newton said when asked if he wanted to meet with ARLC chairman V'landys and NRL CEO Abdo.
"That is the only way we're going to make progress – by consistently meeting for long periods of time. That is how you'll break any type of impasse or deadlock.
"That is something we are 100 per cent committed to doing.
"I am optimistic about reaching a resolution, I just can't say when. It requires both parties to reach an agreement and then you've got the clubs connected to that as well.
"I think we will get there. Andrew and I reconnected last week which was good.
"The players are passionate about this, as they should be, and hopefully we can get an outcome at some point."
The RLPA is pushing the NRL for further funding of injury, retirement and hardship programs to help players no longer in the game.
The NRL says it has pledged $200 million over five years to the programs, but does not want to relinquish full control of the funds to the players' union.
The RLPA disputes this figure, saying the NRL's commitment to the programs is more like $15 million.
The players are arguing they should be able to use the money however they please and have a well-governed board in place to regulate spending.
Whether they can reach a resolution on the program funding stoush remains to be seen.
Despite strike threats, the NRL on Wednesday announced teams for the February 11 Indigenous v Maori All Stars matches in Rotorua.
Some of the game's biggest stars like Joseph Manu, James Fisher-Harris, Joseph Tapine and Jared Waerea-Hargreaves have been named for the Maori team.
The Indigenous All Stars includes Latrell Mitchell, Josh Addo-Carr, Nicho Hynes and Selwyn Cobbo along with some reserve grade players.
Some women's players have made themselves unavailable for selection due to insurance and contracting concerns, however Newton said that was personal preference and the RLPA had not issued a directive to players on the All Stars.
Broncos forward Jordan Riki has been selected for the Maori team and said he hoped the game would go ahead.
"I'm excited to return home for the first time the game's there," he said.
"I hope it goes ahead. I'd love to represent my culture. It's always a big thing for me.
"At the end of the day, if it doesn't (go ahead) I'll fully understand and back the players.
"The RLPA and representatives have our back. It's really good for them to look after us now in the game and also after footy as well."
NRLW SEASON UNDER THREAT IN FRESH PLAYER DISPUTE BLOW
Matt Encarnacion
Wests Tigers chairman Lee Hagipantelis believes the NRL's ongoing dispute with the players union is reaching the point of no return and has put this year's NRLW season at risk.
Tension remains between the league and the Rugby League Players Association as discussions continue over a collective bargaining agreement with their men's and women's players.
The Tigers are one of two expansion teams set to make their NRLW debut this year, however have struggled to sign players due to a lack of clarity around their pay and conditions.
"We're reaching a critical stage, there's no doubt. These negotiations have been going for quite some time now," Hagipantelis said on SEN Radio on Tuesday.
"It's reaching the point of no return. If it continues on like this with this degree of uncertainty, it may put the NRLW at risk for 2023. I know that's a big call.
"But at the moment, the lack of information that's coming to us as to the signing of players, scheduling, and the like, is making it incredibly difficult, if not impossible, for us to further that program."
Last December, the NRL announced salary cap increases for both its mens ($12.1m) and women's competitions ($884k) of 25 per cent and 152 per cent respectively.
However the RLPA have made it clear they are arguing for more than just money, with post-career medical insurance high on the priority list.
"They're meant to be looked after under the Sporting Injuries Insurance Act of 1978, which is grossly inadequate," said Hagipantelis, who is also the principal of Brydens Lawyers.
"The current CBA provides these players medical coverage for up to 12 months post the completion of the contracts of employment.
"But in NSW generally, a worker may, depending on the nature of the injury, have medical coverage for the rest of their lives.
"It's a huge differential, so I understand the impetus of the concerns."
Originally published as Clint Newton wants a showdown with NRL chiefs Peter V'landys and Andrew Abdo to end pay war