New Jersey governor calls on Sen. Menendez, a fellow Democrat, to resign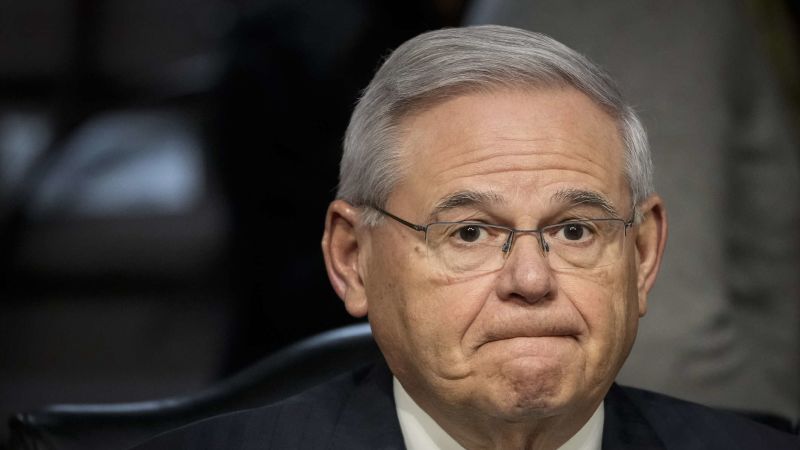 CNN
 — 

New Jersey Gov. Phil Murphy and other top Garden State Democrats are calling on Democratic Sen. Bob Menendez to resign – a sign of how quickly the senator's political support may erode after Friday's shocking indictment on federal bribery charges.
"The alleged facts are so serious that they compromise the ability of Senator Menendez to effectively represent the people of our state," Murphy, a Democrat, said in a statement.
Murphy would appoint a senator to replace Menendez should he resign. Menendez is up for reelection in 2024.
Menendez and his wife, Nadine Arslanian Menendez, are accused of accepting "hundreds of thousands of dollars in bribes," including gold, cash and a luxury vehicle in exchange for the senator's influence.
A lawyer for Nadine Menendez said she denies any wrongdoing and would fight the federal indictment. And the senator was defiant against the charges in a statement, calling the investigation "an active smear campaign of anonymous sources and innuendos to create an air of impropriety where none exists."
"The excesses of these prosecutors is apparent," Menendez said. "They have misrepresented the normal work of a Congressional office. On top of that, not content with making false claims against me, they have attacked my wife for the longstanding friendships she had before she and I even met."
And, in a separate statement later Friday, he swiftly pushed back on the calls for his resignation, declaring that he wouldn't give up his seat.
"Those who believe in justice believe in innocence until proven guilty," he said. "I intend to continue to fight for the people of New Jersey with the same success I've had for the past five decades. This is the same record of success these very same leaders have lauded all along. It is not lost on me how quickly some are rushing to judge a Latino and push him out of his seat. I am not going anywhere."
But Murphy was not the only top New Jersey Democrat to come out against Menendez on Friday.
"The charges laid out against Senator Menendez today go against everything we should believe as public servants," New Jersey General Assembly Speaker Craig Coughlin said in a statement. "We are given the public's trust, and once that trust is broken, we cannot continue."
New Jersey Democratic State Committee Chairman LeRoy J. Jones Jr. said the allegations are "incredibly serious and raise many disturbing questions."
But while state Attorney General Matthew Platkin said the allegations against Menendez were "deeply disturbing," he did not call on the senator to resign.
"Any individual who uses their public office to enrich themselves rather than selflessly serve the public does so at great cost to the public and to all public servants," Platkin said in a statement.
Members of New Jersey's delegation in Washington, DC, also called on Menendez to step down. Democratic Rep. Mikie Sherrill, who some say could replace the senator, said the best thing for the state would be if he resigned.
"These are serious allegations against Senator Menendez and if proven true, there is no room for this kind of conduct in public service," she said.
Democratic Rep. Andy Kim also called for the senator to resign, saying the matter is too distracting for him to serve the state.
"The people of New Jersey absolutely need to know the truth of what happened, and I hope the judicial system works thoroughly and quickly to bring this truth to light," Kim said in a statement. "In the meantime, I don't have confidence that the Senator has the ability to properly focus on our state and its people while addressing such a significant legal matter. He should step down."
Menendez has faced federal charges and seen political allies come out against him before.
In 2015, he was charged with conspiracy, bribery and honest services fraud relating to allegedly abusing the power of his office as part of a relationship with a wealthy ophthalmologist. The case ended with a mistrial, and the senator was then acquitted of several charges. The Justice Department declined to retry the case.
After the mistrial was announced in 2017, Menendez had a stark warning for fellow Garden State politicians.
"To those who were digging my political grave so that they could jump into my seat, I know who you are, and I won't forget you," he said at the time.
This story has been updated with additional details.