Mr. Burns Gets Married in Newest Episode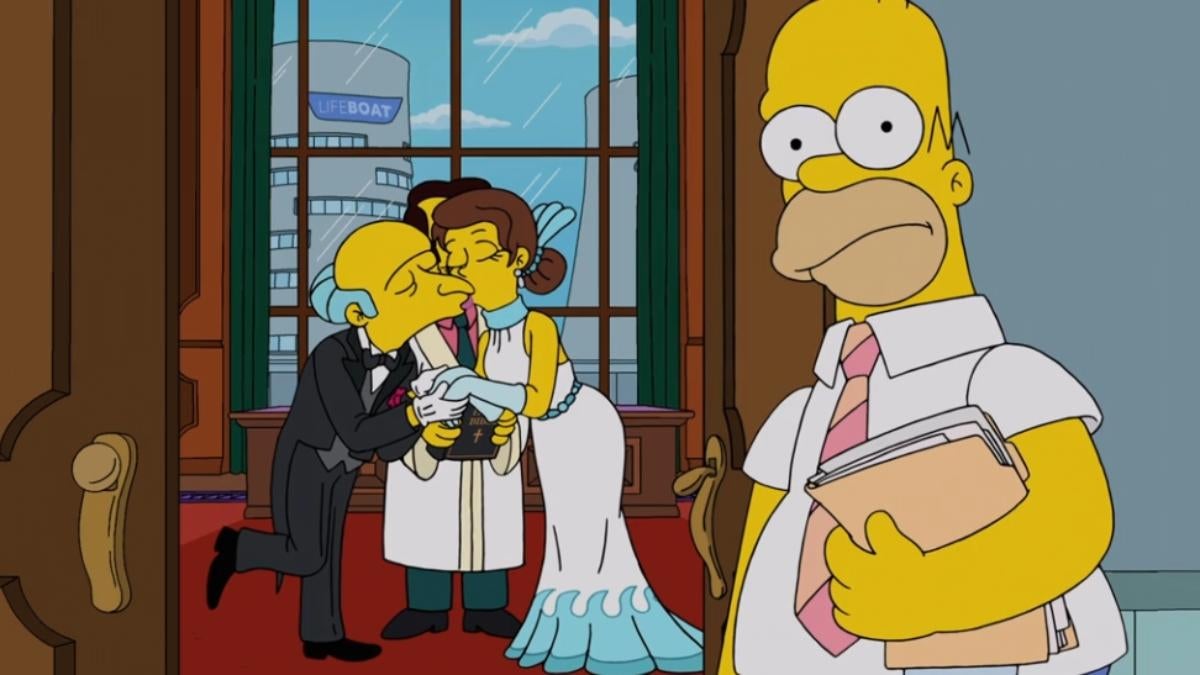 The Simpsons Season 35 sees Mr. Burns getting married for the first real time in the series!
The Simpsons Season 35 has been revealing some changes to the Springfield citizens with its first few episodes so far, and a big change has come for Mr. Burns as he's gotten married for the first real time! Mr. Burns has been seen with a few romantic interests over the course of the animated sitcom's 35 seasons, but as one would expect, these relationships never really worked out. It's either a result of the series not wanting to change the status quo, or the fact that Mr. Burns himself is doomed to be a loner thanks to his often heartless ways. 
While Mr. Burns has been engaged at least three times (and potentially was married to someone who he described as dying of rabies in passing during a Season 14 episode), The Simpsons Season 35 Episode 4, "Thirst Trap: A Corporate Love Story," Mr. Burns actually gets fully married to the Elizabeth Banks' voiced guest character, Persephone, who is a rising billionaire with a company that might not be fully up to code when it's fully investigated. 
The Simpsons: Who Does Mr. Burns Marry? 
The Simpsons Season 35 Episode 4 introduces Persephone, a rising tech guru for a company called Lifeboat that's risen to the top of the industry despite dropping out of college thanks to her magnetism alone. While Persephone initially hates Mr. Burns because of what companies like his are doing to the environment, it's not long before the two of them actually fall in love. And through that whirlwind romance, the two of them actually get married. It's Mr. Burns' first real on-screen marriage as the previous engagements we've seen with the likes of Gloria (who ended up going back to Jailbird) and Jackie Bouvier (who decided to just be on her own instead) fell apart despite Mr. Burns' efforts. 
Like those previous romances, Mr. Burns fully throws everything into it and completely supports Persephone before it's revealed that the Lifeboat water company actually contains a lethal dose of salt. So she ends up going to prison and the marriage is broken off, and unfortunately Mr. Burns still held onto his romantic feelings for her as the episode came to an end while Persephone starts lying to set up her next endeavor. 
How do you feel about Mr. Burns getting married in The Simpsons' newest episode? Let us know all of your thoughts about it in the comments! You can even reach out to me directly about all things animation and other cool stuff @Valdezology on Twitter!