Movie Review: 'My Big Fat Greek Wedding 3'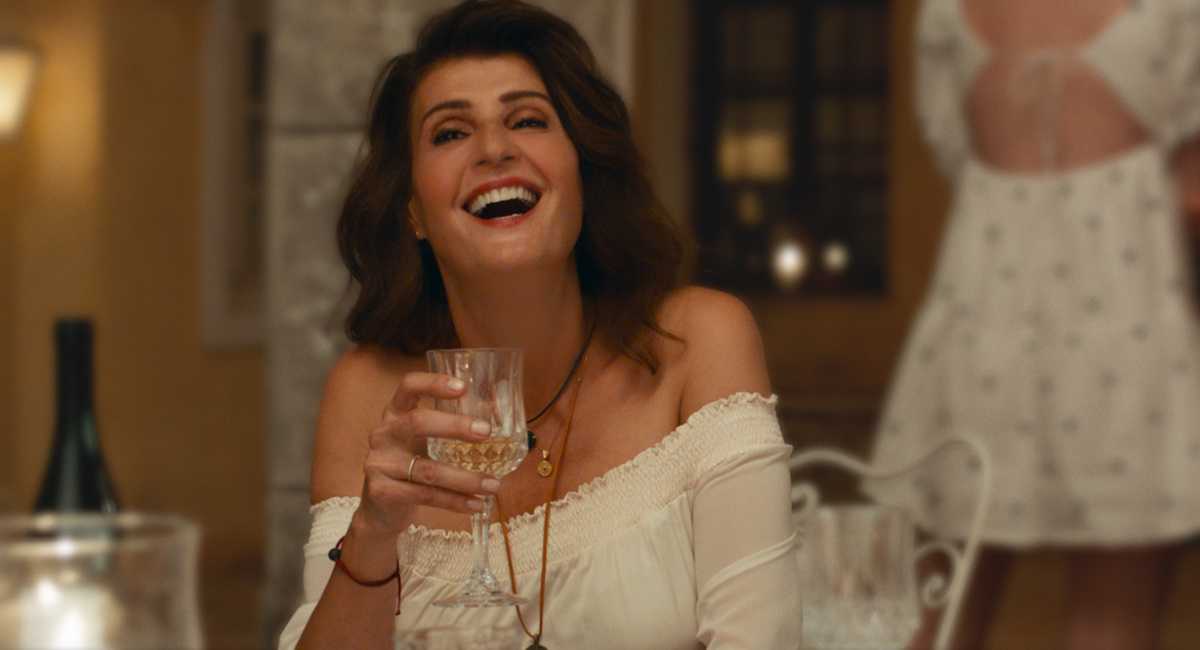 In theaters now, 'My Big Fat Greek Wedding 3' is like the local Greek fast-food chain –– it offers up a similar menu of chaotic, squabbling family members, some emotional moments and jokes about culture clashes, which will appeal to fans of the first two.
Whether it'll be able to replicate the huge success of the first (the sequel, while it made money, certainly wasn't) is a bigger question. Will audiences feel a little overstuffed at the thought of more time spent with Toula (Nia Vardalos) and her clan?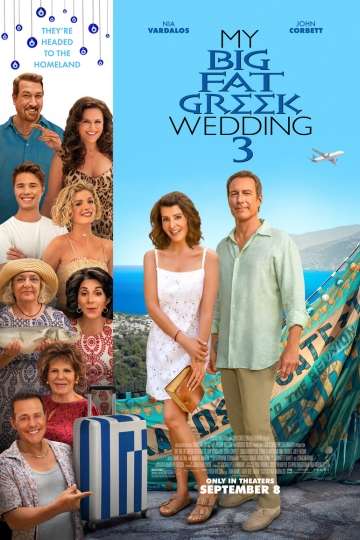 "It's more than a journey. It's more than a promise. It's the event that brings everyone together."
From writer and director Nia Vardalos, the worldwide phenomenon My Big Fat Greek Wedding is coming back to theaters with a brand-new adventure. Join the Portokalos… Read the Plot
What's the story of 'My Big Fat Greek Wedding 3'?
The Portokalos family has been sent an invitation to participate in a reunion for all the families who have moved away from the village their father came from. It was sent to them by Victory (Melina Kotselou), the extremely passionate town mayor.
Before he passed away, Toula's father, Gus, asked her to go to the reunion and meet his old friends to pass on a journal he had kept of his life story. To honor his memory, the Portokalos family wants to see where their dad grew up.
Who else is in 'My Big Fat Greek Wedding 3'?
Much of the cast of the first two movies returns, including John Corbett as Toula's husband, Ian; Elena Kampouris as their daughter, Paris; Louis Mandylor as Toula's brother, Nick; Lainie Kazan as Maria, Toula and Nick's mother; Andrea Martin as Maria's sister, Aunt Voula; Maria Vacratsis as Aunt Frieda; and Gia Carides and Joey Fatone as cousins Nikki and Angelo.
New this time are Elias Kacavas as Paris' ex, Aristotle, and Stephanie Nur as Qamar.
Is this 'Greek Wedding' worth attending?
Familiarity, as the old saying goes, breeds contempt. And after two movies we are pretty familiar with Nia Vardalos' squabbling, velcro assortment of family stereotypes. While her first effort, 2002's 'My Big Fat Greek Wedding' scored big with audiences around the world, feelings had cooled by the time the first sequel danced down cinema aisles in 2016. On the evidence of the third, it's fair to speculate that for many, those feelings will have congealed like day-old moussaka.
Vardalos was always at the core of the movies, starring and writing the script (the concept is, after all, based on her life, her family, her (now-ex) husband and the one-woman show she grew from it. Now she adds directing to the mix, and unfortunately the film suffers for it. Which is a shame, since she has helmed before with ' I hate Valentine's Day'.
Here, though, the final cut feels like the film's data was corrupted in one of the post-production computers, forcing Vardalos and her editors to piece together a rough assembly of scenes to tell the story. What remains is a more a collection of moments that hang loosely together, scenes sometimes just ending rather than coming to a natural conclusion, storylines that should wrap up with real emotion instead untidily shut down.
The basic story, of the Portokalos family heading to Greece for the first time since late patriarch Gus (Michael Constantine, who appeared in the previous two outings but died before this one was shot) moved to America decades before, meanders like a donkey slowly climbing a hill. Both blandly empty and somehow overfilled, the narrative has subplots that rarely serve to hold the attention.
Worse, the wacky antics of the various family members feels more insufferable than charming this time around, unfunny bits of comic business repeated over and over, such as the gag about finding the Greek root of every word. "We know, we're Greek" sighs one new character, and the audience, who will likely have heard many variants on it for two movies already, will nod their heads in pained empathy.
And the tone is all over the place, the comedy coming to a screeching halt as "emotional" music plays on the soundtrack whenever the story confronts either the loss of Gus or the fact that his wife, Toula's mother Maria (Lainie Kazan) is suffering from Alzheimer's. Even attempts to make light of the latter subject fall flat.
Are there reasons to celebrate?
If you've ever wanted to visit Greece or needed an excuse to look at some beautiful countryside, the movie at least has you covered on that front. Sprawling hillsides with small villages and sparkling blue seas make some shots look like the Greek Tourist Board coughed up some cash to help get the movie made.
On the acting front, it's just another reason to say thank goodness for Andrea Martin, who as Aunt Voula never found a gag she couldn't make work. She's the sole reason for the movie containing any genuine chuckles at all, and while the character is used sparingly, it's better whenever she's around, bringing lines to life. Corbett, meanwhile, though he's just as stuck in the repetitive plot patterns, at least has easygoing charm on his side.
Otherwise, the returning veterans and the new faces mostly just go through the motions, spouting lines that almost become catchphrases.
Vardalos has tried extending the 'Greek Wedding' format before, and the result was TV spin-off 'My Big Fat Greek Life', which aired for all of seven episodes. Perhaps that should have been a warning that there's only so much "life" in these family stories.
One or two sweet moments and the few jokes that actually land are not enough for us to recommend saying "I do" to this one. Watch the first one again instead with a poster of Greece on the wall.
'My Big Fat Greek Wedding 3' receives 5 out of 10 stars.
Other Movies Similar to 'My Big Fat Greek Wedding 3':'
'My Big Fat Greek Wedding 3' is produced by Gold Circle Films, and Playtone. It is set to release in theaters on September 8th, 2023.