Movie Review: 'Expend4bles' | Moviefone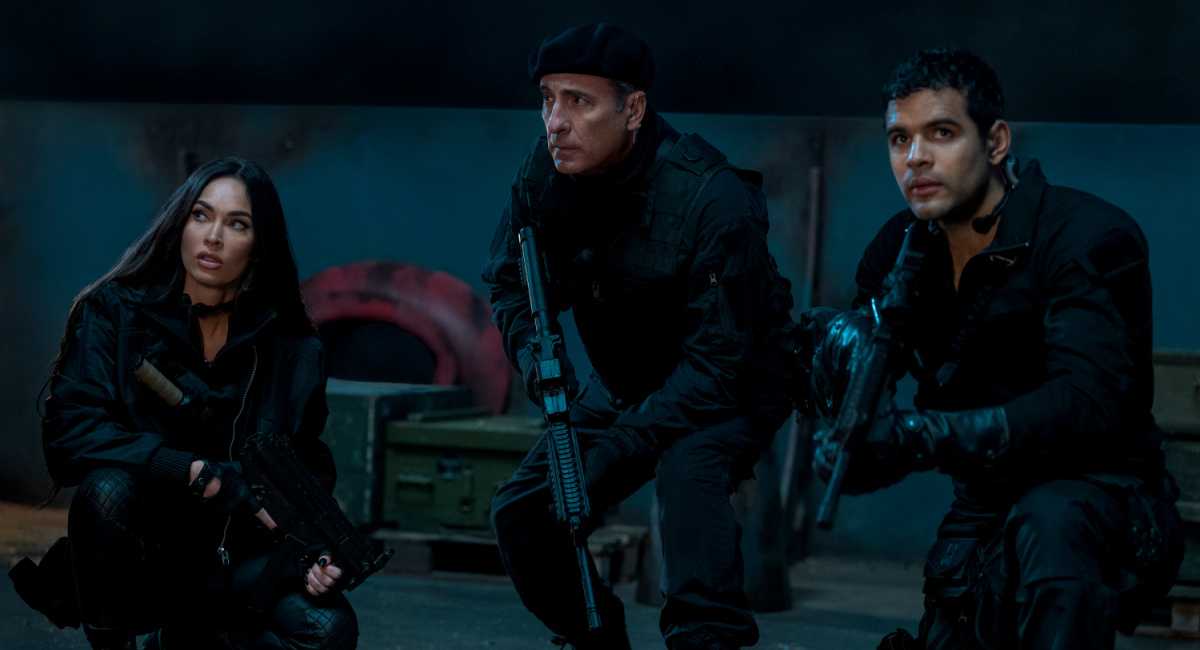 Opening in theaters on September 22nd is 'Expend4bles,' which is the fourth movie in 'The Expendables' series and was directed by Scott Waugh ('Act of Valor,' 'Need for Speed').
What is the plot of 'Expend4bles'?
Armed with every weapon they can get their hands on and the skills to use them, The Expendables, led by Barney Ross (Sylvester Stallone) and Lee Christmas (Jason Statham), are the world's last line of defense and the team that gets called when all other options are off the table. When The Expendables are assigned a mission to stop a terrorist organization from smuggling nuclear warheads that will ignite a conflict between Russia and the U.S., new team members with new styles and tactics are going to give "new blood" a whole new meaning.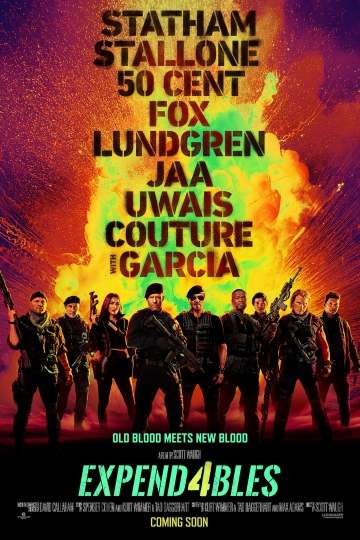 "Old blood meets new blood."
1 hr 43 min
Sep 22nd, 2023
A new generation of stars join the world's top action stars for an adrenaline-fueled adventure in Expend4bles. Reuniting as the team of elite mercenaries, Jason… Read the Plot
Who stars in 'Expend4bles'?
Initial Thoughts
'Expend4bles' is a step up from the last film in the franchise and wisely takes the series back to its roots focusing on Barney Ross and Lee Christmas's friendship. New recruits Megan Fox and 50 Cent infuse fresh blood into the franchise while director Scott Waugh creates some incredible action sequences including a motorcycle chase on a cargo ship.
Story and Direction
2010's original 'The Expendables' promised to bring legendary action stars like Sylvester Stallone, Arnold Schwarzenegger, Bruce Willis, and Dolph Lundgren together with modern action stars like Jason Statham, Jet Li and Terry Crews in hopes that they would eventually take over the franchise. But as the sequels began to come out, adding more and more classic action stars like Jean-Claude Van Damme, Mel Gibson, Harrison Ford, and Wesley Snipes, the idea of Stallone passing the series to Statham started to disappear. It was clear that this was Stallone's franchise and he has no plans to retire.
However, that has all changed for 'Expend4bles,' which finally see's Stallone's Barney Ross passing the baton to Statham's Lee Christmas, who is joined by some returning members as well as some new faces. When an unknown villain from Barney's past resurfaces and hires terrorist Suarto Rahmat (Uwais) to start a war between Russia and the U.S., CIA agent Marsh (Garcia) hires The Expendables to stop him. But when Barney goes missing and Christmas refuses to follow orders, Marsh replaces him as team leader with Gina (Fox), who is also Christmas' girlfriend, and she leads the rest of the team on mission to bring down Rahmat. But when they are captured, it is up to Christmas, with the help of Barney's old friend Decha (Jaa), to rescue his team and bring the mysterious villain, who is behind the scenes pulling the strings, to justice.
While Stallone still has a major presence in the film, it was wise for the franchise to let his character step aside for Christmas and a new cast of characters to take the lead, which has breathed fresh life into the dying franchise. The tone of the film is off at times, still holding on to the over-the-top masculinity and silly humor of the past movies, but the new characters and explosive action are enough to overcome it.
Director Scott Waugh, best known for his action-driven work on 'Act of Valor,' was a good choice to direct the fourth installment, as it feels more like the beginning of a new franchise than the end of an old one. Waugh allows the actors, especially Statham, to do what they do best, and complements their over-the-top characters with excellent action sequences including a fantastic motorcycle chase on a cargo ship.
Jason Statham's Movie
Make no mistakes, this is Jason Statham's movie. The actor, who has played second banana to Stallone since the beginning of the franchise is finally given his moment to shine and carries the movie well. We get a chance to know Christmas a little better in this film, exploring his deep connection to Barney, and his new relationship with Gina. Statham has fun banter with Stallone, as well as a nice chemistry with Fox, and in the second act is given a 'Die Hard' like plot that works well with his character and the overall story of the film.
The New Recruits
The film introduces four new Expendables members, and each one really has a chance to shine. Curtis "50 Cent" Jackson plays Easy Day, and he fits in well with Lundgren and Couture's returning characters and is a solid addition to the ensemble. Actress Levy Tran also makes an impression as Lash. Her character forms a deep connection with Toll Road and she has some fun scenes with Randy Couture. Another standout is Jacob Scipio who plays Galan, the son of Galgo, Antonio Banderas' character from 'The Expendables 3.' It's a nice bridge to the previous film, and Scipio is delightful doing his best Banderas impression.
But of all the new cast members, it's really Megan Fox that steals the show, as the actress commands the screen as Gina. It seems like Fox was born to be an action star, and I don't know why she doesn't star in every action movie, she's that good! She completely holds her own in scenes with Stallone, and especially Statham, and is as fun to watch in the action sequences as any of her co-stars.
While the series has featured female Expendable members in the past like Ronda Rousey's Luna, Gina is a fully formed character, and is as respected as a member of the team as any of the other male counterparts. In fact, the movie sets up that she is such a badass, she is the natural choice to lead the team when Barney and Christmas are unable. Kudos to the filmmakers for creating such a strong female character and casting an actress who can handle the action as well as Fox does.
Returning Favorites
While his role is limited, it's always great seeing Sylvester Stallone on screen. He clearly has an understanding of who this character is, and again, has some fun scenes with Statham. But I was also impressed at how all the characters were given something to do and room to grow, while no one was left behind.
Dolph Lundgren's Gunner, who had been the most unpredictable member of the team in past installments, is now a loyal teammate and the unofficial philosopher of the group. Randy Couture has always been the most forgettable member of the Expendables, Toll Road, but in this movie has more time to explore his character's humor and a new friendship with Tran's Lash.
The Villains and Other Misfires
Actor Iko Uwais plays the main antagonist Suarto Rahmat and is very good in his action sequences, but he's not as strong a villain as Jean-Claude Van Damme or Mel Gibson in past installments. Those villains had personal connections to Barney and his team, and without that emotional connection, Uwais' performance feels empty. There is an attempt made to connect the "mystery big bad" to Barney's past, it's a reveal I won't spoil but it's pretty obvious from the beginning who the mystery villain is and it won't come as a surprise to the audience the way it was intended.
The movie also fails the most when it is trying to shoehorn in humor, which usually does not work and falls flat. A few fun one liners are expected in any good action movie, but there are entire scenes dedicated to comedy, that just don't feel needed for this type of movie.
Final Thoughts
'Expend4bles' feels like a fresher installment of the franchise than the last one, and is a good start to a new series, if that is the direction they choose to go in. Director Scott Waugh brings a terrific action sensibility and creates some mind-bowing sequences. Stallone tees up the film well for Statham, who does a good job taking the reins, and new additions like Fox, Jackson, Scipio and Tran prove that there is still life left in this aging franchise.
'Expend4bles' receives 7.5 stars out of 10.
Other Movies Similar to 'Expend4bles':