Mookie Betts, Dodgers aim to stay hot vs. Diamondbacks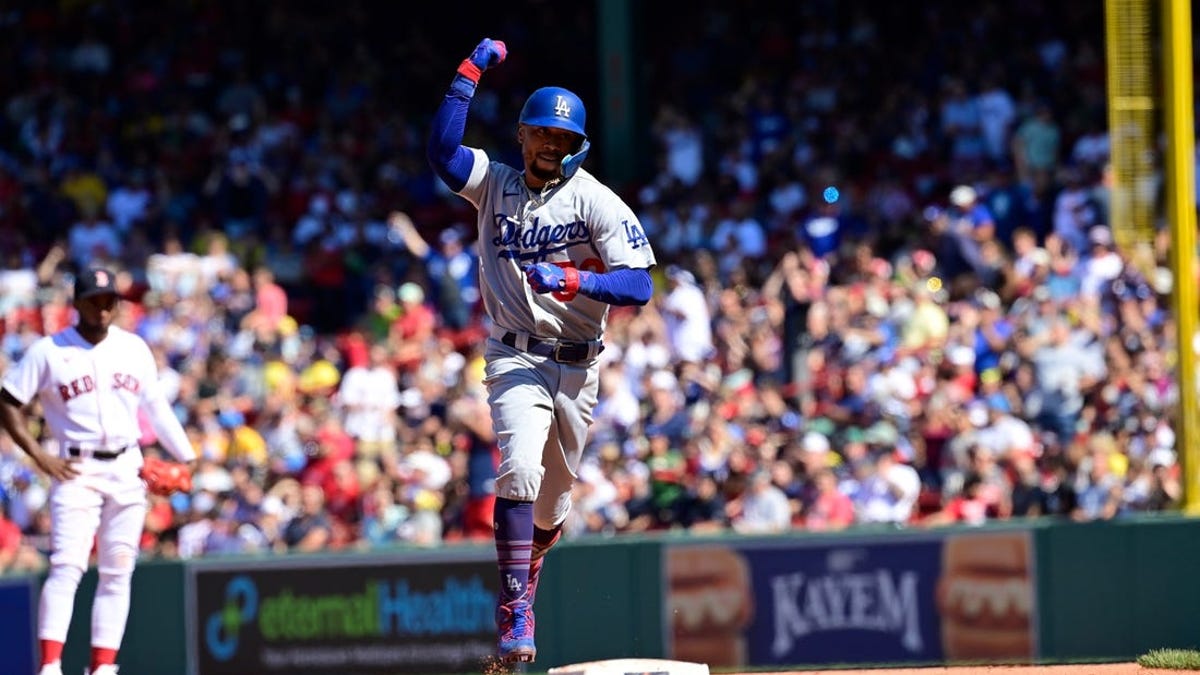 After playing an emotional series on the East Coast against the Boston Red Sox, the Los Angeles Dodgers will return home Monday night for a move back into National League West play against the surging Arizona Diamondbacks.
Which NFL QB will be the first one benched? | Agree to Disagree
The Dodgers' Mookie Betts and Enrique Hernandez marked their return to Boston by winning the series with victories Friday and Sunday.
Betts had a home run among his three hits in Los Angeles' 7-4 victory Sunday and had seven hits in the three games against his former club. He is riding a 15-game hitting streak, and his 35 home runs match his career high, set last season.
Betts' strong stretch has helped the Dodgers to a 21-4 record in August.
"It's remarkable how he was able to be accessible but not feel overwhelmed as far as the people that he had to see and obligations, to still focus on the job at hand," Dodgers manager Dave Roberts said. "It's not easy to do. I'm sure he's going to sleep well tonight. I'm sure he's physically and emotionally exhausted."
The Dodgers are set to close the season series against the Diamondbacks over the next three games. Through 10 games this season, each team has won five times.
Los Angeles will send rookie right-hander Bobby Miller to the mound in the series opener. Miller (7-3, 3.86 ERA) is much improved over his last seven starts, although he was charged with four runs in 6 1/3 innings of a loss to the Cleveland Guardians on Tuesday.
Miller faced the Diamondbacks on Aug. 9 and scattered four hits over six scoreless innings in a no-decision, paving the way for a 2-0 victory.
The Diamondbacks were tied for the National League West as recently as the start of the second half of the season but went on a 5-20 stumble that included a nine-game losing streak. But they have won 10 of their last 12 games to move back into second place.
Arizona is not likely to catch the Dodgers for the division title with a 12-game deficit in the standings, but they do hold the third NL wild-card spot.
"I think they focus on the right thing," D-backs manager Torey Lovullo said. "They know where to improve, they turn the page the next day, and we come out ready to go. So the little things add up to big things for me all the time. I think that's one of our personalities."
The Diamondbacks will send right-hander Zac Gallen (14-5, 3.11 ERA) to the mound on Monday. During an impressive season, Gallen might be in his most dominating run with a 1.42 ERA over his last four starts while on a three-start winning streak.
Gallen struggled in a season-opening loss to the Dodgers on March 30 when he gave up five runs on six hits with three walks over 4 2/3 innings. In 10 lifetime starts against Los Angeles, he is 1-3 with a 2.88 ERA and has 72 strikeouts over 59 1/3 innings.
Arizona rookie Corbin Carroll has seven multi-hit games over his last 11 contests and nearly pulled off an inside-the-park home run Sunday in a 5-2 victory over the Cincinnati Reds. He also stole a base, making him the fourth rookie in history with 20 home runs and 40 steals in a season.
—Field Level Media