Mike Pence CNN town hall takeaways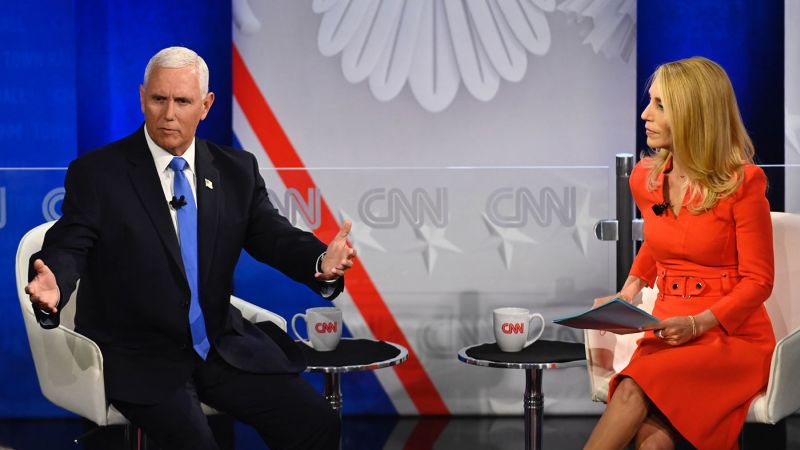 CNN
 — 

Former Vice President Mike Pence criticized his former boss President Donald Trump for his efforts to overturn the 2020 election results and his praise of Russian President Vladimir Putin in a CNN town hall on Wednesday night.
Pence appeared at the town hall hosted by CNN's Dana Bash at Grand View University in Des Moines, Iowa, hours after he officially launched his bid for the 2024 Republican presidential nomination from the same state.
Pence repeated his criticism of Trump's actions leading up to and on January 6, 2021, when supporters of the former president rioted at the US Capitol. But he said he hopes Trump is not indicted in a federal probe into his possible mishandling of classified documents.
Here are three takeaways from Pence's ongoing town hall:
Pence reacts to DOJ targeting Trump in classified documents probe
Pence urged the Justice Department not to indict his onetime boss, saying such an indictment would fuel division inside the country and "send a terrible message to the wider world."
While Pence said that "no one is above the law," he said the DOJ could resolve its investigation into Trump's potential mishandling of classified documents without resorting to an indictment, just as the department informed Pence's attorney last week that there would be no charges brought in the case of the classified documents discovered in his home.
But in Pence's case, the former vice president immediately contacted the National Archives and the FBI to return his documents, while Trump resisted handing over his classified material and failed to return all classified documents after receiving a subpoena last May.
Pence's response underscores the tightrope the former vice president is walking when it comes to the numerous probes into his former boss. CNN reported Wednesday that the Justice Department had informed Trump he's a target of special counsel Jack Smith's investigation into the mishandling of classified documents and possible obstruction, a sign that prosecutors may be moving closer to indicting the former president.
While Pence criticized Trump for his actions on January 6 at his campaign kickoff Wednesday and at the town hall, he sought to distinguish those actions from the documents probe, protesting that there were "dozens" of better ways that the FBI could have handled Trump's case before resorting to an unprecedented search the former president's residence.
Pence has been a fierce anti-abortion advocate his entire adult life. On Wednesday night, he made clear he would not deviate from that position.
"I couldn't be more proud to be vice president in an administration that appointed three of the justices that sent Roe v. Wade to the ash heap of history," Pence said, "and gave America a new beginning for life."
On the question of a federal ban on the procedure, Pence said he supported exceptions for rape, incest and life of the mother. But he did not tap dance around the fundamental question, even as voters around the country – in the midterms and in referendums – have registered their anger over the Supreme Court's decision and the subsequent passage of state laws to sharply restrict abortion rights.
"We will not rest or relent until we restore the sanctity of life to the center of American law in every state in the country," Pence said.
Still, the former vice president acknowledged that his side had a "long way to go to win the hearts and minds of the American people" and encouraged his allies to show both "principle and compassion."
To that end, he offered qualified support for social spending programs to help support newborns and new parents.
"We have to care as much about newborns and mothers as we do about the unborn," Pence said. But he stopped short of specifically endorsing paid family leave for all Americans or subsidized child care.
Pence repeated the criticism he has leveled at his former boss for more than a year, insisting that Trump was wrong to ask his second-in-command to overturn some states' 2020 Electoral College votes in his ceremonial role presiding over Congress as it counted those votes on January 6, 2021.
Pence said he "frankly hoped the president would come around" since early 2021. Though he said he agreed that some states inappropriately changed their election procedures during the coronavirus pandemic.
"But at the end of the day, I think the Republican Party has to be the party of the Constitution," he said.
Pence also broke with Trump over the legal fates of those who rioted at the US Capitol on January 6 – and have since faced criminal charges and convictions. Trump said he would consider pardoning many of those rioters, who he said were being treated "very unfairly."
Pence, though, said the United States "cannot ever allow what happened on January 6 to happen again in the heart of our democracy."
"I have no interest or no intention of pardoning those that assaulted police officers or vandalized our Capitol. They need to answer to the law," he said.