Mark Meadows Handed Legal Loss in Fulton County Transfer Request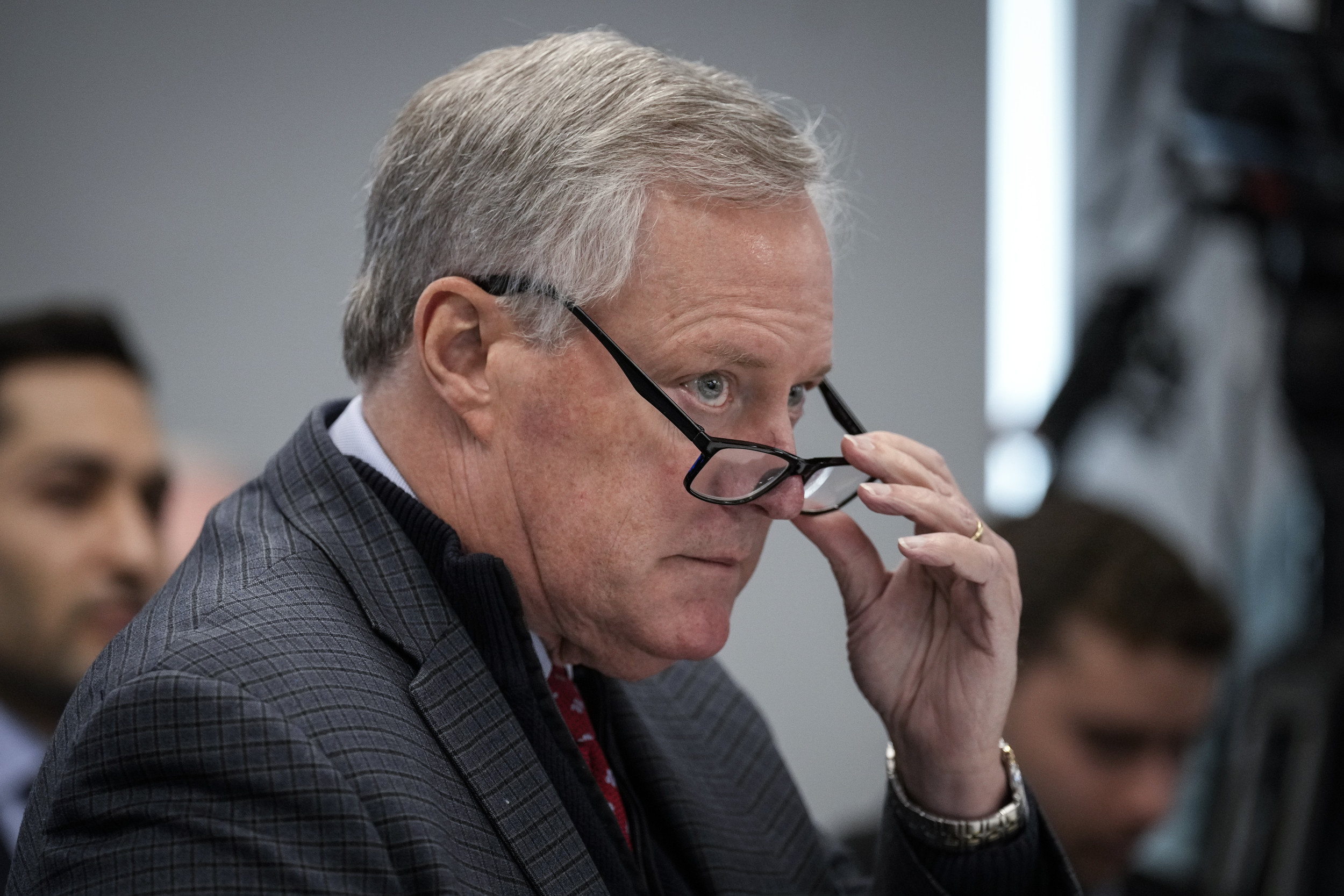 Mark Meadows' request to transfer his Georgia racketeering case from state to federal court was denied by a U.S. district judge Friday evening.
The former White House chief of staff under ex-President Donald Trump is facing two criminal counts, accused of trying to overturn the 2020 presidential election results in Georgia, along with Trump and 17 other associates of the former president. Meadows took the stand in Georgia last week to argue that his case should be tried in federal court, given that his actions tied to the indictment fell under his responsibilities as chief of staff.
U.S. District Judge Steve Jones wrote in his order on Friday, however, that Meadows' actions fell outside the requirements of a White House chief of staff.
"The Court finds that the color of the Office of the White House Chief of
Staff did not include working with or working for the Trump campaign, except
for simply coordinating the President's schedule, traveling with the President to
his campaign events, and redirecting communications to the campaign," read Jones' 49-page filing on Friday.
"Thus, consistent with his testimony and the federal statutes and regulations, engaging in political activities exceeds the outer limits of the Office of the White House Chief of Staff," Jones added.
Newsweek reached out to Meadows' attorney George Terwilliger via email on Friday night for comment.
All 19 defendants from Fulton County Fani Willis' indictment have pleaded not guilty to the charges, which range from conspiracy to overturn Trump's loss to President Joe Biden in 2020 to violating Georgia's Racketeer Influenced and Corrupt Organizations (RICO) Act.
Meadows is specifically facing charges for his role in organizing the January 2021 phone call between Trump and Georgia Secretary of State Brad Raffensperger, when the former president asked the election official to "find" enough votes for him to overtake Biden in the state. Meadows is also accused of helping Trump devise a fake-elector scheme in Georgia.
Three defendants in the scheme accused of certifying that they were state electors have also asked to move their racketeering charges out of Georgia court, along with ex-Justice Department official Jeff Clark. A decision on the remaining requests is still pending.
According to Joyce Vance, former federal prosecutor and ex-U.S. attorney for the Northern District of Alabama, the court's decision on Meadows' case likely spells trouble for the other co-defendants who have requested the same.
"This means that if Meadows' case isn't removable, none of the others including Trump are. Meadows had the strongest case," Vance wrote on X, formerly Twitter. "Off to the 11th Circuit."
Former federal prosecutor Harry Litman also noted that Meadows' legal loss on Friday likely leaves him "in a very bad place," given that his legal team had "gambled heavily on winning" the removal case and "then getting immunity."
"Now his ability to cooperate [with] either [Special Counsel] Jack Smith or Fani Willis is a) of much less value & b) possibly even off the table," Litman wrote on his X account. "He is in a world of hurt."
Litman added that the only "mitigating factor" that Meadows' legal team has left in its arsenal is being granted a right of appeal against the removal decision, given that the appeals process is likely to delay his trial for months.
"But even if they're delayed a few months leaving the station, the charges—very serious and extensive GA state charges—are coming at him like a freight train and don't see how he can stop them," the former prosecutor wrote.
Update 09/08/23, 7:16 p.m.: This article has been updated with further information and online reactions.