Listen to Kelly Clarkson Duet With Daughter River Rose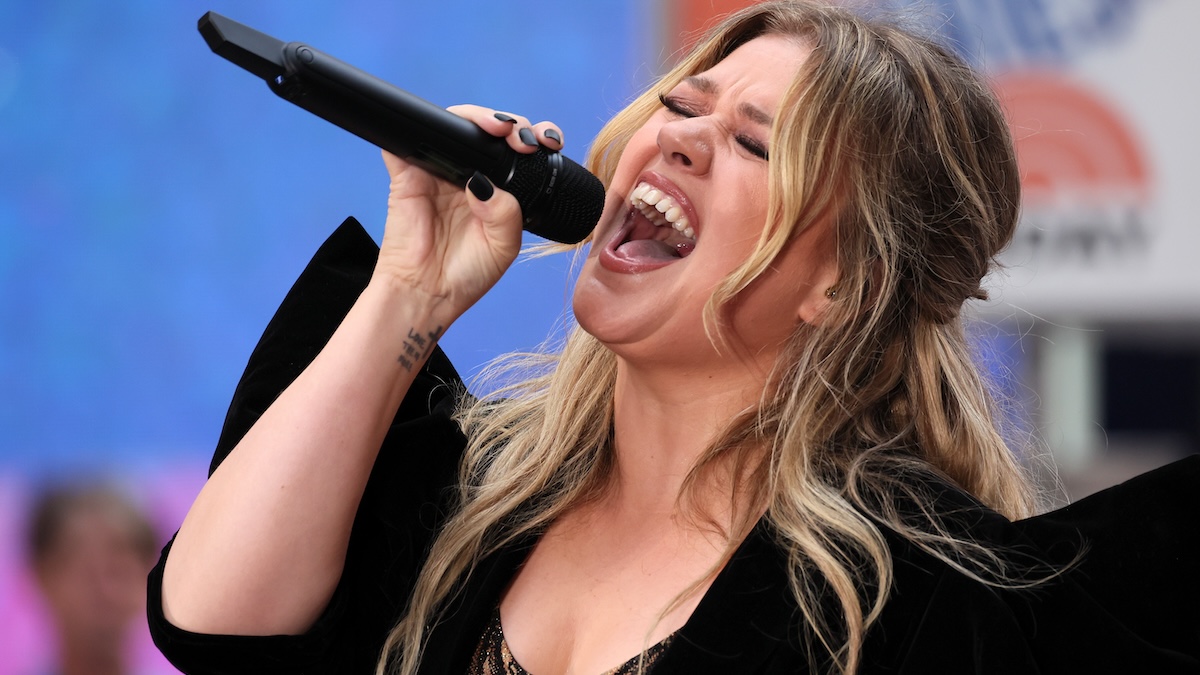 The deluxe edition of singer and talk show host Kelly Clarkson's most recent album, "Chemistry," dropped Friday. One of its most noteworthy tracks is "You Don't Make Me Cry," featuring her daughter River Rose.
While Rose is now 9 years old, her vocals on this song were put down when she was 5, according to Clarkson. She talked about the song in an interview with "Today" on Friday, sharing that her daughter is excited about its release.
"I was actually still married," Clarkson said, reflecting on the song's recording. "We were in the studio, when we were living in Encino, and she came in — she's 9 now, but she was 5 years old on this track. That's how old this song is, I recorded it that long ago. And we just loved it, and it fit in with the record."
Clarkson added, telling the story of that day, "She came into the studio and said, can I sing? And so my producer just took my vocal off completely and just let her sing on the track, and she's just on the whole track, singing. It's so cute. She calls it her song, by the way. Even my son's like, 'Can you play River's song?'"
On "You Don't Make Me Cry's" opening, River Rose's voice is heavily autotuned, T-Pain style. Her vocals also provide an echo on the word "cry" in the song's chorus — and listen for her adorable vocal appearance at the tail end of the track, delivering the words "The end."
The tune tells the story of a broken relationship. The album is focused around Clarkson's feelings surrounding her divorce with River Rose's father. Clarkson filed for divorce from Brandon Blackstock in 2020 and it was finalized last year.
"It's a hard record," Clarkson said, speaking about the album. "It was hard to make. But it's also not just the bad of a relationship. Because I felt, I didn't want it to be a divorce album — I wanted it to be a relationship album."
The emotional lyrics of "You Don't Make Me Cry" begin with Clarkson singing, "I don't have the time to help you unwind / all the ways you don't approve. / I don't even know why my name's in your mouth, / but I think I'm gettin' to the truth." The verse comes to a close with the lines, "When I was younger and a fool, I might've fallen for it too / But I'm not, so you can go away."
In the pre-chorus, she sings, "You can't quote me / I'd rather be alone than blue. / Know it ain't easy, but watch me / Walk the high road without you."
Finally, she bursts into a chorus of "You don't make me cry, / and I cry at everything. / You don't make me feel and I feel more than most now / That says something, doesn't it? / So I'm picking you from my garden, weeds aren't allowed in / Guess you missed that song. / Feeling free since I found out you don't have power / So you're searching for some."
Clarkson told "Today" that she wouldn't push her kids either toward or away from the music industry, but added that she would understand if it's something they end up wanting to do.
Clarkson previously featured her daughter in two children's books, "River Rose and the Magical Lullaby" and "River Rose and the Magical Christmas." She also previously made an appearance in Clarkson's "Broken & Beautiful" music video back in 2019.
The deluxe album features eight bonus tracks, including five originals. The other songs are a live version of "Mine" and remixes of both that song and "Favorite Kind of High."
You can listen to Kelly Clarkson's "You Don't Make Cry," featuring River Rose, in the official lyric video at the top of this post.