'Like a prison': Asylum seeker tagged by Home Office describes 'shame' of being tracked 24/7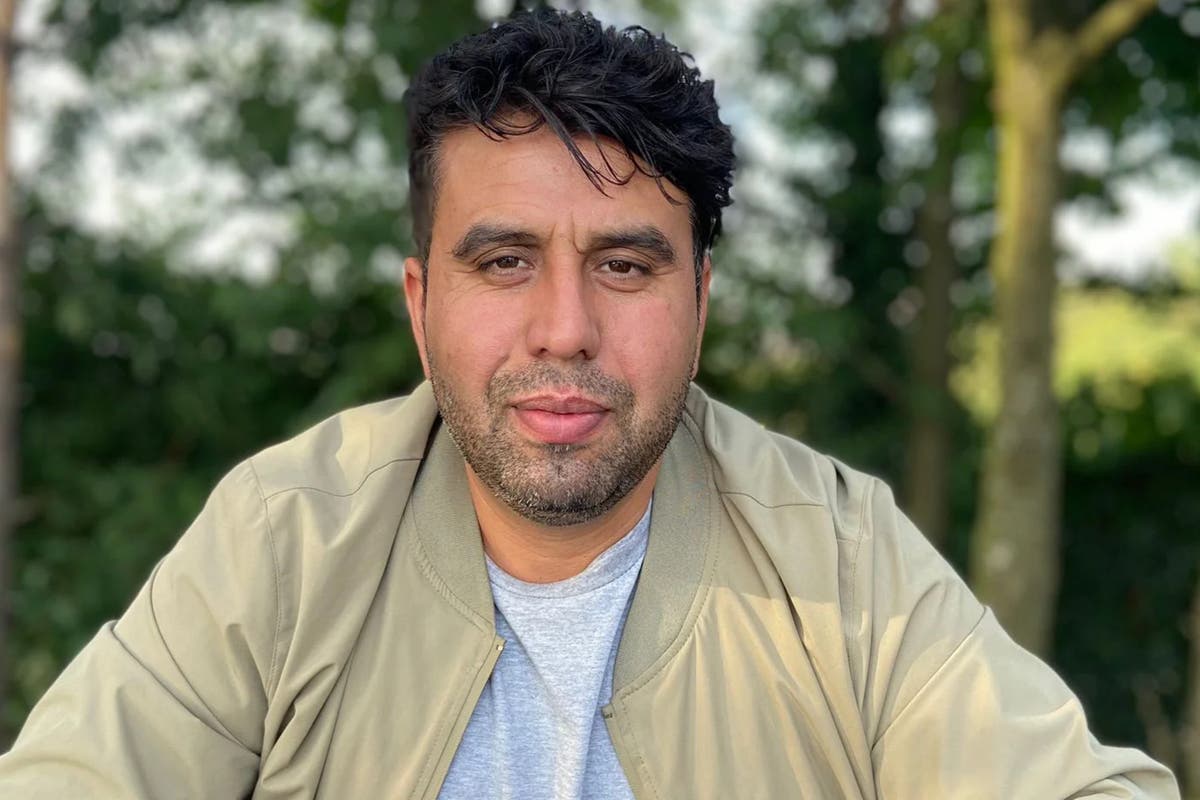 When Shafiq Khaksar meets new people, he's terrified they might notice the electronic tag on his ankle and think the worst.
"When I explain that it's an immigration tag, they don't believe me," he told The Independent. "They say 'no what did you really do? You must have done something you're ashamed of'".
The Afghan asylum seeker is one of an increasing number of migrants who are being criminalised for seeking a safe life in the UK. Since the introduction of a new law in 2022, anyone who arrives in the UK without proper permission is deemed to have committed a crime – but few are actually prosecuted. Mr Khaksar was one of the unlucky ones.
Now the Home Office is considering fitting more GPS tags on migrants who come to the UK via illegal routes as it is running out of space to detain people – under plans branded as "just another gimmick" by the Labour party.
After 20 days in one of France's infamous migrant camps, dubbed jungles, and a nightmarish journey across the Channel from Dunkirk in a dinghy filled with over 60 people, Mr Khaksar made it to the UK in September 2022. He was sleeping on a mat on the floor of the government's Manston processing centre, Kent, his clothes still wet with seawater, when officers called his name. "You've entered the UK illegally", they told him as they snapped handcuffs onto his hands, "we're taking you to the police station".
Exhausted from his trip, where he had used a bottle to bail water out of the failing dinghy, he didn't understand what was going on. He was taken to Folkestone Magistrates Court and was jailed for a year. He said the short hearing lasted just 30 minutes and he was not allowed to speak. He spent six months in prison before being released to serve the rest of his sentence on licence, with an electronic tag to show for it.
Mr Khaksar has no other convictions, the Crown Prosecution Service confirmed.
"Even though you are not a criminal, the Taliban will beat you to accept that you are. It's the same here," the 30-year-old said. "In the court, I couldn't talk, I couldn't explain, I was just sent to prison. I hadn't eaten and I had slept on the floor for five days in Manston. Then I get taken to court and sent to prison."
He now has to travel from his home in Leicester to Loughborough every Wednesday to report to the Home Office. He turns up and repeats the same mundane ritual of showing them a government-issued piece of paper with his details on it. The officials cross out the date of his last visit, write a new one and then send him on his way. His probation office visits, which used to be weekly, are now just once a month. He was also given a phone and instructed to keep it on at all times, in case the Home Office want to call him.
"I'm not in prison anymore but I feel like I am," he said of life with the tag. "When I go to the mosque to pray, people look at me. I explain to people that this is an immigration tag but they do not believe me. When you pray you should raise your trousers above the ankle, but that exposes my tag. Also when you go down to prostration [kneel to pray] it shows as well. I am always sitting somewhere where they can't see my tag from behind.
"My friends ask me why I can't stay over with them, but I can't go anywhere without informing probation first. I used to love swimming but now I can't go. I don't know when they will take the tag off. I'm in a limbo situation and I have to wait for my asylum claim to be processed but that could take years."
The government is considering fitting more GPS tags on migrants who come to the UK irregularly, and a dedicated government scheme launched in June 2022 has been expanded till December 2023.
The scheme, which has an estimated cost of £5.942million, applies to people who arrive in the UK via "unnecessary and dangerous routes", including small boat crossings. Those deemed to not be complying with tag requirements can be taken back into detention or prosecuted again.
A decision on whether to continue the pilot will be made at the end of the year.
Seeking refuge in the UK after arriving on a small boat was further criminalised with the passing of the Illegal Migration Bill in July. Under the act, anyone who does will be detained and removed and cannot claim asylum in the UK.
The practicalities of this law, however, are complicated, as the immigration detention estate can hold only 2,500 people. Officials have reportedly been asked to find different ways of tracking the thousands who arrive on small boats.
Suella Braverman refuses to rule out ankle tags to control migrants
But Mr Khaksar says tracking his whereabouts every minute of every day is unnecessary. "I'm coming here to the UK to seek asylum, why would I run away? Where am I going?" he said.
He knows Britain very well, having first arrived here as a child refugee in 2007, and so unlike other asylum seekers, he can turn to friends for financial support and a roof over his head.
At the age of 15, he was taken in for two years by a foster family in Gillingham, Kent and went to school here.
He had a national insurance number and did various shift work after college while trying to apply for leave to remain in the UK. But he was eventually deported back to Afghanistan in 2016 after his asylum claim was rejected.
A completely Westernised young man, Mr Khaksar was confronted by the Taliban on his return to Afghanistan and accused of being a British spy. No one could understand why the UK Home Office had deported him and thought he had either committed a serious crime or was working for the government, he said.
He decided to leave after around a month and ended up in Greece where he lived for a number of years translating for a medical charity. He was given a residence permit there but was told he would never get asylum there because he grew up in the UK.
"I have relatives and friends here. I know the language. I was hoping that if I returned it would be better this time. I came with a big hope," he said.
His friend and refugee campaigner, Gulwali Passarlay, said: "He saw that people with next to no links to the UK were evacuated from Afghanistan during the Taliban takeover. We were hoping that the Home Office would correct its injustices. The way he was treated, the way he was deported, the whole thing was a sham."
Speaking about his friend's electronic tag, Mr Passarlay said: "He was one of the first examples. They were making an example of him and punishing him because he came back. Now he is being constantly watched. This is an unnatural thing and his human rights are being infringed.
"Even though he is not a criminal, they are treating him like one. There is no need for prison and for reporting and tagging. What is happening to Afghans is unnecessary, they can't deport him back to Afghanistan. Meanwhile, he could be working, studying and paying taxes.
"Our aim is for Shafiq to be treated as a human being. He knows the UK better than Afghanistan and this whole process is dehumanising."
The Home Office said they could not comment on individual cases, but added: "The GPS tracking pilot has been extended to help us maintain contact with selected asylum claimants. This helps to deter absconding, keep more regular contact with those given bail and progress their claims more effectively."