Jose Altuve Leaves WBC Game After Hit By Pitch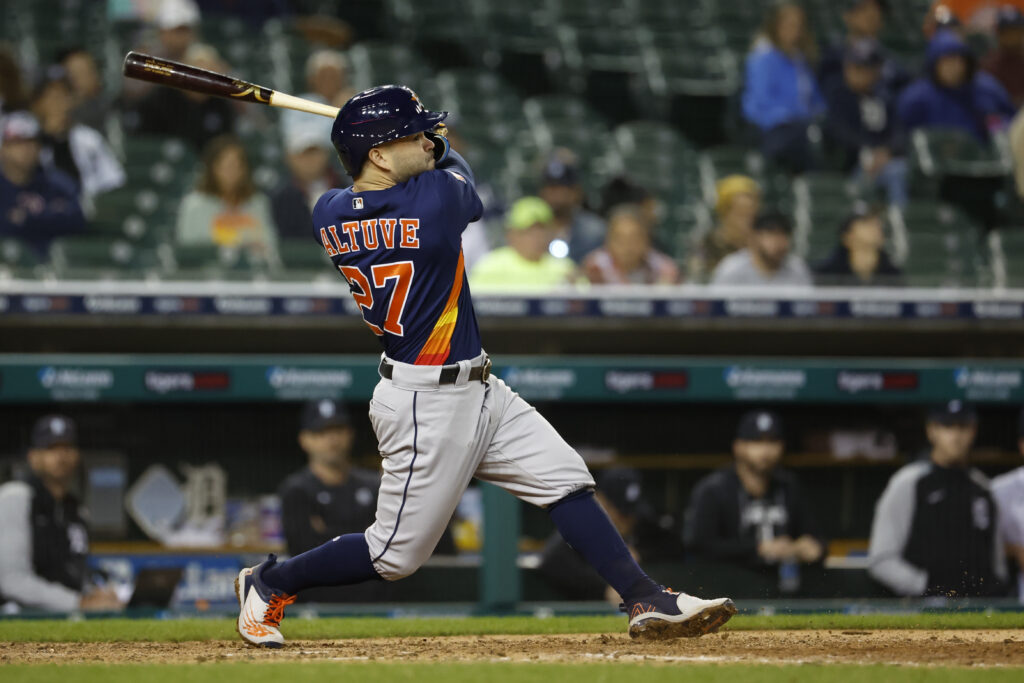 9:43PM: The "initial concern" is that Altuve had suffered a broken right thumb, Ken Rosenthal of The Athletic tweets, but it isn't confirmed if this is Altuve's actual injury.
8:56PM: According to Astros GM Dana Brown, Altuve's injury is to his right hand.  The second baseman is undergoing tests now, and the Astros will have more information on Sunday.  (Hat tip to Chandler Rome of the Houston Chronicle.)
8:48PM: Jose Altuve was removed during the fifth inning of tonight's United States/Venezuela World Baseball Classic game after being hit on the right hand with a pitch.  The 95.9 mph sinker from Daniel Bard sailed up and in, catching Altuve and knocking the second baseman to the ground.  Altuve was in visible discomfort as he left the field, with a team trainer supporting Altuve's right hand and wrist area.
More will be known about the nature of the injury once an official announcement is made to media, and a more in-depth diagnosis won't be known until Altuve undergoes tests and imaging.  Regardless of the outcome of tonight's game for Venezuela, it would certainly appear as though Altuve has played his last game of the 2023 WBC, as the Astros will undoubtedly want their longtime star back in camp for fuller examination of the injury.
With Edwin Diaz's knee surgery still lingering in the public consciousness, it would be devastating to see another marquee name lost due to another significant injury in WBC play.  A hand or wrist issue may not carry the potentially season-ending weight of Diaz's knee injury, but the worst-case scenario of a fracture or outright break could still mean a lengthy absence for Altuve.
Altuve continues to excel as he approaches his 13th Major League season, as he hit .300/.387/.533 with 28 homers in 2022 while helping the Astros capture their second World Series championship.  With eight All-Star appearances and the 2017 AL MVP Award, Altuve has become the face of this golden era of Astros baseball, and one of the sport's most prominent names.
Houston's bench depth was already something of a question mark given the relative lack of big league experience on hand, and that could become an even more glaring problem if Altuve is out of action.  Utilityman Aledmys Diaz signed with the A's in free agency, and Houston was expected to use David Hensley and Mauricio Dubon as the primary utilitymen this season.  Rylan Bannon was also claimed off waivers from the Tigers and Dixon Machado is in camp on a minor league deal, but in the event that Altuve faces a long absence, the Astros might be quickly scouring the market for any free agents available now, or who might enter the market as teams make their final spring cuts.