Jimmy Uso Might Have Made His Way Back Into the Bloodline on WWE SmackDown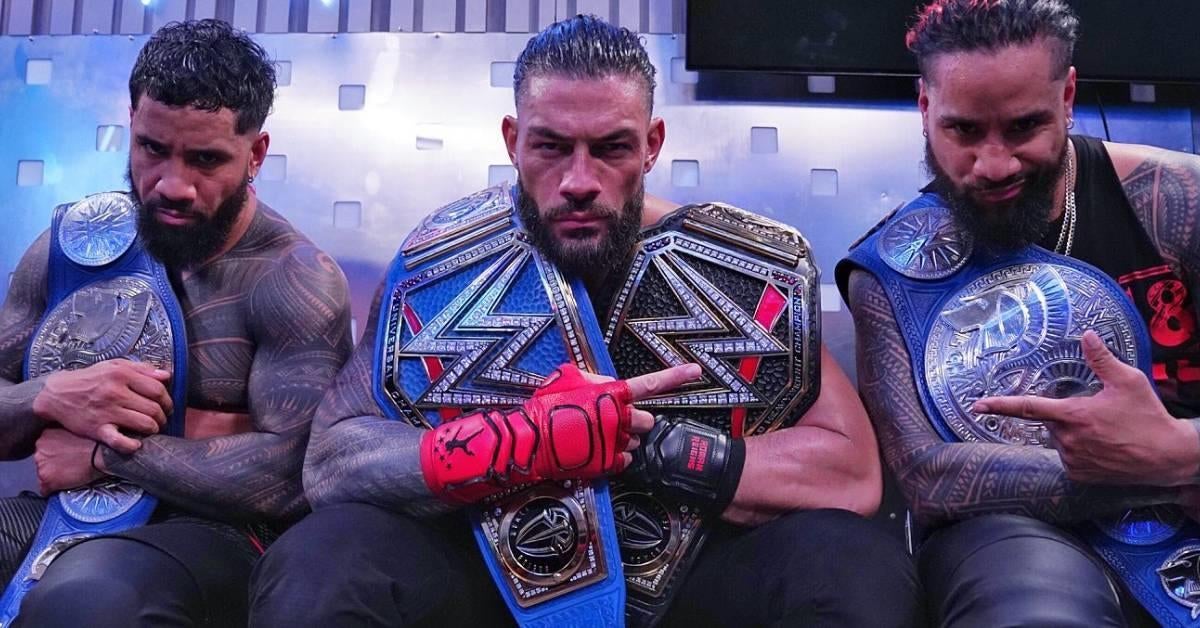 WWE's Jimmy Uso might have earned his way back into The Bloodline on SmackDown
Last week on WWE SmackDown, Solo Sikoa confronted Jimmy Uso and told him that no one is out of the Bloodline unless they say so. That was a bit confusing for Jimmy, as he had turned down Roman Reigns' offer to rejoin the group, but tonight, Jimmy was all in. Jimmy found Paul Heyman and told him after what Sikoa said if he's not out of the Bloodline, then he's in, and he was even wearing his We The Ones shirt. Heyman tried to explain that though he had a point, no one was "in in" the Bloodline without Reigns saying it. That return might have been expedited though after Jimmy saved Heyman just a few minutes later.
After Jimmy came to Heyman and said that he is back in if he's not out, Heyman explained that at one point Jimmy did turn down a car, a yacht, and more in the previous deal Reigns offered him. Heyman then said "Do yourself a favor. You handle AJ Styles business tonight, and I'll handle Jimmy Uso business with the Tribal Chief, and before you know it Jimmy, I'll bring this family back together."
"Before you know it Jimmy, I'll bring this family back together." ☝️?@HeymanHustle @WWEUsos #SmackDown pic.twitter.com/euzncX0scT

— WWE (@WWE) September 9, 2023
Heyman then walked off and started wondering what to do, but he ran into AJ Styles. Heyman couldn't resist and asked Styles if he really wanted to start trouble with him. Styles then grabbed Heyman by the neck and shoved him, pushing his shoulder right into a container. Styles told Heyman he had no pull around here, but he was interrupted shortly after.
He was attacked by Jimmy, who shoved Styles away and gave Heyman some much-needed help. Jimmy kept attacking Styles and then slammed him into a box nearby before tossing him over another box and sending him hard to the floor. Jimmy then checked on Heyman, saying, "Handle AJ Styles business, huh" before smiling and walking away.
Heyman looked relieved after the altercation but also surprised. That's when he got on the phone and said "Call Roman Reigns" before the next commercial. We didn't get to hear the conversation, but it certainly seemed that Heyman was impressed with Jimmy's rescue, and that might have just helped get him back into The Bloodline.
Jimmy has to face Styles in a one-on-one match later in the night. If Jimmy can win that match, odds are we very well might see Jimmy back in the group, which would bring Reigns' family one major step closer to reuniting. Unfortunately, it doesn't look like Jey is ever going to return, as he is now on Monday Night Raw thanks to Cody Rhodes.
Will Rhodes end up on SmackDown as a result? That's certainly one of the theories amongst fans, but we haven't seen anything on Rhodes moving brands yet. If he does, it would put Rhodes back on the road to face Reigns for his Undisputed WWE Universal Championship in a major way, but we'll just have to wait and see.
What did you think of the segment? Let us know in the comments and as always you can talk all things wrestling with me on Threads @mattaguilarcb!