Idris Elba Appears in 'Extraction 2'
With action sequel 'Extraction 2' hitting Netflix next week, star/producer Chris Hemsworth is naturally ramping up promotion for the new movie. And that apparently includes letting loose one of the secrets that has heretofore not been released: Idris Elba, another Netflix veteran, is in the film!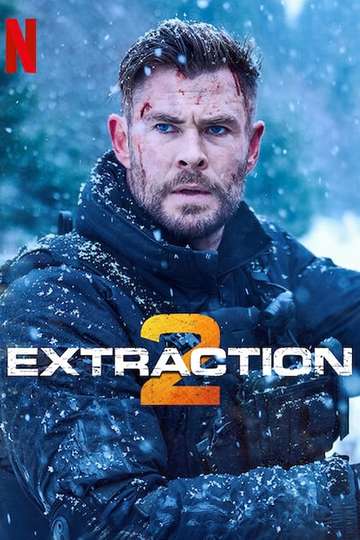 What's the story of 'Extraction 2'?
The original 'Extraction', just in case you're unfamiliar, was the 2020 Netflix action thriller directed by Sam Hargrave and written by Joe Russo (adapted from the Russo Brothers' multi-authored graphic novel 'Ciudad').
Hemsworth plays the gloriously named Tyler Rake (fun to say, as Elba points out in the clip above): a mercenary who takes on military assignments in the most punishing, 'John Wick' manner possible. First time out he was rescuing the son of a crime lord.
In the sequel, the mission Rake chooses to accept is the unofficial release of a Georgian gangster's family from prison.
It's somewhat of a surprise to see him up and about again, since 'Extraction' ended with Rake seemingly on the verge of death after that first mission. But then, we're not sure people would really watch a movie where Hemsworth just has a quiet beer while lounging on a comfy sofa watching a gardening show (though some of his fanbase would watch him do anything, let's be honest).
Elba's character is mostly a mystery –– he's not named in the clip, but it appears he's the one who gives Rake the latest mission. And Netflix's TUDUM blog offers up that he's known as the Man In The Suit. And what a nice suit it is, too.
This also marks something of a 'Thor' reunion for the two actors since Elba has appeared as Heimdall in all the Marvel movies focused on Hemsworth's Norse warrior (and even death in 'Infinity War' didn't stop him popping up again).
What can we expect from 'Extraction 2'?
In a word: action. Lots of action. Crazy action, with Hemsworth and Hargrave looking to not so much push the envelope as tear it into pieces and light it on fire.
And talking of flames, one extreme sequence in the sequel will see Rake fighting people while literally on fire.
"For me, the image of Chris Hemsworth beating the shit out of a bunch of prisoners, while on fire, in the snow was something that I couldn't pass up," Hargrave told Empire Magazine. "And hats off to Chris. It wasn't CG fire. And he had to do it over and over. I don't know a lot of people, let alone Hollywood A-listers, who are gonna let you light them on fire while on camera."
Sounds lit to us.
Meanwhile, Netflix is really leaning into the promotion of Hemsworth's latest collaboration, putting out a fun video that sees him meeting the company's "Chief Action Officer" –– one Arnold Schwarzenegger –– who has some… thoughts… about 'Extraction 2's potential dialogue.
'Extraction 2' will be on Netflix on 16th June.
Other Movies Similar to 'Extraction 2′:
'Extraction 2' is produced by AGBO, and Filmhaus Films, and is scheduled for release on Netflix June 15th.