Here's an Upcoming Event-Driven Trade Fueled by Macro Rotation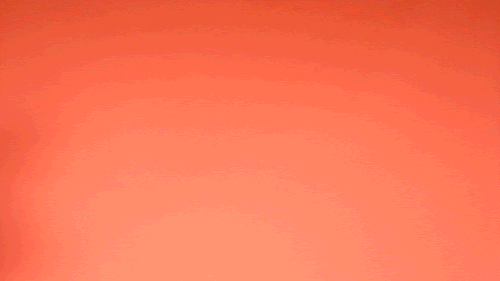 As a former collegiate and professional basketball player, I recognize that when it comes to finding great trading ideas, having strong team members at my side to help digest what's going on in every corner of the market is key.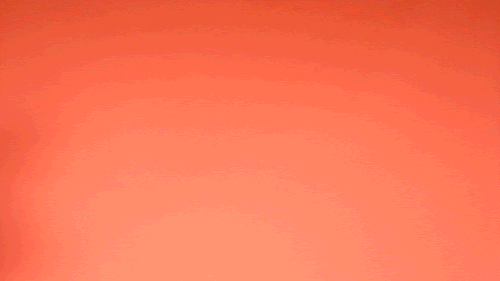 The professional traders I've assembled to help me with this task are looking for much more than just your run-of-the-mill technical ideas. 
Among other things, they're looking for ideas based on smart money flows, sector rotation, and event-driven tendencies. 
Today, I am going to share with you one of the more recent ideas that we'll be looking to trade following earnings next week.
If you think it's easy for me to fill my hour-long live trading sessions with content that is fun and engaging, you'd be right.?
That's right, folks. I love to talk, especially about all things trading. 
I also love to tell some hilarious "dad jokes," quote obscure movies and sing along with my favorite country and 80s hip-hop tunes.
But I also love to collaborate with folks that understand how markets work and where the next great idea is going to come from.
One of the contributors to my live trading videos, Stacy, brought this beauty to my attention:  
Figure 1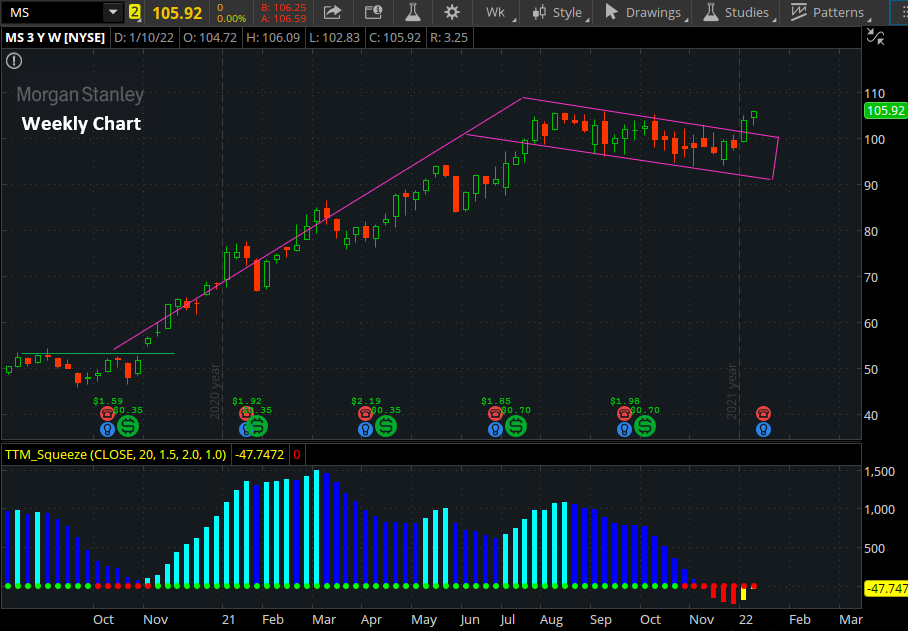 I see you Morgan Stanley!
I mean, look at this beautiful chart!
But this idea is not just a pure technical play.
Instead, the real power behind this idea is based on sector rotation and macro forces.
First of all, it's important to understand the implications that the recent rise in interest rates has been having on the financial sector.
How interest rate movements affect bank earnings
To put it simply, profits across the banking industry are closely tied to the movement in interest rates.
Why is this?
Because retail banks, commercial banks, and brokerages hold large cash deposits in the form of customer balances.
Profitability at these institutions increases when interest rates rise because it increases the yield on this cash.
As a result, the proceeds go directly to earnings.
Obviously, the opposite occurs when interest rates are falling.
Financials are showing relative strength
From a relative perspective, the financial sector has also shown some of the greatest improvement vs. the benchmark S&P 500 over the past several weeks, and that leadership doesn't appear to be anywhere close to ending.
How can traders see this leadership? Well, perhaps the most dynamic way is by using something called a Relative Rotation Graphs (RRG), a current example of which is shown in Figure 2 below.
Relative Rotation Graphs are readily available on a number of charting platforms these days. Today, we'll be using the version provided on the Stockcharts.com website.
Stockcharts.com describes RRG charts as follows: RRG® charts show you the relative strength and momentum for a group of stocks. Stocks with strong relative strength and momentum appear in the green Leading quadrant. As relative momentum fades, they typically move into the yellow Weakening quadrant. If relative strength then fades, they move into the red Lagging quadrant. Finally, when momentum starts to pick up again, they shift into the blue Improving quadrant.
The clockwise rotation that occurs on these charts is very effective when prospective buyers of stock are trying to find the early stages of a leadership cycle, or when prospective sellers are trying to identify early signs of deterioration.
In both cases, the comparisons are made relative to some benchmark, which in most cases is the S&P 500.
For today's example, Figure 2 shows all 11 S&P 500 sector ETFs relative to the S&P 500 ETF (SPY).
Figure 2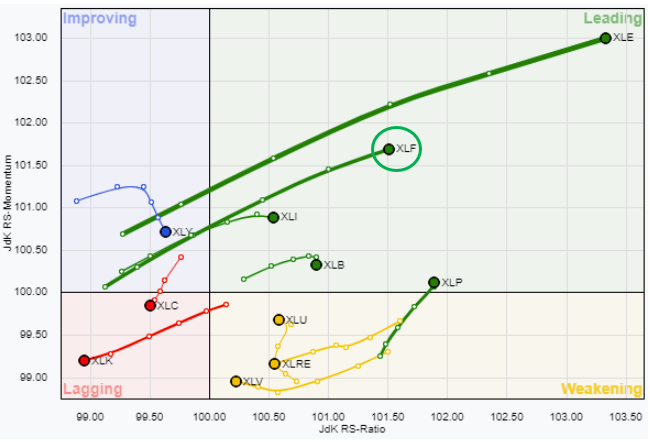 Figure 3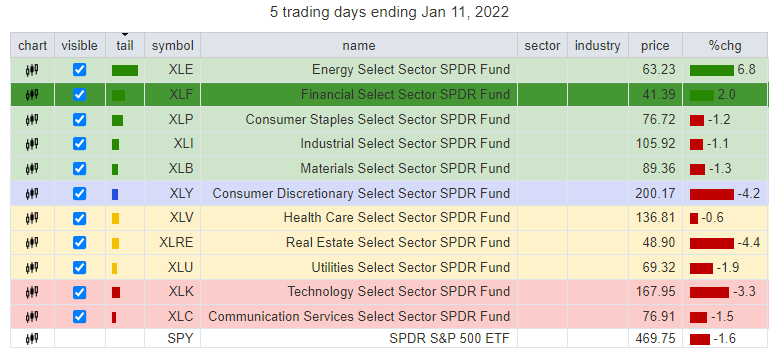 Though not visible in Figure 2 above, the S&P 500 ETF (SPY) is positioned at the origin (where the X and Y axis meet).
The long tails left behind by each sector are meant to help the viewer track each sector's relative path over the past 5 days of trading.
The message that is being signaled by this graph right now is that the financial sector is still showing some of the best leadership vs. the benchmark S&P 500, second only to the energy sector (XLE).
So what's the technical setup?
When we combine all of the information shown above with the technical picture, we get a setup that demands our attention and conviction. 
When Stacy first brought this to my attention, MS was showing a squeeze on the 30-, 60-, and 78-minute and the weekly charts.
You know this is the kind of timeframe confirmation I like!
Now it's important to understand that I am looking at this as a post-earnings play.
So what do I mean by this?
Well, MS is scheduled to release earnings on 01/19, which is next Wednesday.
When we look at the weekly chart below, we see the tendency for MS to rally in the weeks following earnings, when the bull trend is already in place.
Figure 4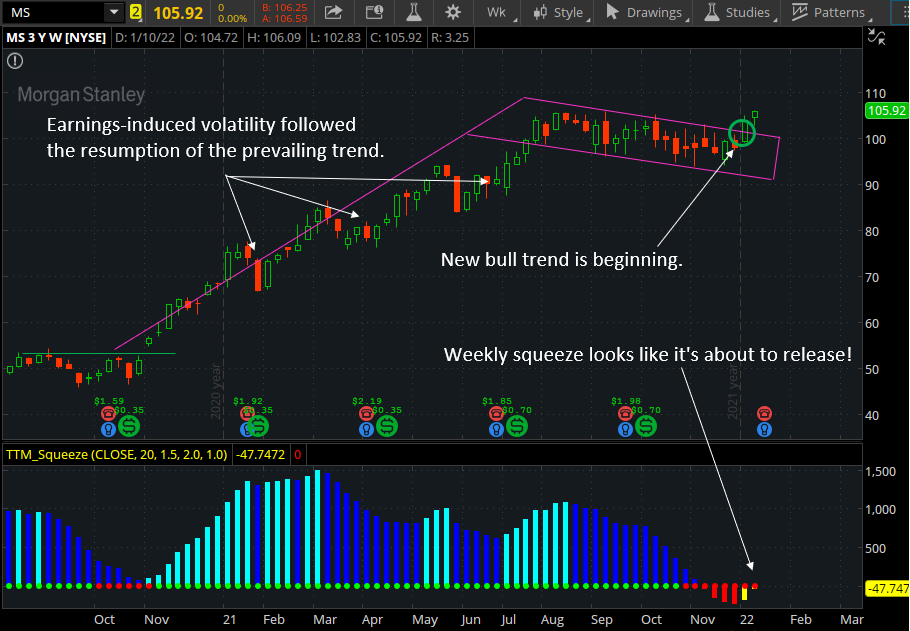 Given that a new bull trend has started very recently (see green circle on chart), we'll be looking for the typical increase in volatility that follows MS earnings to produce the next buying opportunity. 
This, my friends, is called "event-driven trading," and we're bringing it to you LIVE!
Therefore, after earnings are released we'll be in the live trading room watching for good entry points, with a focus on buying the 18 Feb 22 105 calls.
Let's have a great day and until next time…