Germany Agrees To Send Leopard 2 Tanks To Ukraine: Could This Be A Turning Point For The War?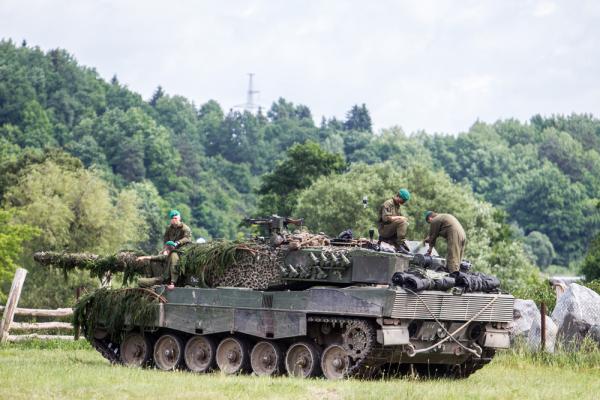 Der Spiegel reported Tuesday that Germany will send Leopard 2 tanks to Ukraine to aid the country in its battle against Russia. The tanks would help modernize Ukraine's defense against Russian troops.
Why Are These Tanks Special? The Leopard 2 tanks were originally designed and developed in Germany in the 1970s.
But recent iterations of the tank are both incredibly powerful and protective. The Leopard 2 features multiple types of guns, can reach speeds of more than 40 miles per hour and protect soldiers from a variety of attacks such as anti-tank weapons and mines. 
Why This Is A Turning Point? Germany's decision came as Ukrainian President Volodymyr Zelenskyy pleaded with its Allies for more weapons and resources for the country's fight against Russia. Earlier, Germany had indicated it would only send its Leopard 2 tanks if the U.S. also sent tanks. 
Read Next: Putin Will Give Up Only When Inner Circle Forces Him To Stop: Expert Says Chasing Away Russian Army Not Enough
Germany and the U.S. seemed hesitant to send extra tanks and resources after both countries already poured billions of dollars into Ukraine's defense. But after Germany's decision, it looks like the U.S. was also preparing to send tanks to Ukraine, according to the New York Times.
These decisions are a clear sign that the West is not backing down from its mission to help Ukraine, and could be a turning point in the war.
Doomsday Clock: The Doomsday Clock, a project from the Bulletin of Atomic Scientists, inched closer to "midnight" on Tuesday, leaving just 90 seconds left on the clock. The clock estimates how close the world is to ending based on various atomic threats.
Developments in the Ukraine and Russia war moved the clock forward, bringing us to the closest we've ever come to midnight on the clock. 
Read Next: Elon Musk Warns Russia Can Utterly Destroy US, Europe With Nuclear Missiles In Under 30 Minutes And Vice Versa: 'We Are At The Highest Risk In 60 Years'
Photo: German soldiers on Leopard 2 tank during military exercises in Lithuania, 2017; photo  Elijus3000 via Shutterstock