Former Maple Leafs Still Looking for New Homes in 2023-24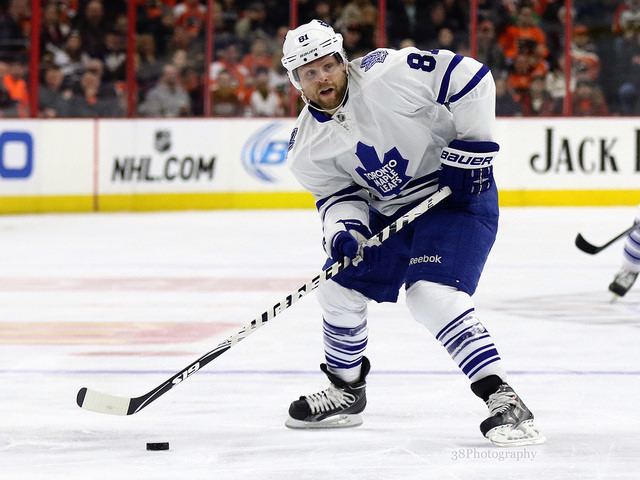 The 2023-24 season is rapidly approaching, as we are now in September. Although we are just one month away from the regular season, many free agents are still looking for new homes. Interestingly, several of them are former Maple Leafs, so let's take a look at each of them now.
Phil Kessel
Phil Kessel is the most notable former Maple Leaf still looking to sign a new deal before the start of the season. Elliotte Friedman recently reported that Kessel hopes to play in 2023-24 and is open to ending his Ironman streak if needed. The latter should be enough for Kessel to land a deal, or at least a professional tryout (PTO) contract.
Kessel, 35, appeared in 82 games last season for the Vegas Golden Knights, posting 14 goals and 36 points. With numbers like these, the three-time All-Star still has the potential to be a solid third-line winger who provides decent secondary scoring. Due to this, don't be surprised if the Wisconsin native finds a new home shortly. A return to the Maple Leafs, however, seems very unlikely.
Zach Aston-Reese
Zach Aston-Reese is still without a home now in September. The 29-year-old proved to be a solid fourth-line forward for the Maple Leafs in 2022-23, posting 10 goals and 14 points in 77 games. Although Aston-Reese was a decent bottom-six forward for Toronto, they opted not to bring him back, instead signing fourth-line guys like Ryan Reaves and Dylan Gambrell.
Although Aston-Reese remains without a contract, it seems quite likely that things will change on that front soon. After all, the New York native is a solid defensive forward who is an effective penalty killer. With that, he also offers versatility, being able to play both wings. As a result, a PTO or league-minimum deal does not seem too out of the question for Aston-Reese.
Nick Ritchie
Nick Ritchie is another former Maple Leafs who is looking to sign a deal before the start of the season. The 2014 first-round pick is coming off of a down season, posting 13 goals and 26 points in 74 games split between the Arizona Coyotes and Calgary Flames. Due to this, he has not found a new home, but given his size and grit, that has the potential to change.
Although Ritchie never developed into the top-six power forward scouts believed he would when he was a prospect, he can still be effective in the right role. As a bottom-six forward, he has the potential to provide decent secondary scoring and plenty of physicality when playing at his best. Due to this, it would be not surprising to see him secure a cheap one-year deal with a team looking for more toughness.
Jordie Benn
Jordie Benn is a step closer to landing a contract for the 2023-24 season, as he recently signed a PTO with his former team, the Dallas Stars. The 36-year-old will be looking to impress at training camp and earn himself a league-minimum deal from the Stars. Although he is unlikely to crack their top-six defensive group, he would serve as a decent extra defenseman if officially signed.
Related: Maple Leafs' William Nylander "Perfect Fit" for Ducks, Analyst Says
---
Latest News & Highlights
---
Benn had a depth role with the Maple Leafs organization last season. In 12 games for the Maple Leafs, he had one goal, one assist, and 31 hits. He also played in 23 games with the Toronto Marlies, scoring two goals and adding four assists. When noting that Benn comes with over 600 games of NHL experience and is Stars captain Jamie Benn's brother, he has a good chance of earning a deal with Dallas.
Josh Leivo
Josh Leivo is another former Maple Leaf who is hoping to score a contract for the season. The 30-year-old winger played in a career-high 51 games last season with the St. Louis Blues, posting four goals and 16 points. He also played three American Hockey League (AHL) games with the Springfield Thunderbirds, scoring three goals and adding an assist. Overall, the Ontario native is a decent depth forward who can produce a bit in the NHL, so a contract for him seems possible.
Leivo is unlikely to command a one-way contract at this juncture of the offseason, so that should help his chances of earning a contract. With that, teams are always looking for more forward depth, so he should be able to secure a PTO at a minimum.
Some other former Maple Leafs without contracts for the new season include Scott Harrington, Wayne Simmonds, and Michael Hutchinson. Harrington has landed a PTO with the Ducks and would be a depth defenseman for them if signed. Simmonds could be a decent extra forward if he opts not to retire. Meanwhile, if Hutchinson finds a home, it will likely be with an AHL team. Jake Gardiner is also a free agent, but he has, unfortunately, not played since the 2020-21 season due to long-term back issues.
Nevertheless, we will need to wait and see how many of these former Maple Leafs can find homes before the start of the season from here. My guess is that the majority of the names highlighted above will be able to at least score PTOs from NHL teams.