Former Athlete Shares Why She Gained 200 pounds After Quitting Sport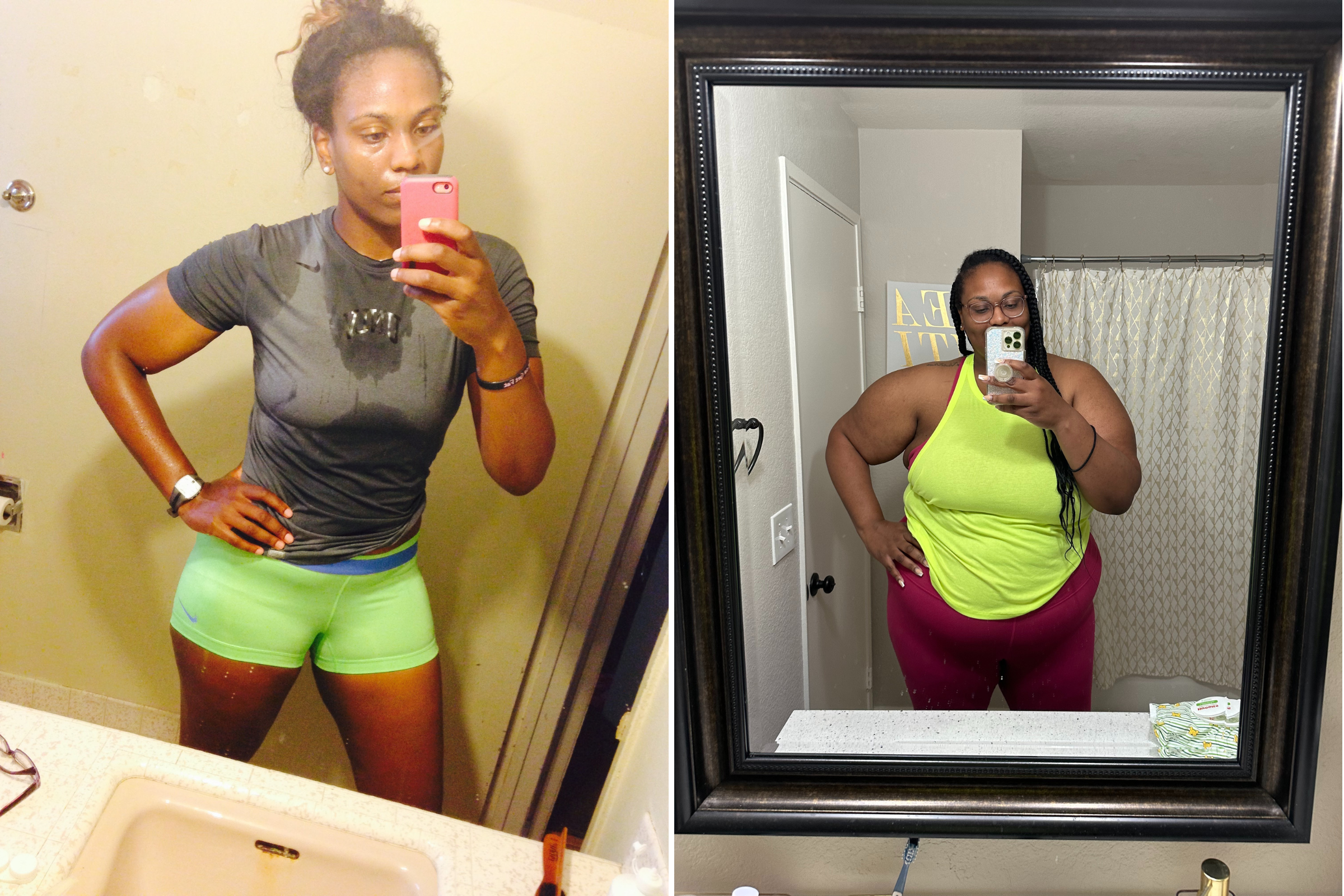 A woman has racked up more than 2 million views on TikTok after sharing footage of herself prior to gaining a huge amount of weight.
A montage of videos shared by @calidreamthings shows the ex-division 1 (DA) athlete from Las Vegas when she was competing in a college sports program. Once she graduated, she went to work, and life events such as motherhood and bereavement began to take their toll on her mental and physical health.
She subsequently piled on 200 pounds in total, although she has managed to shed 50 pounds of this.
In the footage, the 33-year-old, who doesn't wish to be named, describes her slim physique as the "best shape of my life."
Speaking to Newsweek, she said: "I posted the video to show that our journeys are not linear. Weight loss is hard on its own but adding the stressors of life can make it extremely complicated. I just wanted to show people that they are not alone."
The video on-screen text states, "[I] finally thought I "fixed" myself," accompanied by images of the woman looking in good shape.
This is followed by footage accompanied by text that says, "nothing lasts forever," showing her using a cycling machine at 150 pounds heavier.
The woman told Newsweek: "I already have struggled with binge eating disorder for many years. So that was part of it. I had a baby in 2020 and suffered from postpartum depression for a while after. And some family members passed away and this all led to me not being able to maintain the weight loss.
"It's definitely harder to maintain the routine if stress is coming up. I think I have done a better job managing that overall but it still comes up at times. I am still currently on a journey to lose 150 pounds overall and have lost 50.
"I've lost it mostly but reducing my sugar intake and moderate exercise and proper sleeping habits. My relationship with food is still a work in progress, but I'm working on it with my therapist. I am focused on eating lower sugar, non-processed food that keeps me fuller longer and the food noise away. "
Previously, Newsweek revealed 11 common exercise and diet mistakes and the "healthy" foods that lead to weight gain.
So far, the video captioned: "You are not alone. Keep fighting," has generated 2.6 million views and 348,700 likes and the woman has been inundated with thousands of supportive messages.
One user's comment, which racked up 25,900 likes, said: "Nobody understands the PTSD we experience when we gain any amount of weight. You got this honey."
Another user said: "Same here… lost 100, gained 100. Now down 40. Worst struggle. You're amazing and can do it !"
"People break, even after they're fixed. You'll do it again and this time will be stronger," said a different comment.
Is there a health issue that's worrying you? Let us know via [email protected]. We can ask experts for advice, and your story could be featured on Newsweek.