Firefly Star Nathan Fillion Shares What Iconic Prop He Has After 21 Years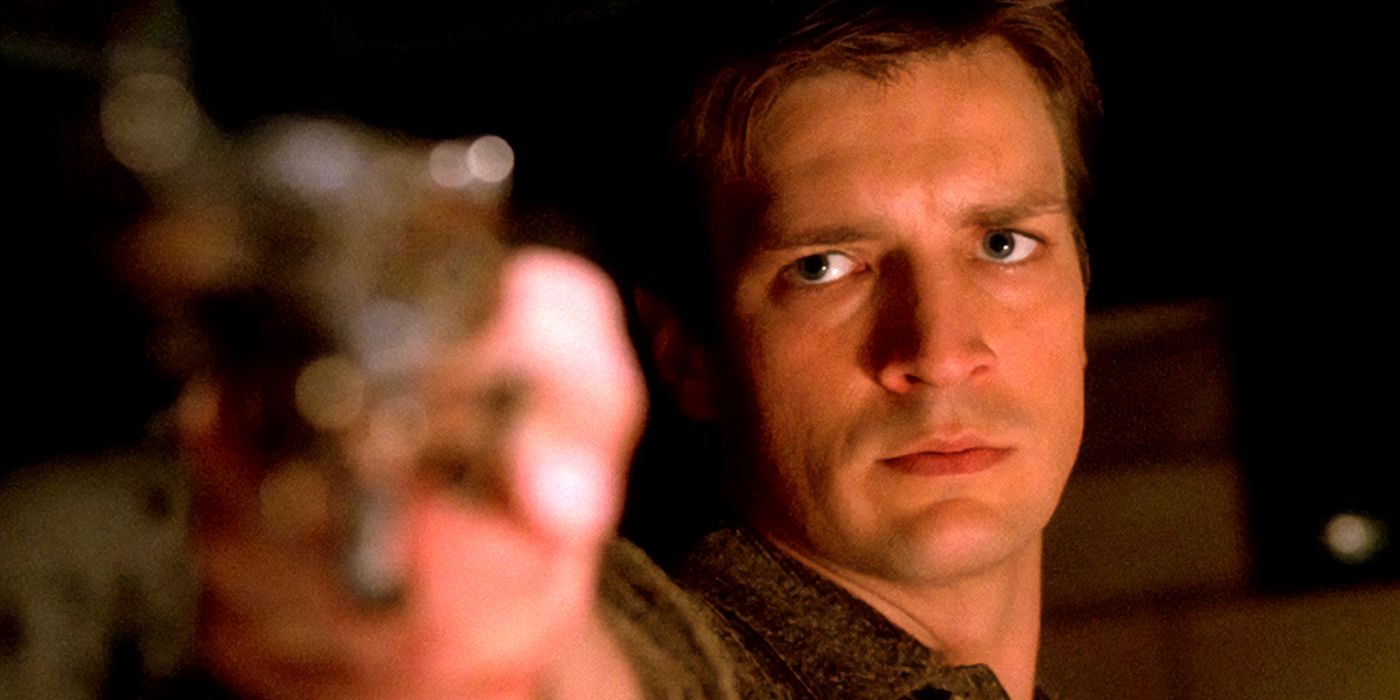 Summary
Nathan Fillion shares an iconic Firefly prop to celebrate the show's 21st anniversary, displaying Captain Mal's signature sidearm.
Fillion asks fans to show their Firefly fandom by sharing costumes, tattoos, and more, while his photo also includes a prop from Destiny 2.
Despite Firefly's short-lived run, Fillion's portrayal of Captain Mal as a loyal and protective leader has made him one of TV's best sci-fi heroes.
Nathan Fillion has shared the iconic Firefly prop he keeps displayed 21 years after the short-lived show made its debut in 2002. Following the adventures of a rag-tag crew of the Firefly-class spaceship known as Serenity, the cult science fiction title was cancelled by the Fox network after only 11 of its 14 season 1 episodes had aired. However, reinvigorated by strong DVD sales and a passionate fanbase, the cast would later reunite for the 2005 movie Serenity which served to wrap up many of the show's unanswered plot points.
Taking to Twitter to celebrate the show's 21st anniversary, Fillion shared a picture of Captain Malcolm "Mal" Reynolds signature sidearm. Check out the post below:
Asking fans to respond with their own Firefly-themed costumes and tattoos, Fillion's photo shows his prop weapon on display along with a replica Ace of Spades Exotic Hand Cannon from the videogame Destiny 2 where he voiced the character Cayde-6.
Why Nathan Fillion's Captain Mal Remains One Of TV's Best Sci-Fi Heroes
Ever since its initial cancellation in 2002, viewers have been crying out for a potential Firefly revival. Though creator Joss Whedon did manage to provide some measure of closure with the Serenity movie, most of the show's dedicated fanbase agree that the original ended well before its time and yearn for more stories involving Fillion's Captain Mal and his crew of lovable misfits.
Despite outwardly portraying himself as a hardened mercenary with few ethical hang-ups and a devil-may-care attitude, Fillion's Captain Mal was revealed to be a fiercely loyal and protective leader with a strong moral compass. Drawing on character traits established by other beloved sci-fi rogues such as Star Wars' Han Solo, Captain Mal quickly cemented himself as one of TV's most appealing science-fiction heroes despite his all-too-brief tenure on screens.
Related: Why Firefly Needs A Spinoff (Not A Revival or Reboot)
Played to perfection by Fillion, whose own sense of comedic timing and roguish charm was ultimately responsible for Captain Mal's widespread appeal, it would be hard to imagine anyone else in the role. Yet while the chances of seeing Fillion return to Mal's trademark brown coat and signature sidearm seem to decrease with each passing day, the desire to see him back in the role has not decreased in the 21 years since the show first premiered. Holding a rarefied place in the pantheon of classic sci-fi characters, Firefly's Captain Mal remains one of television's best space-faring heroes to this day.
Source: Nathan Fillion/Twitter