FDA Advisers Back COVID-19 Vaccine Pivot in Move Toward Annual Shot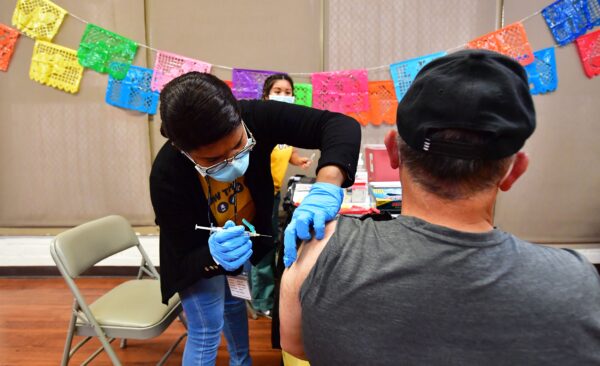 Experts who advise the U.S. Food and Drug Administration (FDA) on immunizations were supportive on Jan. 26 of a planned pivot on COVID-19 vaccines.
Members of the Vaccines and Related Biological Products Advisory Committee voted to recommend the FDA stop using the original vaccines, which only target the obsolete Wuhan strain, in favor of new bivalent shots that are currently only used as boosters.
Advisers also informally supported lowering the number of doses recommended for the American population, particularly in people who have recovered from COVID-19 or received at least a primary series before.
The vote and advice came during a meeting attended by top officials with the FDA and researchers with the U.S. Centers for Disease Control and Prevention (CDC), whose vaccine recommendations are closely followed by doctors and state officials across the nation.
Federal officials want to simplify the current regimen, which has seen some Americans receive as many as seven shots since the vaccines were first made available in late 2020. They're floating pivoting to the influenza vaccine model, with updates for new strains occurring annually.
"We're now in a reasonable place to reflect on development of the COVID-19 vaccines to date, to see if we can simplify the approach to vaccination in order to facilitate the process of optimally vaccinating and protecting the entire population moving forward," Dr. Peter Marks, director of the FDA's Center for Biologics Evaluation and Research, told the panel as the meeting started.
Members unanimously voted later to back the proposal to replace the Wuhan-based vaccines with newer bivalents.
Dr. David Kim, one of the panel members, said he was "totally convinced" that the bivalents were as effective as the original vaccines and thought moving to an all-bivalent program would help boost lagging vaccination rates.
"It's clear that we should not continue the path we have taken thus far," he said.
Enthusiasm for the COVID-19 vaccines has waned in recent months alongside effectiveness, a sharp contrast to the early days of the mass vaccination campaign. Just 40 percent of the elderly—the group most targeted—have received one of the new bivalent boosters. That percentage drops to just 11 percent of adults 24 to 49 and no higher than 7 percent of any pediatric age group.
The boosters target the BA.4 and BA.5 subvariants of the Omicron variant in addition to Wuhan and were authorized in the fall of 2022 without any clinical data.
The first data from trials the vaccine makers are running was presented Thursday.
Pfizer, Moderna, and Novavax said their new boosters elevated the levels of neutralizing antibodies, believed to help protect against COVID-19, but none presented efficacy data for the new shots currently used in the United States. Moderna's efficacy estimates were for a BA.1/Wuhan bivalent that has never been administered in the country. The booster was estimated to increase protection by just 10 percent against infection.
Real-world data from the United States and elsewhere indicates the bivalents, like the old vaccines, perform poorly against infection. They seem to protect against severe illness at a solid level, at least for some period of time after vaccination.
Dr. Ruth Link-Gelles, a CDC researcher, presented data to the panel from a network of hospitals that estimated protection against hospitalization from two or more doses of the original vaccine was just 25 percent but that the shielding increased to 72 percent with a bivalent booster, though the timeframe was just seven or more days after a bivalent shot.
Panel members were largely united in believing that people who have not received a vaccine should get one, regardless of age or a lack of underlying health conditions. They barely discussed myocarditis, a form of heart inflammation that's caused by the vaccines, even after an FDA official said the safety signal for myocarditis was met after vaccination with a new Pfizer booster among adults aged 18 to 35. Advisers said one of their biggest concerns was getting more children vaccinated.
"Anything we can do from a simplification perspective, from an optimization of those doses in the future," Dr. Amanda Cohn, a CDC official who sits on the committee, said, referring to the low coverage in children under 5. "We're just going to have more kids aging into this age group and needing to be vaccinated. We really just have to focus on getting those kids vaccinated."
The advisers were later asked to provide input on a proposal to change the current immunization schedule from one with many shots—three or more for virtually all Americans—to one with just two sections—two doses for certain people, such as some young children, and one dose for all other individuals.
The latter group would include people who have post-infection immunity, or natural immunity—the first time that U.S. officials have formally proposed counting the protection as an alternative to some vaccine doses.
Dr. Melinda Wharton, a CDC official, said that moving forward with the proposal would be "a reset for our vaccine recommendations" and mean that for many people, "regardless of what they got before, a single dose does make sense."
"Simpler is better," said Dr. Mark Sawyer, another panel member.
Others advocated for more data from clinical trials and elsewhere.
"The trial data needs to be much more robust than we've seen in the past," Dr. Archana Chatterjee said. With COVID-19 now in an endemic phase, she added, it's time to "look at science much more closely" than we were able in the early days of the pandemic.
The meeting happened after the United Kingdom announced it was ending booster availability for most healthy people under 50. Some other countries have already scaled back their vaccination campaigns amid waning protection and a growing awareness of confirmed and potential side effects.