Everything To Know About Kylie Jenner And Timothee Chalamet's Romance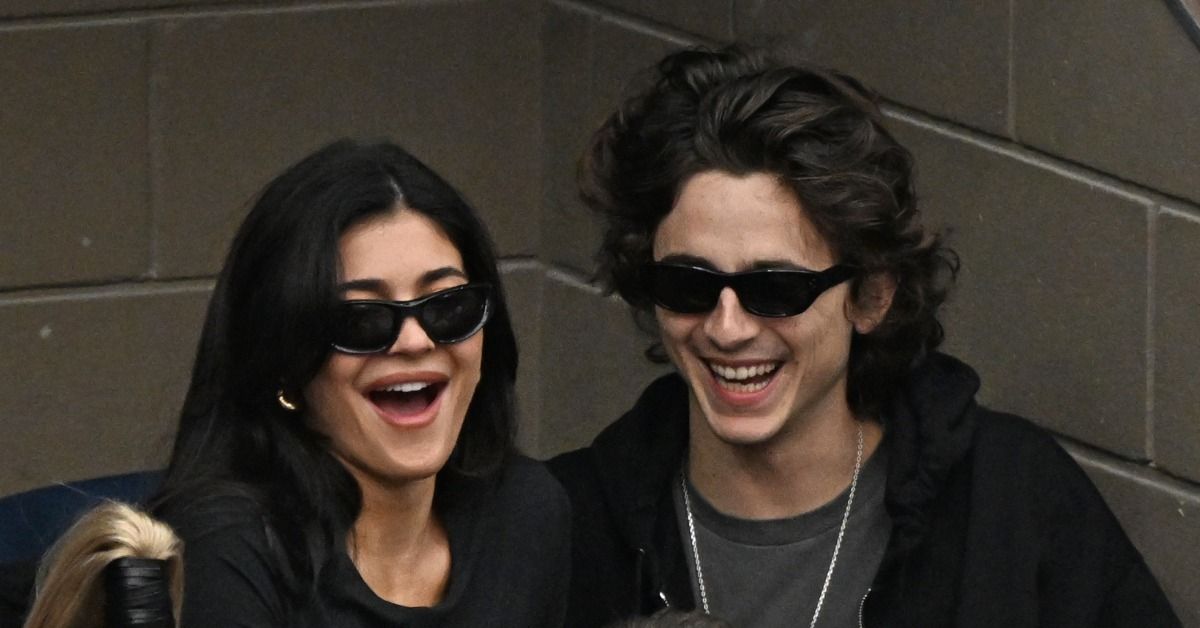 Rumors of romance between Kylie Jenner and Timothee Chalamet are heating up.
Reality star and business mogul Kylie Jenner and actor Timothee Chalamet have been in the news lately — not for their work, but for their blossoming romance. The new relationship surprised Jenner fans, after she broke up with her longtime boyfriend and father of her two children, Travis Scott. The couple were together for five years and were known for keeping things private, but when photos of Jenner and Chalamet were released, it suggested that she and Scott called it quits (at least for now).
On the other hand, Chalamet hasn't had a confirmed relationship since his time with actress and model Lily-Rose Depp. The two were photographed together from 2018 to 2021 on dates and vacations. While neither Jenner nor Chalamet has posted anything about their relationship on social media, they have been spotted more and more as a couple at public events, lending credence to the dating rumors. And while it's only been a couple months since this alleged couple started, they met quietly in January and their chemistry looks to be off the charts.
RELATED: Kylie Jenner And Travis Scott List Beverly Hills In Los Angeles California For $21.9 Million
3

Things Picked Up Between The Two In April 2023

In April 2023, the Instagram account known for secret tips about celebrities and the elite, Deuxmoi, shared that Jenner and Chalamet were seeing each other after meeting in January of that same year. After the rumor was shared, Jenner's Range Rover was seen at Chalamet's home in Beverly Hills and Chalamet was seen getting into her car on a few occasions, as noted by the Daily Mail. After news broke that the two were secretly dating, a source told People the pair "are hanging out and getting to know each other."

Neither Jenner nor Chalamet have commented on their relationship as of this article's publishing, but insiders close to the couple have made comments to multiple outlets. According to Harper's Bazaar, a source said, "It's been really fun for [Jenner] because it feels a lot different than her past relationships. It's new and exciting for Kylie and she's having a lot of fun." This is the first relationship for Jenner since her breakup with Scott and it's exciting to see where it takes them.



2

Fans Thought The Relationship Fizzled Out

After the news spread that Jenner and Chalamet were seeing each other, paparazzi and fans were in a furry to catch the new couple on dates. But when that slowly stopped happening in August 2023, fans suspected that things had died off between the two.

A source told Life & Style that the two "fizzled out." Because of Chalamet's movie career and Jenner being a single mom, it was speculated that their busy lifestyle got in the way of their relationship — not to mention his hectic schedule as an actor on set. The source even claimed that it was Chalamet who broke up with Jenner. Considering this was her first relationship apart from the father of her children, it was said the breakup took a toll on Jenner.

RELATED: How Timothee Chalamet Became A Hollywood Star And Made Millions

As is the case with most alleged celebrity relationships, other sources soon came out and denied the breakup rumors. TMZ claimed that sources said to not believe everything on the internet.



1

Jenner & Chalamet's Relationship Is Hotter Than Ever

Around the time sources told Life & Style the two had broken up, Jenner's car was once again seen at Chalamet's, hinting that they were still seeing each other. An insider told US Weekly that although they don't spend a lot of time together, they still have fun when they do hang out.

"They run in the same circle of friends, and have a great time when they're together, but it's not that serious. Kylie is having fun and although she's open to seeing where things go, they're not in a committed relationship. Things are very casual."

In early September 2023, Jenner and Chalamet had their first outing as a couple at Beyonce's concert in Los Angeles. The pair were seen with friends on a private balcony — dancing and kissing during the show. A few days later, the couple flew from the West Coast to the East Coast for New York Fashion Week. Jenner and Chalamet were then seen sitting closely at a dinner for Haider Ackermann and Augustinus Bader.

While in New York, the pair made another surprising appearance at the 2023 U.S. Open. Both wearing black, they were spied kissing, cuddling, and eating during the match. With a string of public appearances across the U.S., the two could be more serious than they were in the past and may be ready to be more public about their relationship. Time will tell what's in store for this new couple and if it will be discussed on Hulu's The Kardashians.

NEXT: Kendall Jenner Disses Her Sisters By Revealing Why She Refuses To Open A Beauty Brand Like Them

Next
The Clooney Garage: Inside George Clooney's Insane Car Collection

About The Author