Enjoy Ryan Reynolds and Rob McElhenney before reality comes for Wrexham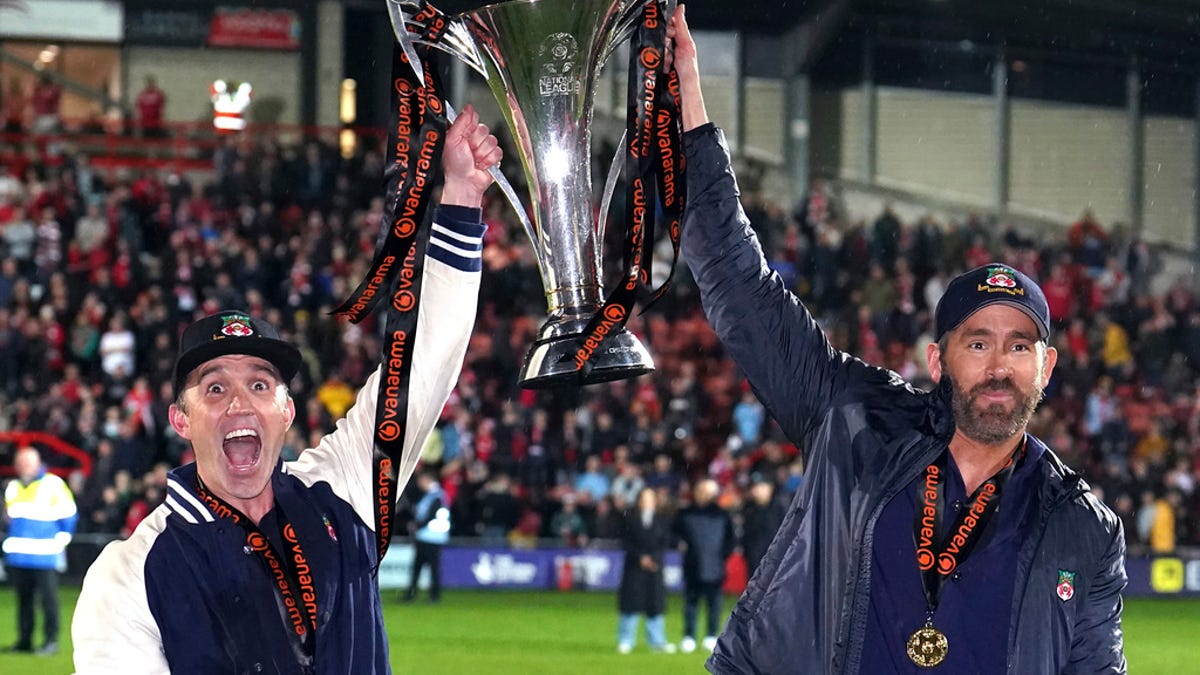 The main reason Ted Lasso should call it a series is because every run comes to an end; players age, rosters get turned over, and somebody ends up being the bad guy. The show was so averse to conflict that its most compelling heel turn was retconned almost immediately in order to avoid any ambiguity and put the protagonists and antagonists back in terms of white, and black.
Will CJ Stroud or Bryce Young have a better rookie season? | Agree to Disagree
In order to preserve the feel-good goal motivating the show, the creators had to end Lasso's run with a happily ever after, and a fade to black. No one wants to see Rebecca Welton make shrewd roster moves — like selling Jamie Tart back to Man City, or Roy Kent leaving for Al-Nassr — but in reality, if the show continued, there would either be sanctimonious goodbyes, or a full pivot into make-believe with the Greyhounds running off EPL, and UEFA Champions League titles until the ratings dip, and Pam has to cheat on Jim.
I say all of that to point out that Ryan Reynolds and Rob McElhenney should enjoy the good times now because the longer they own Wrexham AFC, the more they risk becoming villains. For every Rooney family, there are 10 Dolans, and even the Rooneys gave Ben Roethlisberger a pass.
After Wrexham star Paul Mullin punctured his lung during a friendly with Manchester United in San Diego on July 26, McElhenney offered him the use of his Hollywood home to recover. Doctors said Mullin can't travel due to the injury, so it seems like a no-brainer and clearly was because ESPN picked up the story.
However, what happens when a Wrexham player is accused of sexual assault, refuses to wear pride warmups, or does something to compromise the image Wrexham's new owners have been so careful to craft? The goodwill accrued by Reynolds and McElhenney will vanish in an instant if they put on-field success before the equality and inclusion that they fervently support.
Whenever an athlete fucks up, the team, owner, or league employing them can take as big of a hit as the player. If Reynolds and McElhenney's ownership is more than a lucrative PR stunt, and they're really trying to win cups and leagues, they're going to face moral quandaries that have derailed even the best owners.
Look at what ownership did to Michael Jordan. Yes, he avoided the sleaze of Miles Bridges and never had to compromise his integrity for the sake of winning (mostly because he was never in a position to trade his soul for postseason success), but his tenure was rife with buffoonery, and his standing is worse because of it.
Similarly, Jay Z paired with the NFL, and that league's mishandling of race issues has negatively affected how Black people view Hova's legacy — in part because Jay Z enabled them to move past Colin Kaepernick.
It's rare for any roster to be free of at least one unsavory character, and that's why AFC Richmond was chicken soup for a lot of COVID-affected souls during its run on Apple+. No one wants a deleted scene where Ted gives a rapist a second chance, but had the series continued, that storyline is 100 percent plausible.
Difficult scenarios await Ryan Reynolds and Rob McElhenney with every passing, successful year of ownership. Welcome to Wrexham is (mostly) unscripted reality TV and a writer's room isn't dictating how or when this story ends. I don't care about the current ratings, be it Nielsen, or approval. Society will toll for Wrexham, and you either go out like Rebecca Welton or own a club long enough to become Jerry Jones.