Donald Trump Jr. Alleges a 'Pattern' to Timing of Father's Indictments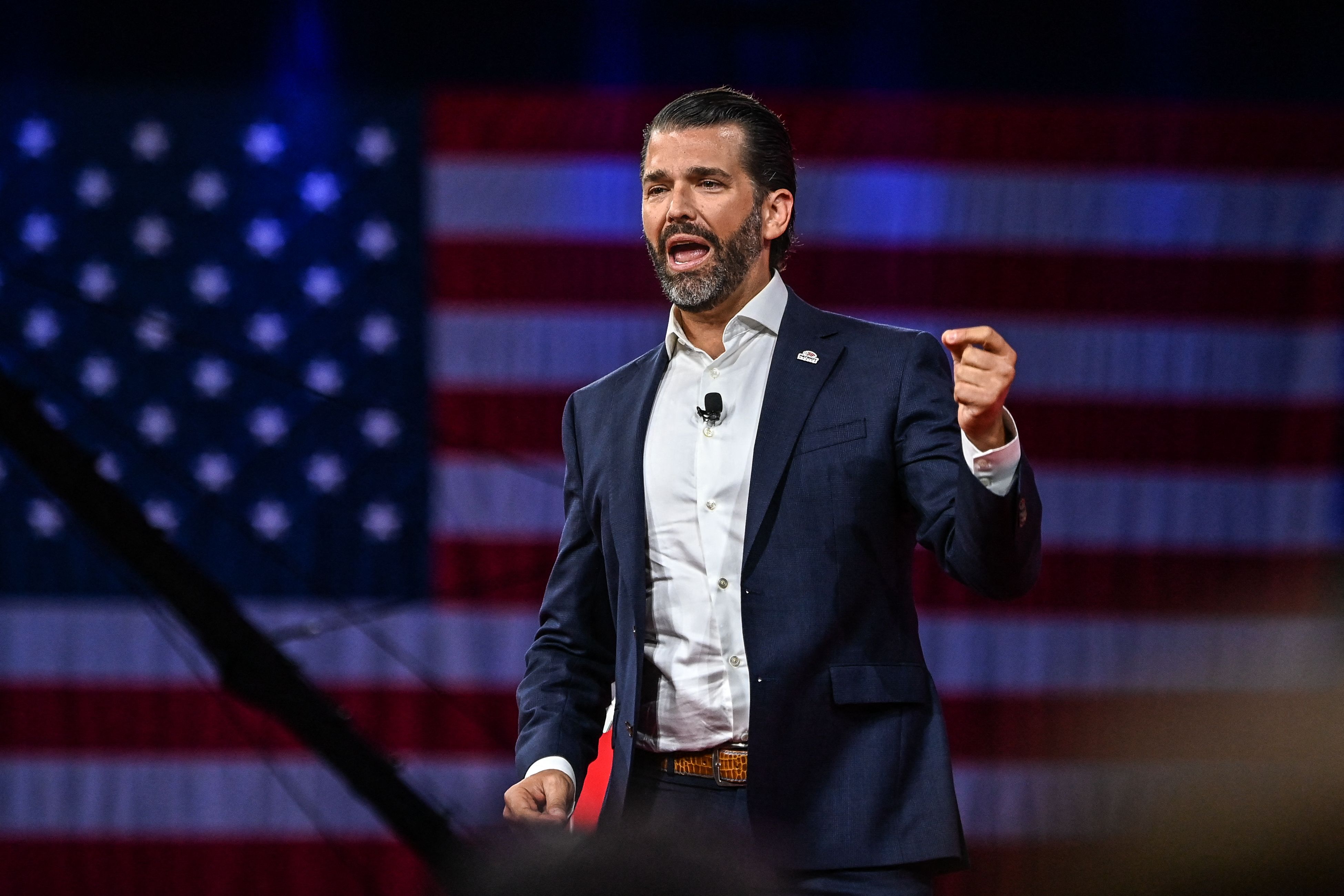 Donald Trump Jr. has alleged that a sinister "pattern" is in play regarding the timing of his father's federal indictments.
On Tuesday, former President Donald Trump was indicted on four federal felony counts related to the January 6 attack on the U.S. Capitol. The ex-president was previously charged with 40 federal counts concerning his post-presidency retention of classified documents and in New York on 34 counts of falsifying business records.
Shortly after the latest indictment was handed down, Trump Jr. suggested on social media that the timing of the indictments was suspicious and was intended to distract from the supposed wrongdoings of the "Biden crime family"—in particular, President Joe Biden and his son Hunter Biden.
Trump Jr. shared to Twitter and other platforms a text image stating that the first federal indictment of his father last month occurred one day after a development involving an unsubstantiated allegation claiming the Bidens took a bribe from Ukrainian energy company Burisma.
The text added that Special Counsel Jack Smith's decision last week to add more charges to Trump's documents indictment happened one day after the collapse of a plea deal for Hunter Biden's unrelated tax and gun charges.
The January 6 indictment took place a day after Hunter Biden's former business partner Devon Archer testified in the House, although his testimony was fruitless for Republicans hoping to punish the Bidens, providing no evidence of wrongdoing by the president.
Trump Jr. suggested that the timing of the indictments, and the "media lackeys" reporting on the unprecedented avalanche of criminal charges, were part of a plot by the Department of Justice to protect Joe Biden.
While the current president is not facing any criminal charges, Trump Jr. deemed Biden to be "the most corrupt president in the history of our nation" and claimed without evidence that "millions" had been paid to Biden's family.
"Anyone else noticing a pattern here?" Trump Jr. tweeted. "The corrupt beurocrats [sic] of the Biden regime charge Trump literally the day after every single disastrous Biden crime family story. Rather than looking into the millions sent to the Biden's [sic] their kids and their grandkids from virtually all of our enemies they go after their political enemies."
"There's no such thing as this much coincidence and if you've been paying attention, you will realize that we have become a banana republic," he added. "Truly disgusting."
Smith's office declined Newsweek's request for comment on Trump Jr.'s allegations.
Tuesday's indictment accuses the ex-president of conspiracy to defraud the United States; conspiracy to obstruct an official proceeding; conspiracy against rights; and obstruction of and attempt to obstruct an official proceeding.
Trump, who denies all wrongdoing and claims that he is the victim of a political "witch hunt" and "election interference," said that the indictment was based on "fake charges."