Dicks: The Musical Is The Most Unhinged Movie I've Ever Seen, And I'm Ready For A Re-Watch Or 12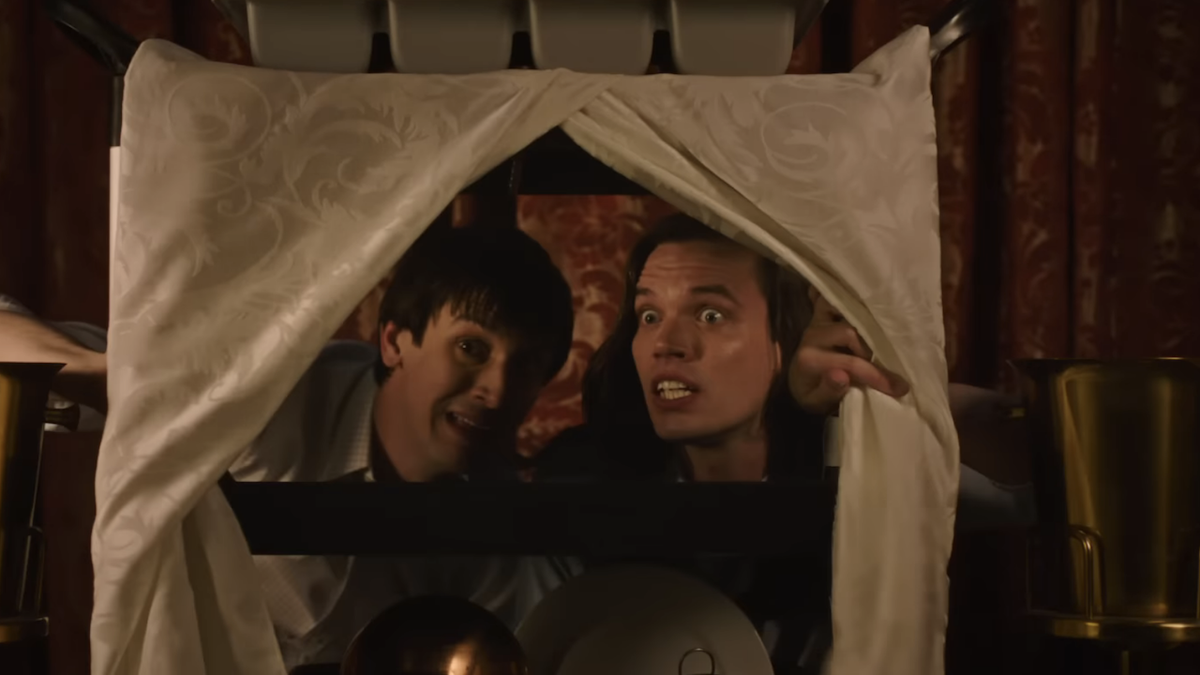 Movie musicals are a tried and true genre in the film world, one often capable of winning major categories during Awards Season. They can often inspire those feel-good emotions thanks to catchy musical numbers and family friendly messaging. Well, Dicks: The Musical is not in that category. Despite the cheery melodies and cast of legends, it's arguably the most unhinged movie I've ever seen. And I'm so ready for a re-watch…or twelve. 
Dicks: The Musical comes from A24, which is known for releasing unique projects. This should perhaps be the first clue that things are going to get crazy. Dicks had its premiere at the Toronto International Film Festival, when it's already getting buzz. It stars and was written by Josh Sharp and Aaron Jackson, who crafted a truly bonkers story that is half Parent Trap half twisted fever dream. Let's break it all down.
Dicks establishes itself as lunacy as soon as it opens. The title cards applaud its stars for writing something as men, a group we all know is criminally underrepresented in the media. They also pat themselves on the back for playing straight characters as queer men, establishing the movie's tone before they even appear on screen. Soon after the narrator God, played by comedic icon Bowen Yang, begins to set up the story about two identical twins separated at birth. Sharp and Jackson very much do not look like each other, which adds to the hilariously ridiculous nature of the movie's plot.
Afterward we meet said parents, played by the legendary Nathan Lane and Megan Mullally. Both of their resumes include Broadway and TV/film appearances, and they truly rise to the ridiculous circumstances of Dicks: The Musical. For Mullally that includes using a motorized wheelchair and taking on a speech impediment. For Lane, it's multiple scenes with a set of deranged puppets who are playing his "Sewer Boys." As their name suggests, those are monsters he found from the NYC sewers and took home as pets. Don't worry, this isn't a spoiler as Dick's trailer already revealed them.
Another standout performance comes from recording artist Megan Thee Stallion, who plays the two protagonist's boss. She gets her own musical number, with quick, ridiculous lyrics that I need to memorize once the soundtrack is released. Every single song in Dicks: The Musical is wild, often poking fun at the tropes of musical theater. We get an "I Want" song where the boys share their dreams, a revolutionary number where the company all get solos, as well as a finale that is bound to offend at least a handful of people in the audience.
In a time where IPs are ruling the entertainment industry and most studios are afraid to take risks, Dicks: The Musical stands out as something wholly original. It's almost a wonder the movie was produced at all, given how the script and songs truly pull no punches in regard to their filth. But it really hit me right in my comedic sensibility, and I bet I'm not unique in this.
Dicks: The Musical will arrive in theaters on September 29th. In the meantime, check out the 2023 movie release dates to plan your next movie experience.