Dave Bautista's April Fools' Day Joke Is So Good We Wish It Was Real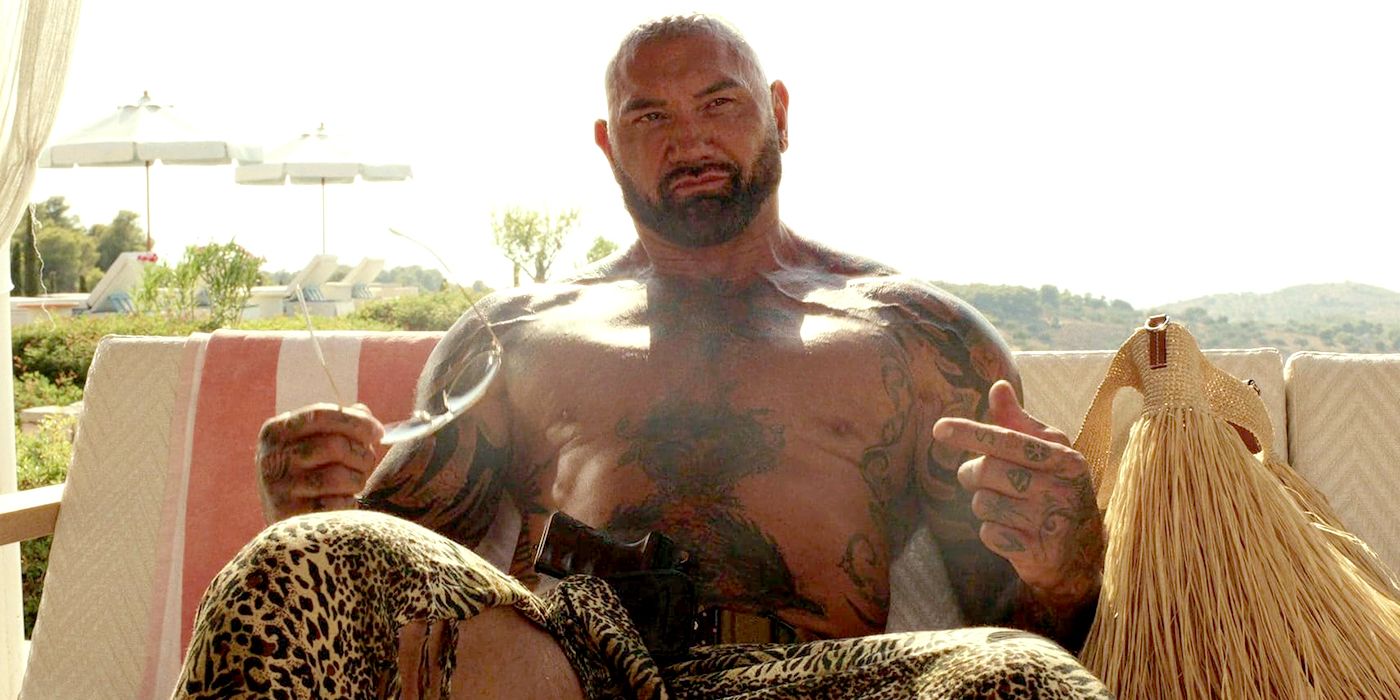 Even as the actor looks for more serious work, Dave Bautista has revealed a special April Fool's Day joke video so good it should be real. After a handful of supporting turns in the action genre, Bautista became a household name in the acting realm with his performance as Drax the Destroyer in the Marvel Cinematic Universe beginning with 2014's Guardians of the Galaxy. The former WWE star has since seen his star profile expand with the likes of Spectre, Blade Runner 2049 and Glass Onion: A Knives Out Mystery, among others.
As the month kicks off, Dave Bautista has taken to Twitter with a special April Fool's Day announcement.
The video, as seen above, is a faux trailer for a fake stand-up special entitled "I've Never Done This Before" produced by Netflix. The clip hilariously sees Bautista bombing in his attempt to make the attending audience laugh, ultimately breaking down and returning to his WWE past to attack a heckler on his stage.
Bautista Should Keep Making Comedies (Even As He Gets Serious)
Recent years have seen Bautista branch away from his action genre roots towards more dramatic territory with the likes of Denis Villeneuve's Blade Runner 2049 and Dune: Part One, the latter of which he considers a vindication for his decision to leave wrestling. His last performance in M. Night Shyamalan's Knock at the Cabin scored some of his best reviews thus far, with critics praising his quietly compelling and vulnerable turn as antagonist Leonard, pointing towards a very promising future in the world of serious filmmaking.
In spite of his desire to go for more drama, however, Bautista's April Fool's Day joke video proves it would be a waste for him to not continue making comedies alongside his serious work. Even outside of his work as Drax in the MCU, Bautista has frequently showed his skills with more humorous material with the likes of his What We Do In The Shadows cameo, Netflix's Glass Onion: A Knives Out Mystery and Stuber, even if the latter scored generally mixed reviews.
Related: It's True, Dave Bautista Is The Best Ex-Wrestler ActorLuckily for those who have enjoyed Dave Bautista's comedic work, it doesn't look like he will be pulling back on it entirely in the near future. The actor himself has expressed an interest in starring in a romantic comedy, something he has yet to do, and will also reportedly team up with Aquaman actor Jason Momoa for a buddy cop movie. In the meantime, audiences can look forward to Bautista's return on the big screen with Guardians of the Galaxy Vol. 3, his MCU finale, arriving on May 5 and Dune: Part Two on November 3.
Source: Dave Bautista/Twitter