Bull of the Day: Oxford Industries (OXM)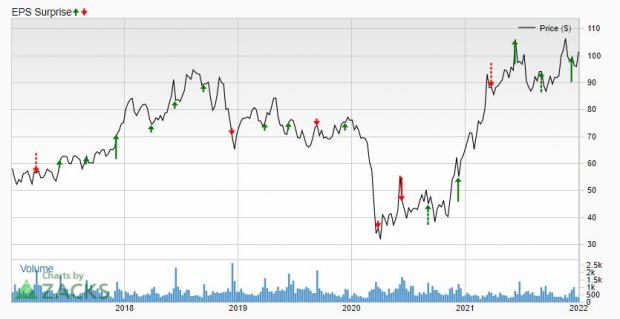 Oxford Industries, Inc. OXM saw record sales in its fiscal third quarter as shoppers rushed out to buy apparel. This Zacks Rank #1 (Strong Buy) also raised full year fiscal 2021 guidance.
Oxford Industries is a retailer which includes the brands Tommy Bahama, Lilly Pulitzer, Southern Tide, The Beaufort Bonnet Company and Duck Head brands.
It also has e-commerce sites and operates restaurants.
Record Third Quarter Net Sales and Earnings
On Dec 8, Oxford Industries reported its fiscal third quarter 2021 results and crushed the Zacks Consensus Estimate by $0.90. Earnings were a third quarter record of $1.19 versus the consensus of just $0.29.
It was Oxford Industries' third earnings beat in a row.
Net sales jumped 41% to a record $248 million, up from $175 million a year ago and $241 million in fiscal 2019, which was pre-pandemic.
Full price direct to consumer sales jumped 40% to $143 million, with growth in each of its brands compared to the third quarter of fiscal 2019, which is pre-pandemic.
Full price retail sales rose 13% and full-price e-commerce sales grew 100% compared to the third quarter of fiscal 2019.
Tommy Bahama revenue was $148.5 million up from $127 million in Fiscal Q3 2019.
Lilly Pulitzer revenue was $72.2 million up from $71.7 million and Southern Tide came in at $13.2 million, up from $9.1 million 2 years ago.
Lilly Pulitzer is one of the apparel industry's hottest brands, and was hot prior to the pandemic as well.
Even restaurant sales were up compared to the 2019 pre-pandemic third quarter with sales jumping 14% to $20 million due to strong increases at existing locations plus the addition of 5 Marlin Bar locations.
Gross margin rose 62% from 55% in the third quarter of fiscal 2019 as Oxford saw strong full-price sales, a shift in sales mix towards full-price direct to consumer channels and higher initial gross margin, partially offset by higher freight costs.
Oxford has exited its Lanier Apparel business as of the fourth quarter 2021.
Oxford Industries Raised Full Year Guidance
Given the strong third quarter, and continuing strong full-priced demand, Oxford raised its full year earnings outlook even with continuing supply chain challenges.
It now expects net sales in the range of $1.127 billion to $1.137 billion, up from $1.123 billion in fiscal 2019.
Fiscal 2019 also included a full year of sales of Lanier Apparel, which was $95 million, and is expected to be just $25 million in fiscal 2021 as the company has now exited that business
Earnings are now forecast between $7.52 and $7.67.
The analysts have been busy raising their full year earnings estimates as a result.
4 estimates have been revised higher in the last month, pushing up fiscal 2021 to $7.63 from $6.68. That's earnings growth of 521% as Oxford lost $1.81 in fiscal 2020 during the pandemic.
4 estimates were also revised higher for fiscal 2022, pushing up the Zacks Consensus Estimate to $7.76 from $6.95 during that time. However, that's just earnings growth of 1.6%.
Oxford Shares are Cheap
Over the last year, Oxford shares have rallied 51%, well out pacing the S&P 500 which is up 27.5% over that same time period.
But the shares haven't gone anywhere in the last 6 months, adding just 2.6% over that period, even as earnings estimates have been raised.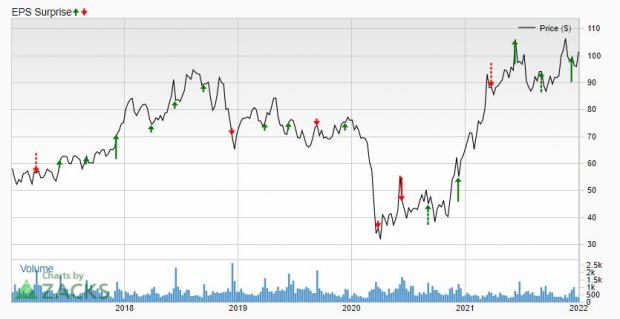 Image Source: Zacks Investment Research
Oxford shares are still cheap, with a forward P/E of just 13.
It's also shareholder friendly, and is back to paying a dividend, which is currently yielding 1.7%. It also has a share repurchase plan, which the board just increased to $150 million.
For those looking for an apparel retailer with red hot brands, Oxford is one to keep on your short list.
Zacks' Top Picks to Cash in on Artificial Intelligence
This world-changing technology is projected to generate $100s of billions by 2025. From self-driving cars to consumer data analysis, people are relying on machines more than we ever have before. Now is the time to capitalize on the 4th Industrial Revolution. Zacks' urgent special report reveals 6 AI picks investors need to know about today.
See 6 Artificial Intelligence Stocks With Extreme Upside Potential>>
Click to get this free report
Oxford Industries, Inc. (OXM): Free Stock Analysis Report
To read this article on Zacks.com click here.
Zacks Investment Research
The views and opinions expressed herein are the views and opinions of the author and do not necessarily reflect those of Nasdaq, Inc.