Brittney Griner And Wife Join Celebs At Super Bowl: LeBron, Damar Hamlin, Jay-Z, Paul McCartney & More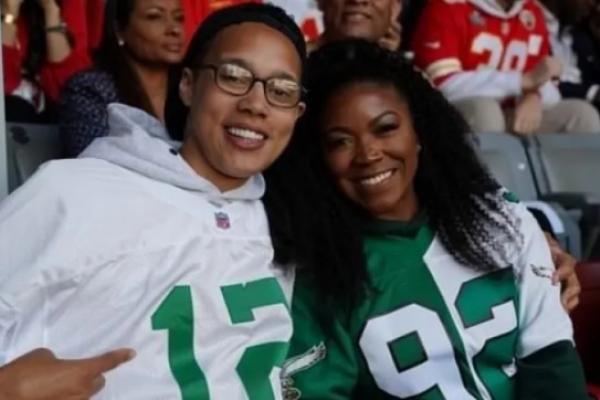 WNBA superstar Brittney Griner attended Sunday's Super Bowl where she was seen cheering on the Philadelphia Eagles with her wife Cherelle Griner.
The 6'9" center for the Phoenix Mercury looked relaxed and happy in the stands at the big game. This was only her third public appearance since her release after 10 months in a Russian prison cell following her arrest in Moscow for possessing a small amount of cannabis oil. On Saturday, Griner attended the Phoenix Golf Open in Scottsdale, Arizona.
Griner's first time in public was last month for the Martin Luther King Jr Day march in Phoenix.
After months of negotiations between the U.S. and Russia, Griner was released on December 8 in exchange for Viktor Bout, a notorious Russian arms dealer dubbed the "Merchant of Death."
Basketball Future 
Griner has said she's not attending the USA Basketball training camp in Minnesota so she can be with her wife and recover from her time in jail. She's said she'll play for the 
Phoenix Mercury again this season, although she's still an unsigned free agent. She hasn't talked about her international future and potentially playing in the Olympics next year in Paris, reported CBS News.
Tons Of Celebs At Super Bowl LVII
Other celebs from sports and screen were also on hand, including LeBron James, Shaquille O'Neal, Damar Hamlin, Paul McCartney, Jay-Z, Cara Delevingne, Paul Rudd, Gordon Ramsay, Adele, Kevin Hart, Billie Eilish, Bradley Cooper and so many more.