BNSF railroad tries to block 17,000 workers from striking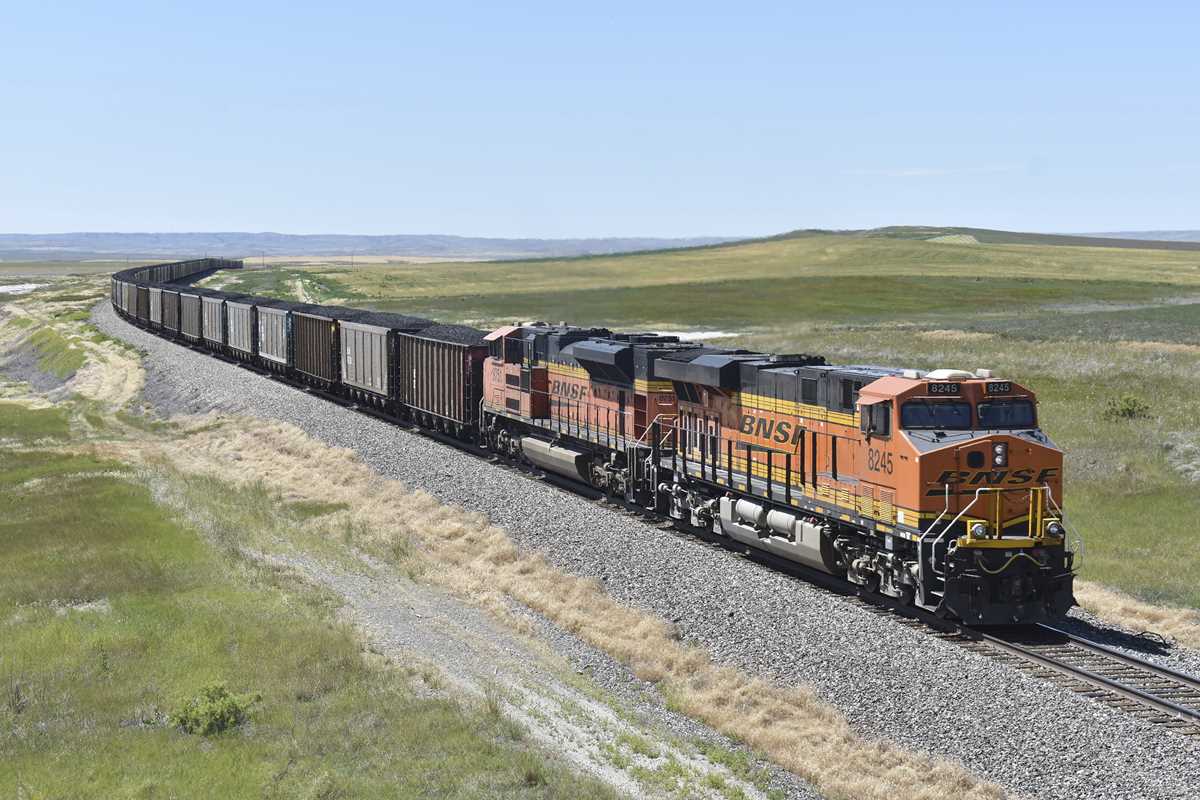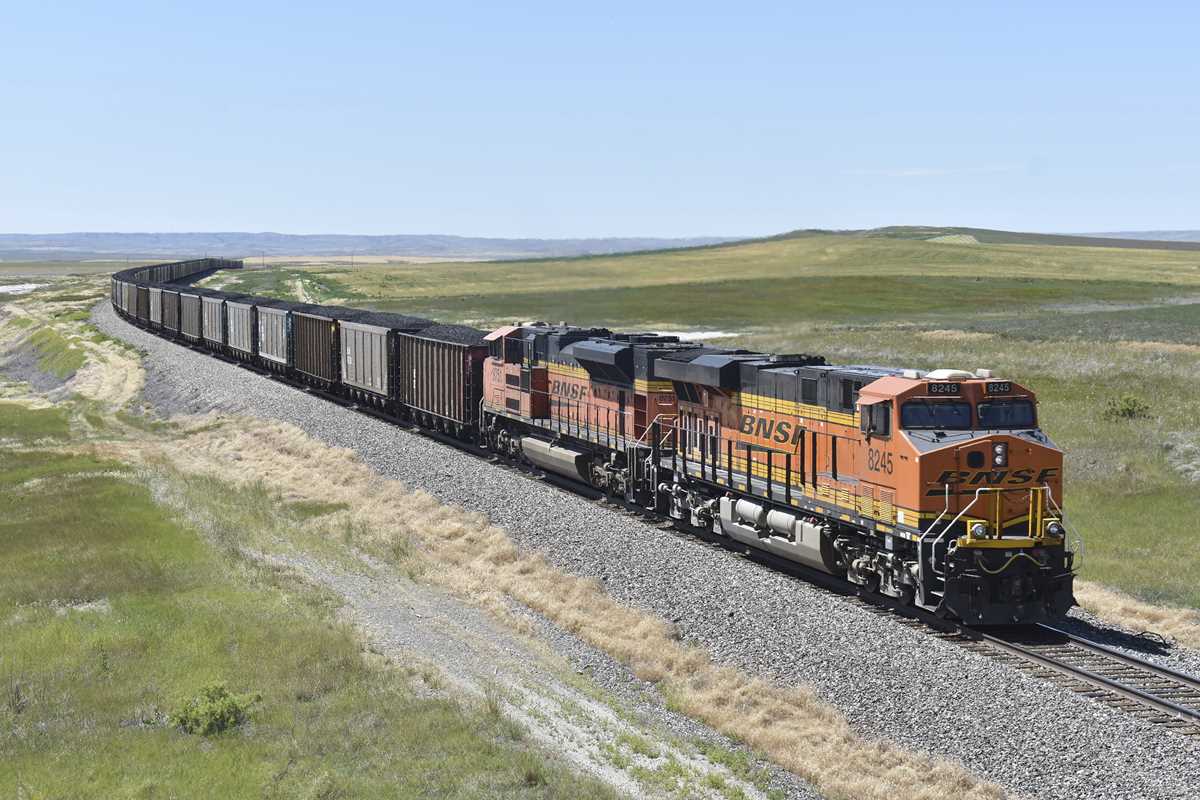 A BNSF railroad train hauling carloads of coal from the Powder River Basin of Montana and Wyoming is seen east of Hardin, Mont., on July 15, 2020. BNSF railroad wants a federal judge to prevent two of its unions from going on strike next month over a new attendance policy that would penalize employees for missing work. The Fort Worth, Texas-based railroad went to court after the unions that represent nearly half of BNSF's 35,000 workers threatened to strike over the new policy that is set to go into effect on Feb. 1, 2022. (AP Photo/Matthew Brown File)
OMAHA, Neb. (AP) — BNSF railroad wants a federal judge to prevent two of its unions from going on strike next month over a new attendance policy that would penalize employees for missing work.
The Fort Worth, Texas-based railroad went to court after the Brotherhood of Locomotive Engineers and Trainmen and the Transportation Division of the International Association of Sheet Metal, Air, Rail, and Transportation union both threatened to strike over the new policy that is set to go into effect on Feb. 1. The unions said they are surveying their 17,000 members who work for BNSF to see if workers will support a strike.
The heads of the two unions, BLET National President Dennis Pierce and SMART-TD President Jeremy Ferguson, said in a joint statement that the new policy would violate their contracts with BNSF and could provide an incentive for workers to show up when they are sick in the middle of the coronavirus pandemic.
"This unprecedented BNSF policy repudiates direct and clear contract language, and in application, will attempt to force our members to report for duty without regard for their medical condition as we struggle to come out of a pandemic," Pierce and Ferguson said.
The railroad maintains that this issue is a minor dispute that the unions wouldn't be allowed to strike over under federal law, and a strike shouldn't be allowed because it would hurt the economy too much.
"Rail strikes—even if brief or localized—can cause devastating and irreparable harm to carriers, their customers, other railroads, and the general public. The threatened strike in this case would strain an already overburdened supply chain, potentially causing wide-ranging harm to the national economy," BNSF said in its lawsuit.
BNSF said it hasn't updated its attendance policy in 20 years, so it came up with the new system to give its employees an easier way to see where they stand under the rules.
(Ad)
Other investors will focus on the industry's largest players – such as Intel, Samsung, or Qualcomm… But did you know…. There are potentially bigger opportunities with these four companies are flying "under the radar".
A hearing will be held Monday to determine whether the judge will block the threatened strike.
BNSF, one of the nation's largest railroads, operates 32,500 miles of track in 28 western states.
7 Fintech Stocks That Will Continue To Disrupt Traditional Banking
In April 2021, JPMorgan Chase CEO Jamie Dimon described fintech companies as one of the "enormous competitive threats" to traditional banking. And with good reason. Fintech (short for financial technology) is not just "digital banking." It's a different approach to banking that traditional banks will not be able to replicate by outspending their competitors.
You see, cryptocurrency is getting a lot of attention for the way it's disrupting the monetary system. But before there was bitcoin (CCC: BTC-USD), there was fintech.
What started out as a way to send money from one person to another without the need for a bank (i.e. peer-to-peer lending) has morphed into much more. Today, individuals and businesses can get loans, invest, and pay bills conveniently and securely. And they can do so without ever having to set foot into a bank.
Financial technology is democratizing finance for many individuals who have been left behind by the traditional banking system. The "unbanked" is a huge target audience. But whereas fintech started as reaching those that were unbanked out of necessity; it is cultivating a new audience among those who are going unbanked by choice.
In this special presentation, we'll look at seven fintech companies that are leading in this space today and will do so well into the future.
View the "7 Fintech Stocks That Will Continue To Disrupt Traditional Banking".