Blackhawks GM Davidson Reveals Surprises in Latest Presser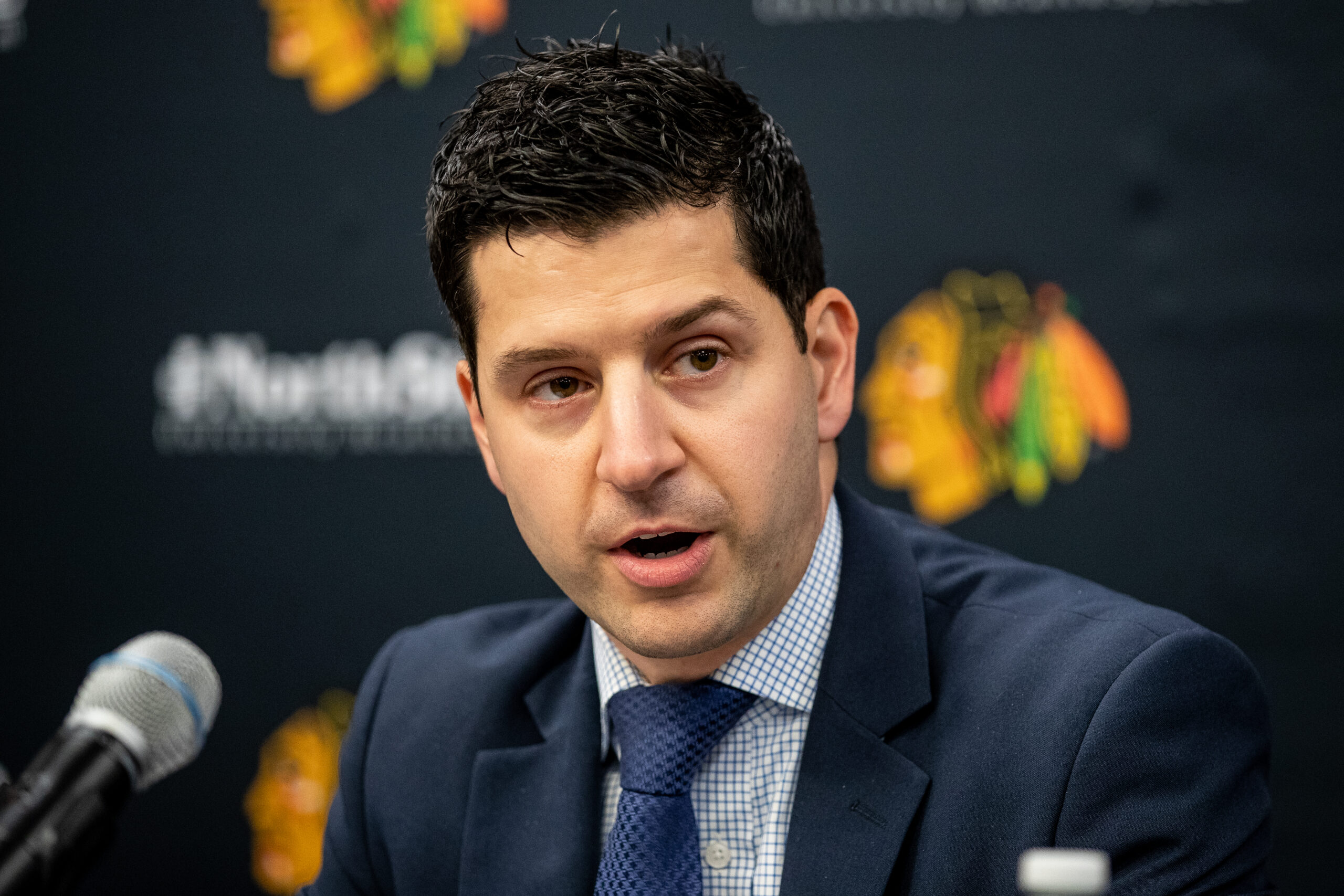 The Chicago Blackhawks start training camp on Sept. 21, and general manager Kyle Davidson gave a long-awaited press conference before the festivities to provide updates on the team. He hasn't spoken since July, so many topics needed to be addressed regarding roster decisions with first-overall pick Connor Bedard in the fold. Davidson confirmed some suspicions, but he also laid out some revelations concerning the roster. Here are some of the subjects that were discussed.
The Newest Blackhawks Center
I'll start by addressing what I thought was the most surprising tidbit of the press conference, which surrounded Lukas Reichel. Davidson announced that Reichel will be a center from now on, and he has worked on faceoffs and defense this summer to prepare for it. He was drafted as a wing in 2020, where he is mainly utilized, but he does have experience playing center. He was projected to be the top-line forward alongside Bedard or possibly a second-line wing. Furthermore, there was talk that Andreas Athanasiou could be the second-line center after faring well last season, but this news shows Reichel will probably slot into the second-line center role. This move could work, but it carries question marks.
Reichel has shown he is a consistent scoring winger with the Rockford IceHogs and the Blackhawks. For reference, in Rockford, he had 51 points in 55 games. In Chicago, he had 15 points in 23 games last season. He did take NHL faceoffs, but they were not that impressive. He won five out of 13 draws for a faceoff percentage of 38.5%. But, he mentioned last summer he worked on gaining weight, so he wasn't as easy to knock off the puck, and because he has been working at the center position this offseason, it makes me think management discussed the possibility with him before the season ended with expectations for that.
Related: Blackhawks' Young Players Making an Impact Early in 2023
---
Latest News & Highlights
---
He could excel at center, but I don't believe this is a long-term fit unless he proves otherwise. It doesn't hurt to experiment; it's the whole point of a rebuild to see what works while other prospects like Oliver Moore, Frank Nazar, and Martin Misiak are not NHL-ready, but they're messing with a role for Reichel that didn't need to be fixed. Yet, it does make the line combinations more interesting.
Korchinski's NHL Debacle Continues
One topic that people are curious about is what the Blackhawks will do with top defense prospect Kevin Korchinski. They can either have him start with the Blackhawks, or they have to send him back to the Seattle Thunderbirds of the Western Hockey League (WHL). They can't assign him to the IceHogs because players drafted in the Canadian Hockey League (CHL) can only be assigned to the American Hockey League (AHL) once they are 20 years old, and Korchinski is 19.
When Davidson was asked in July whether Korchinski would start the season with the Hawks or head back to Seattle, he said he wanted him to force management's hand at training camp. It shouldn't be tough to do that. He was named WHL U.S. Division Defenseman of the Year after putting up 73 points in 54 games and was the third-best scorer on the team. Regarding the Blackhawks, the only "sure" defensemen are Seth Jones, Connor Murphy, and Jarred Tinordi. Otherwise, competition is wide open, as other prospects looking to make the team are Wyatt Kaiser, Isaak Phillips, and Filip Roos.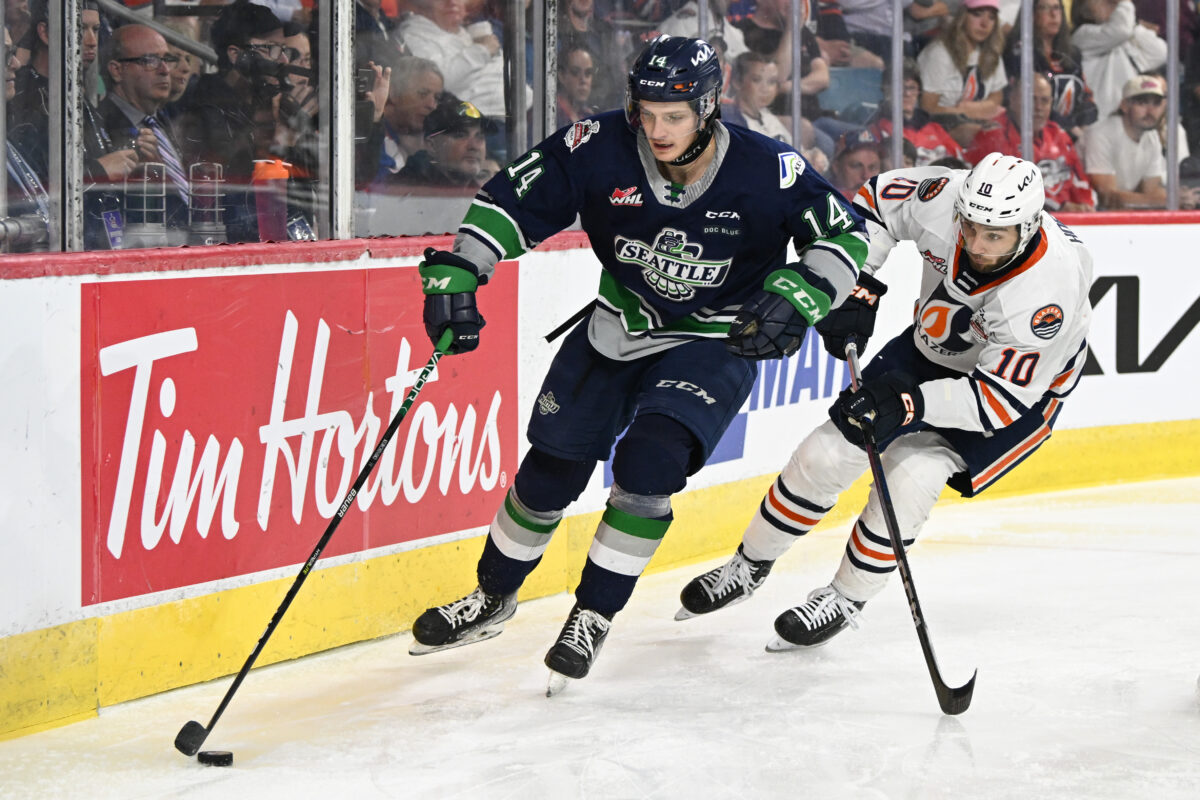 There are solid arguments for having Korchinski start in Seattle or Chicago, but Davidson provided a subtle hint about their plans. He said he wants Korchinski to "prove he can can physically defend NHL forwards and dial back his offensive risk-taking" to stay with the Blackhawks. This tells me they want to return him to Seattle to work on those elements. They aren't desperate to get him into the fold and remain patient. Although he looked great at the Tom Kurvers Prospect Showcase, it feels like he will have to play flawlessly in training camp to make the team.
Related: Blackhawks' Lines & Pairings Predictions: Pre-Training Camp
Again, he has to force their hand, but one thing about Korchinski's game is he has always been knocked for his defense, so him continuing to work on that in the WHL could benefit him. They don't need him to help make the Blackhawks contenders this season. Unfortunately, he's in a weird conundrum where he might be too good for the WHL but is still not quite ready for the NHL in management's eyes. His position still has a lot of vagueness, but the true answer will come during training camp.
Oh Captain, No Blackhawks Captain
Now, for the big captain reveal. After all, Jonathan Toews is no longer on the team after a 15-year reign, and other NHL teams, like the St. Louis Blues and the Winnipeg Jets, have recently announced their new captains for the upcoming season. So what gives? It was assumed that the Blackhawks would go into the season without anyone wearing the "C." Head coach Luke Richardson mentioned in July it was something they would discuss internally and go from there. Players like Seth Jones expressed interest in the role when recently asked about the matter, saying it would be "pretty special" and that he always wanted to be a captain. However, hesitation was expressed by others. In his season-ending presser, Connor Murphy said in part, "I don't know if anyone could live up to Toews."
Davidson has confirmed that the Blackhawks will go into the season without a captain:
The only plan right now is to sort of just let it breathe for a year. We came off such a successful tenure with Jonathan that, a little bit of it is just out of respect for Jonathan, to not fill that spot right away. And the other part is not to put that pressure on someone else when you're coming out of a period of such — call it greatness, right? And you want the next person to be in a position to succeed. And there's no requirement to have a captain, so we just felt that it was best to leave that and push that decision a little bit.
This notion of wanting players to find success on their own is a stance Davidson has never waivered on. He noted a reason for parting ways with Patrick Kane and Toews last season was, in part,so the young players could grow into leaders without being in their shadow. Therefore, this makes sense. The players likely hesitated with the idea, and the organization agreed. Chicago won't compete this season, so there isn't a need to have all the roster decisions nailed right this second. There will be a captain at some point, but that decision will grow organically with the Hawks as they find their bearings during this new era. It could end up being Murphy, Jones, or even Bedard when the time is right. In the meantime, they will be just fine with an alternate captain rotation of Jones, Murphy, Tyler Johnson, and more.
Blackhawks Season Outlook
One last thing that Davidson said stood out. He said that development, seeing players improve, and showing they can be a big part of the team is what they are looking for from the Blackhawks this season. It's a candid remark. Although expectations should be higher, as is the case for any losing season, especially now that they got Bedard, the fact is the team still has a lot to sort out.
Blunt assessments like that dramatically contrasts former general manager Stan Bowman when he proclaimed the team would be "pushing for the playoffs" in 2021-22 after acquiring Johnson, Jones, and Marc-Andre Fleury, even though most knew that the additions were like putting a band-aid on a broken bone for a team going nowhere fast. It backfired. Davidson's words might not be sparkly because fans want to hear that playoffs are the goal, but he's being clear and realistic. His press conference shows they continue moving in the right direction. Slowly but surely, they'll get there, with a few surprises along the way.