Binance.US Hits ATH in Trading Volume Amid Regulatory Scrutiny: Details

Godfrey Benjamin
Binance.US has attained new ATH in its trading volume amid regulatory distress
Different companies react to external negativities in different ways, and in the case of Binance.US, the American arm of the world's largest exchange, positive growth in its trading volume is its response to its recent distress with American regulators.
Despite the crackdown on its parent company by the United States Commodity Futures Trading Commission (CFTC), the exchange's CEO, Changpeng "CZ" Zhao, has shared the platform's growth metrics. According to him, Binance.US has attained approximately 41% of the trading volume of Coinbase, the largest crypto exchange firm in the country.
While this is a significant milestone for Binance.US, CZ revealed that the current trading volume is at a new all-time high (ATH) for the exchange.
"Sharing some public data. @BinanceUS (NOT including binance.com) weekly trading volume reached 41% of Coinbase's (global) trading volume last week. An ATH," CZ's tweet reads, sharing the data below.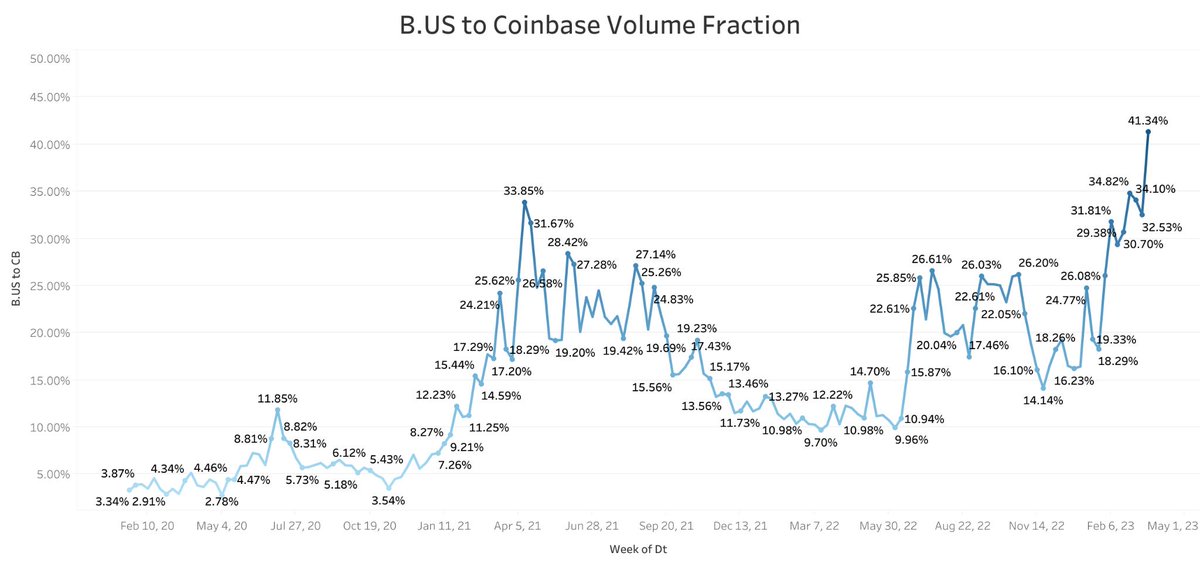 When asked about data for the main trading platform, CZ responded by referring to figures published by its wholly-owned crypto analytics service provider, CoinMarketCap, for reference.
Bullish Binance.US sentiment
The Binance.US platform has stayed resilient in the face of intense adversity to its growth pursuits. While its bid to acquire the assets of Voyager Digital is currently delayed following a federal judge's temporary halt granted to the SEC in the case, members of the trading platform appear unbothered.
As the biggest exchange in the world, Binance has come under more intense scrutiny from both regulators and the media. When the CFTC probe was unveiled, it was alleged that the exchange self-traded with 300 accounts on its platform and facilitated crimes.
Many called on users to withdraw their funds from the exchange, and despite the more than $2 billion outflow recorded, it appears the exchange quickly regained its pace to push its U.S. arm to print the current ATH.