Bear of the Day: American Woodmark (AMWD)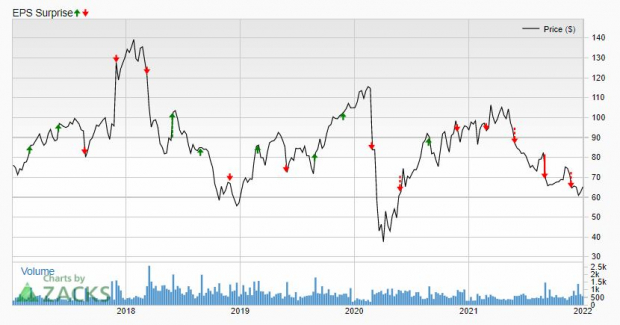 American Woodmark Corp. AMWD is having trouble fighting inflationary pressures even though its pushing through price increases. Analysts have cut this Zacks Rank #5 (Strong Sell) earnings estimates for this year and next.
American Woodmark is one of the largest cabinet manufacturers in America with over a dozen brands. It sells in major home centers and partners with builders and independent dealers and distributors.
Inflation Continued to Hit in Q2
Despite pushing price increases through in the fiscal first quarter, inflationary pressures continued to hit American Woodmark in the fiscal second quarter.
On Nov 23, American Woodmark reported its second quarter results and missed on the Zacks Consensus for the fifth quarter in a row.
It reported $0.62 versus the consensus of $0.81, for a 23.5% miss.
Net income in the second quarter of 2022 fell $21.1 million due to continued expansion of inflationary pressures outpacing the company's price actions taken across all their channels.
Prior price increases have begun to partially offset the inflationary impacts but there is an inherent lag between price actions and seeing some relief. It can take up to 6 months, or more.
Net sales for the quarter were only up 1% to $453.2 million compared to the same quarter a year ago. It did see labor and supply chain challenges in the quarter, especially with particle board.
In good news, it experienced growth in the new construction sales channel versus a year ago as market demand remained strong.
Earnings Estimates Cut
With the labor and supply chain challenges expected to remain, as well as the inflationary pressures, it's not surprising that analysts have been cutting earnings estimates for this year and next.
One estimate was lowered over the last 60 days for fiscal 2022 which pushed the Zacks Consensus down to $3.83 from $4.84.
That's an earnings decline of 40.2% as it made $6.40 last year.
One estimate was also lowered for fiscal 2023 which pushed down the fiscal 2023 Zacks Consensus Estimate to $6.77 from $8.47. That's an increase of 76.8%.
Shares Fell Over the Last Year
Even though the housing market remains strong, as does cabinet demand, shares of American Woodmark have sunk nearly 32% over the last year.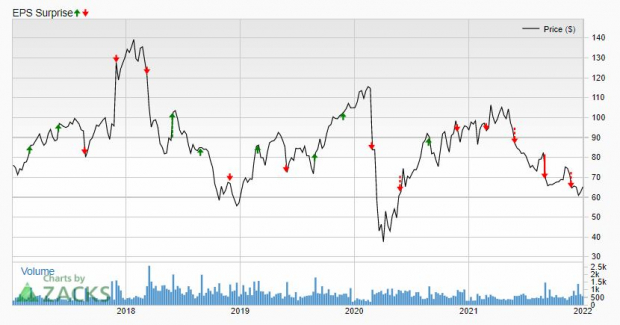 Image Source: Zacks Investment Research
They're cheap, but not dirt cheap, at a forward P/E of 17.
Inflation, labor and supply chain challenges continue to be a worry.
Investors might want to wait until that issue shows some clarity before diving in on American Woodmark.
Zacks' Top Picks to Cash in on Artificial Intelligence
This world-changing technology is projected to generate $100s of billions by 2025. From self-driving cars to consumer data analysis, people are relying on machines more than we ever have before. Now is the time to capitalize on the 4th Industrial Revolution. Zacks' urgent special report reveals 6 AI picks investors need to know about today.
See 6 Artificial Intelligence Stocks With Extreme Upside Potential>>
Click to get this free report
American Woodmark Corporation (AMWD): Free Stock Analysis Report
To read this article on Zacks.com click here.
Zacks Investment Research
The views and opinions expressed herein are the views and opinions of the author and do not necessarily reflect those of Nasdaq, Inc.