Auto Roundup: Chip Crunch Pinches TM, HMC, GM, F and STLA's U.S. Sales in Q4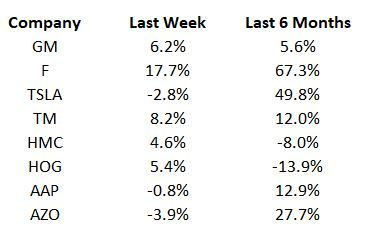 The last week was a pivotal one for the auto industry watchers, as car giants reported fourth-quarter and full-year 2021 U.S. vehicle sales numbers. Fourth-quarter sales of most auto biggies including General Motors GM, Ford F, Toyota TM, Stellantis STLA and Honda HMC were weighed down by manufacturing inefficiencies and tight inventory owing to chip shortage.
Per the U.S. Automotive News, total fourth-quarter 2021 sales fell roughly 21% year over year. Light vehicle sales in the United States totaled 15 million units for 2021, edging up 3.3% on a year-over-year basis but declining from the pre-pandemic 2019 level of 17.1 million. Motor Intelligence estimated December's seasonally adjusted annual rate (SAAR) of 12.71 million, which will mark the second-lowest reading of 2021 after September's 12.38 million. SAAR hit a 2021 high of 18.5 million in April, but heightening global chip crunch and tight inventories have marred the same since then. 
Here's a snapshot of the delivery numbers of key auto giants.
Fourth-quarter sales of Japan's #1 automaker Toyota tailed off 28.2% to 474,379 units, with sales at its namesake and Lexus divisions dropping 28% and 29.4%, respectively. Nonetheless, for full-year 2021, Toyota sold 2,332,262 vehicles in the nation, dethroning U.S. auto giant General Motors as the top-selling automaker.
This was indeed a remarkable feat for Toyota as it marked the first time that a foreign automaker outsold a Detroit counterpart in U.S. auto sales for an entire calendar year in the industry's 120-year history. In fact, full-year U.S. sales for TM were up 10.4% year over year. Sales at its namesake and Lexus divisions grew 10.3% and 10.7%, respectively. 
Close peer Honda also noted a contraction in fourth-quarter vehicle sales but an increase in full-year 2021 volumes. For fourth-quarter 2021, sales slid 21.5% in the United States, with sales of namesake and Acura brands tapering 20.9% and 26.3%, respectively.
Nonetheless, just like Toyota, Honda's overall U.S. sales for 2021 saw a surge. It totaled 1,466,630 units, up 8.9% year over year. The Honda brand sales edged up 8.2% and Acura sales increased 14.9%.
While Japan's auto titans recorded U.S. sales gain in 2021, the U.S. counterparts failed to register a good show. While the demand for vehicles remained exceptionally high amid preference for personal mobility, limited vehicle supply amid chip crunch and high prices owing to tight inventories kept a lid on sales volumes.
General Motors reported sales of 440,745 vehicles in the United States for the fourth quarter, slumping 43% from the year-ago reading. The automaker closed the quarter with 199,662 units in inventory. During the December quarter, sales plummeted across all four General Motors brands, namely Buick, Chevrolet, GMC and Cadillac. For 2021, GM delivered 2.2 million vehicles in the nation, declining 13% year over year.
General Motors' crosstown rival Ford sold 508,451 vehicles in the three months ended December, emerging as the best-selling automaker in fourth-quarter 2021. Yet, sales declined more than 6% year over year. Even for the full year, sales slid 6.8%, with deliveries of its namesake and Lincoln brands falling 6.2% and 17.5%, respectively, on a year-over-year basis.
Meanwhile, Ford grabbed the second spot in electric-vehicle sales for 2021. With sales totaling 27,140 in 2021, Ford's breakthrough Mustang Mach-E spearheaded its position as the country's second bestselling full-electric SUV. The F- Series was named the best-selling truck for the 45th straight year and the best-selling vehicle in America for the 40th year in a row.
FCA US, a subsidiary of Stellantis (established in 2021 via the merger of Fiat Chrysler and Peugeot) posted fourth-quarter sales of 411,513 units, dipping 18% year over year. Sales across all brands but Chrysler decreased for the fourth quarter. Jeep, RAM, Fiat, Dodge, and Alpha Romeo's fourth-quarter sales declined 19%, 16%, 64%, 36%, and 33%, respectively, year over year. Total sales for the full year were down 2% year over year to 1,777,394 million units.
Stellantis currently carries a Zacks Rank #2 (Buy). You can see the complete list of today's Zacks #1 Rank (Strong Buy) stocks here.
Price Performance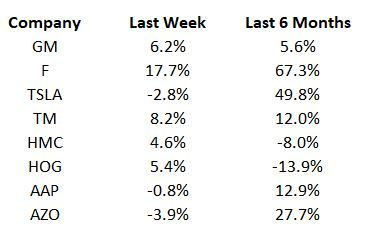 Image Source: Zacks Investment Research
What's Next in the Auto Space?
Industry watchers will track China vehicle sales data for December 2021, which is likely to be released by the China Association of Automobile Manufacturers this week. Also, stay tuned for updates on how automakers tackle the semiconductor shortage and make changes in business outlook as well as operations.
Zacks' Top Picks to Cash in on Artificial Intelligence
In 2021, this world-changing technology is projected to generate $327.5 billion in revenue. Now Shark Tank star and billionaire investor Mark Cuban says AI will create "the world's first trillionaires." Zacks' urgent special report reveals 3 AI picks investors need to know about today.
See 3 Artificial Intelligence Stocks With Extreme Upside Potential>>
Click to get this free report
Ford Motor Company (F): Free Stock Analysis Report
Toyota Motor Corporation (TM): Free Stock Analysis Report
Honda Motor Co., Ltd. (HMC): Free Stock Analysis Report
General Motors Company (GM): Free Stock Analysis Report
Stellantis N.V. (STLA): Free Stock Analysis Report
To read this article on Zacks.com click here.
Zacks Investment Research
The views and opinions expressed herein are the views and opinions of the author and do not necessarily reflect those of Nasdaq, Inc.