Australian Open 20123 live scores, schedule, order of play: Karen Khachanov camera, Novak Djokovic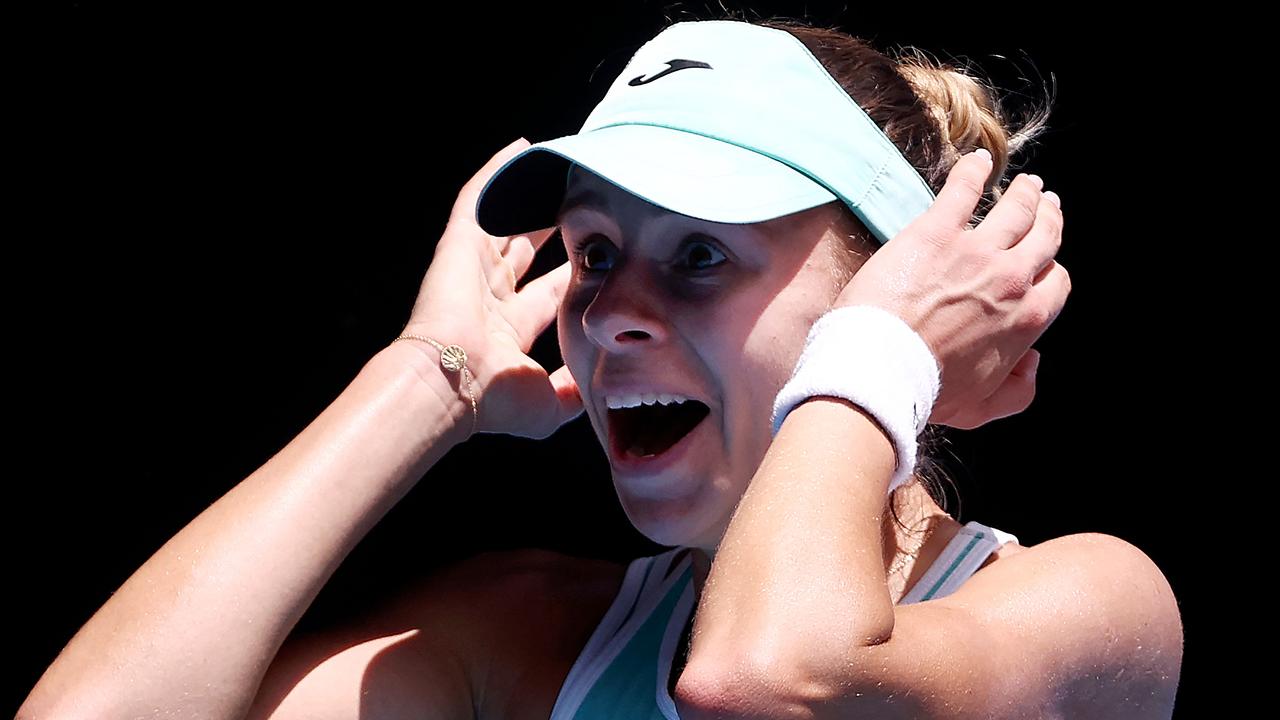 Magda Linette endured the "most painful experience of her life" in 2021. Now she's opened up on the jealousy she felt while her peers were locked down in Melbourne. FOLLOW LIVE
Unseeded Australian Open semi-finalist Magda Linette has recovered from the "most painful experience of her life" to reignite her singles career.
Guaranteed a new career high ranking of at least 22nd in the world next week, Linette could not contain her emotions as she beat Karolina Pliskova 6-3, 7-5 to reach the semi-finals at Melbourne Park.
It's not been an easy road for the Pole. Two years ago she was forced to withdraw from the Australian Open with a knee injury which consumed the following six months of her life.
It took doctors 11 weeks to finally diagnose the need for meniscus surgery. A five month lay-off followed.
As she watched her peers banished to isolation and Covid hotels around Melbourne amid the global pandemic in 2021, Linette admits she felt envy not sympathy.
"It was honestly the most painful experience of my life," the 30-year-old said of the knee injury.
"Nobody could diagnose me for almost 11 weeks, so I was out for total of five months. I had meniscus surgery, but because it was kind of tricky where the injury was, nobody could really see what was happening.
"Literally one day before my flight (to Australia in 2021), the pain and the uncomfortable feeling that I had came back with, like, some extra force.
"It came back, (I) did the surgery, basically next day withdrew. Had already my flight, had my hotel room.
"(I) Listened to everybody complaining about the isolation, and I was so jealous that they had to do it, because I really wanted to be there."
3:10PM WOMEN'S SEMIS ARE SET
Aryna Sabalenka powered into the Australian Open semi-finals by beating Donna Vekic 6-3, 6-2 in a 1hr 49min battle on Rod Laver Arena.
The Belarusian fifth seed, the highest-ranked player left in the draw, will play unseeded Magda Linette for a place in Saturday's final.
"She's a great player," said Sabalenk who remains undefeated in 2023 and is yet to drop a set.
"It is tough to play against her. I think… I don't know. I was – kind of expecting this game from her. I was able to stay in the game, no matter what. I think that was the key."
2:14PM WHAT IS BEHIND USA RESURGENCE?
American men's tennis is witnessing a resurgence with a unlikely trio all making a Grand Slam quarter-final for the first time since 2005, and they are thriving off each others success.
Ahead of the Australian Open, world number nine Taylor Fritz and 17th-ranked Frances Tiafoe were the names on everyone's lips after they led the United States to glory in the inaugural mixed teams United Cup.
But it has been lesser-known players Ben Shelton, JJ Wolf, Sebastian Korda and Tommy Paul who have grabbed the spotlight in a sign of renewed strength and depth in the men's game.
Two of them, former college standouts Shelton and Wolf, surged into the last 16 on their tournament debut, while Korda and the more experienced Paul have enjoyed their best Grand Slam ever.
While tennis is an individual sport, Paul said there had been an element of group mentality in Melbourne, with each of them feeding off the other.
"Absolutely. I think we see people that we've played our whole lives, kind of felt like we've been around the same level as them our whole lives, and we see them doing big things in big tournaments," said the 25-year-old all-court player. "We're like, 'OK, I can do that'.
"At the same time I think we push each over, not just from results-wise, but when we're talking to each other, we help each other, we push each other, we want each other to do well.
"It's a good group coming up."
1:20PM WHY IS ROGER UPSIDE DOWN?
He's not in Melbourne this year but he can still make the headlines.
So just what is Roger Federer doing hanging upside down in his underpants?
The tennis legend has been pictured in his undies, sporting a swim cap and suspended from the ceiling all in the name of art.
Swiss artist and sculptor Ugo Rondinone approached the Swiss maestro – who has now retired from the sport – to be part of a huge exhibition called "Cloud Six".
Federer was put into the bizarre poses in order for the artist to capture his 3D figure.
Federer reportedly spent hours inside full-body moulds, hanging from a harnesses and even had his entire face covered in silicone.
The entire ordeal was captured on camera for a documentary called "Portrait of a Champion".
"I feel so fortunate to have had this opportunity to work with both Ugo Rondinone and Credit Suisse as the world of art has been something I have long admired," Federer said.
"This new experience gave me the chance to push me out of my comfort zone and opened my eyes to learn the intricate processes of creating art."
12:07PM AUS OPEN STAR RESPONDS TO ACCUSATIONS OF 'HATEFUL ACT'
Australian Open semi-finalist Karen Khachanov has been accused of a "hateful act" for messages he has posted on TV camera lenses after his matches.
The Russian star, who reached the final four after Sebastian Korda was forced to retire from their quarter-final, wrote "keep believing until the very end. Artsakh, hold on!" after his fourth round win over Frances Tiafoe.
He previously wrote "Artsakh stay strong" after an earlier round.
His messages refer to the Republic of Artsakh, which is currently blockaded by Azerbaijan.
Now the Azerbaijan Tennis Federation says it had protested to Australian Open bosses and the ITF calling for the 18th seed to be "punished with harsh measures".
"The Azerbaijan Tennis Federation (ATF) has sent a letter of protest to the International Tennis Federation regarding the provocation against Azerbaijan at the Australian Open Tennis Grand Slam," a statement said.
"Karen Khachanov, a Russian athlete of Armenian origin, who reached the 1/16 finals in the men's competition, attracted attention with his hateful act. Thus, after claiming 3:1 victory over his American rival Frances Tiafoe, Khachanov wrote 'Artsakh stay strong' on the camera.
"The Azerbaijan Tennis Federation letter presented facts and legal documents regarding the provocation against Azerbaijan. The ATF condemned this act and demanded the tennis player be punished and urged the International Tennis Federation to take harsh measures for prevention of such incidents in the future."
Asked to explain what he had written after securing a semi-final berth, Khachanov said: "I have Armenian roots from my father's side, from my grandfather's side, even from my mum's side – I'm half Armenian.
"I just wanted to show strength and support to my people. That's it."
11:07AM SEMI-FINALS ARE UNDER WAY
Magda Linette means business this year.
The 30-year-old from Poland has taken the first set 6-3 in her semi-final against Karolina Pliskova.
Heat definitley playing a factor for both women today. That first term playing out in 35 minutes.
Can't help but feel this one is going the distance.
9:32AM WHERE IS PENG SHUAI?
A senior Human Rights Watch researcher has called on Tennis Australia to use its grand slam spotlight to speak up for the "not free" Peng Shuai.
Peng, once ranked No.14 in the world, was widely reported to have vanished in November 2021 after accusing retired Chinese Communist Party vice-premier Zhang Gaoli of sexual assault in a social media post.
Peng made controlled appearances in 2022 following the 'Where is Peng Shuai?' movement and has since denied making the allegations.
The Women's Tennis Association, which suspended all events in China, says it is confident Peng is "safe and comfortable" but admits it is yet to make progress on its bid to meet with her in private – its ultimatum for returning to the lucrative market.
Speaking from New York, Human Rights Watch senior China researcher Yaqiu Wang said Peng's recent appearances were forced and that TA should be using the Australian Open limelight to call for her freedom.
9:06AM NO 1 RANKING BECKONS
Stefanos Tsitsipas said he was "a different player" from the past after blasting into a fourth Australian Open semi-final and a showdown with Karen Khachanov.
The Greek third seed proved too powerful for unseeded Czech Jiri Lehecka on Rod Laver Arena, storming home 6-3, 7-6 (7/2), 6-4 as he zeroes in on a maiden major title.
He will face the Russian 18th seed Khachanov for a place in his first Melbourne Park final, having crashed in the semis three times previously, including in the past two years.
Russia's Khachanov booked his place when American Sebastian Korda retired hurt with a wrist injury while trailing 7-6 (7/5), 6-3, 3-0.
Asked afterwards if he felt differently from previous years and believes this could finally be his year, the 24-year-old Tsitsipas said: "I'm feeling great with my tennis. I don't think I felt so good in a long time.
"I will definitely say yes to it. I've said it, I'm a different player, playing different. My mentality is different.
"When I'm out on the court, I don't really think of negatives, to be honest. I just go out there and play the game." Tsitsipas, who will become world number one should he win the title, has thrived on the energy from the crowd in Melbourne.
7:30AM A CHAMPION'S FEARS
Victoria Azarenka reached her first Australian Open semi-final since winning the title in 2013, then opened up Tuesday about overcoming "anxiety" and "fears of failing" on court.
The Belarusian, who won back-to-back Australian Opens in 2012 and 2013, knocked out third seed Jessica Pegula 6-4, 6-1 on Tuesday.
The 24th seed outlasted her American opponent in a marathon 64-minute first set before running away with the second to set up a last-four encounter against Wimbledon champion Elena Rybakina at Melbourne Park.
Asked about her battles with nerves and anxiety, Azarenka detailed what she had been through in recent years and how it had held her back from winning another major.
"I don't think you recognise it right away. I think it builds up until you hit kind of a pretty bad spot where nothing kind of makes sense," she told reporters.
"You feel kind of lost. I was at the point where I couldn't find anything that I feel good about myself, not like even one sentence." Asked what her biggest worries were, Azarenka gave a blunt answer. "Fears of failing is a big one. To not be able to do what I want to do," she said. "I've had panic attacks before."
7AM KYRGIOS V BERNIE: TWIST IN AUSTRALIAN SPORT'S UGLIEST FEUD
Is the temperature cooling around one of the spiciest feuds in Australian sport?
It certainly seems that way, with Bernard Tomic extending an olive branch to long-time foe Nick Kyrgios.
Tomic, whose world ranking has slipped all the way down to 468, posted a message to Kyrgios on his Instagram account wishing the showman a quick recovery from his knee surgery.
"Despite our differences we go way back. Wish (Nick Kyrgios) a quick recovery. Hope to see him back on the circuit soon," Tomic wrote.
Kyrgios was forced to pull out of the Australian Open on day one of the tournament before he could even hit a ball.
He immediately underwent an arthroscopic procedure to clean up his lateral meniscus and remove a paralabral cyst.
Kyrgios posted a message to his fans on his Instagram account following the successful surgery.
"I'll be doing everything I can to get back to my best," he wrote.
"To the real ones checking in and sending the vibes … I love you."
It's unclear where Tomic sits on the "real ones" rankings.
The feud between Kyrgios and Tomic dates back years and was active as recently as last month.
It was then Tomic was overlooked for both main draw and qualifying wildcards for this year's Open, to which a fan posted on Twitter that the Queenslander "surely" deserved one.
Kyrgios then chimed in, tweeting "Hahahahaha NO HE DOESNT".
Also last year, Kyrgios was asked during an Instagram Q&A if he would consider an exhibition match against Tomic.
He responded by saying:
"TBH (to be honest), don't think I wanna make him relevant anymore. I'm not gonna bother with someone 800 in the world. But all the best."
Originally published as Australian Open Day 10 live scores: Schedule, order of play, highlights, results