AEW Reveals 4 Pillars Fight Forever Gameplay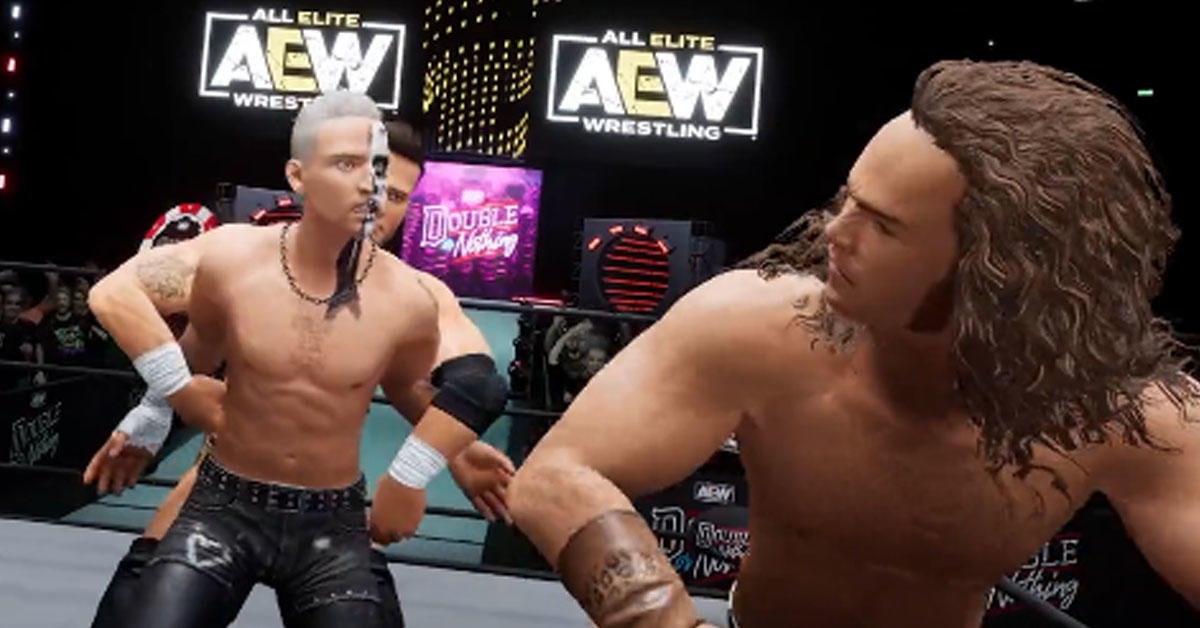 The 4 pillars of All Elite Wrestling will collide in what is sure to be a thrilling match at AEW Double or Nothing, but while you wait you can see the match take place in AEW Fight Forever courtesy of new gameplay footage. AEW Games released a new video featuring MJF, Sammy Guevara, Darby Allin, and Jungle Boy throwing down in the ring, giving fans a better sense of how wrestlers will interact when multiple stars are in the ring and an up-close look at more animations. You can watch the new gameplay in the video below, and the good news is you don't have that much longer to wait before you can actually play the game.
We see more interactions with the ropes and team-up moves, as well as Guevara leaping over the ropes and colliding with Allin on the outside. Allin later returns the favor by picking up Guevara and slamming his back into the steel steps. Guevara is next seen jumping off the top turnbuckle and hitting Jungle Boy with an elbow drop.
Check out the 4 Pillars in action with gameplay from #AEWFightForever!

Available June 29!
Pre-Order and Wishlist at https://t.co/Nv3IuMUZtf#AEWGames pic.twitter.com/tpKqcP5pYv

— AEW Games (@AEWGames) May 27, 2023
We also see what appears to be a counter or evasion from Guevara, and then at one point Jungle Boy uses Allin's shoulders to leap off of for a move. Running dropkicks, power slams, and more are all seen during the new video, and at the end, each star gets to hold the AEW World Championship.
The video does give you a sense of the speed and feel of the game, even without going hands-on. You can definitely see the No Mercy inspirations in the graphical look and the faster pace of the action in the ring, but there are still questions as to how it will control and how the counter and general health or stamina systems will work. The video also does' feature any commentary, but that could just be for the video.
AEW did recently reveal that blood is alive and well in Fight Forever, which was a response to the thought that the game had to remove it to bring the game to a lower rating. That is not the case though, so fans can recreate some of AEW's bloodiest matches in the game if they so choose.
The game received its long-awaited release date, which will happen on June 29th. That's right after AEW's anticipated Forbidden Door 2023 pay-per-view, so it should be a pretty entertaining few days for AEW fans.
"When I first signed with AEW, Tony Khan gave me the opportunity to assemble the best gaming team that understands and respects professional wrestling, to make the best wrestling games ever," said Kenny Omega, Executive Vice President and former AEW World Champion and World Tag Team Champion at AEW. "Thanks to our incredible collaboration with Geta, YUKE's and THQ Nordic, a new era of professional wrestling gaming is quickly approaching. AEW: Fight Forever has exceeded my highest expectations, and I'm confident that June 29 will be a momentous day for wrestling fans and gamers alike."
"Since our initial announcement, fans worldwide have shown unbridled passion around the launch of Fight Forever, and AEW has proven through our exciting storylines and hard-hitting wrestling action that good things come to those who wait," said Tony Khan, CEO, GM and Head of Creative of AEW. "With Fight Forever, Kenny and our world-class team have delivered an authentic, nostalgic feel of wrestling games past, along with the unmatched creativity that AEW brings to the table. It's going to be cool to see our fans finally getting a fresh and much-needed alternative next-gen console wrestling game on June 29. AEW has the greatest fans on the planet, and I'm excited for them to experience this new way to engage with our stars."
AEW Fight Forever releases on June 29th.
Are you excited for AEW Fight Forever? Let us know in the comments or as always you can talk all things wrestling and gaming with me on Twitter @MattAguilarCB!