5 Sabres Player Predictions for 2023-24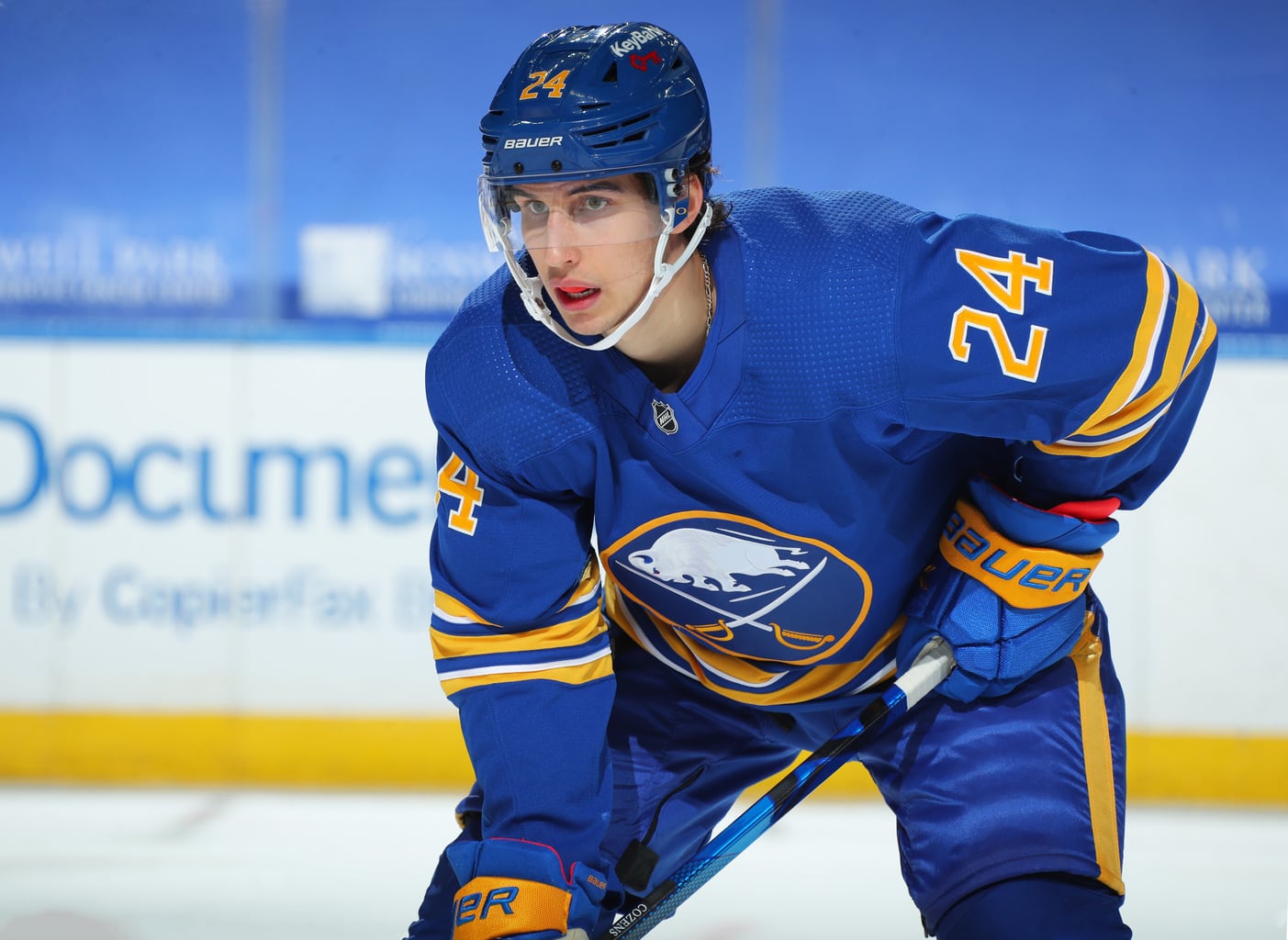 Opening night is just a few weeks away, and after a long offseason of drafting, trading, and signing players, it's time to find out if the Buffalo Sabres can build on an excellent 2022-23 season. The Sabres are a good team on paper, but it'll be up to the players to execute their game. Here are my 2023-24 predictions for some key players on the roster.
Devon Levi Will Start the Most Games
After Craig Anderson retired this offseason, Buffalo's starting job is now up for grabs. Eric Comrie, Ukko-Pekka Luukkonen, and Devon Levi are all vying for the number one role in net.
Levi is the youngest of the three netminders at just 21 years old and the most highly anticipated prospect in the Sabres' system. With a save percentage (SV%) of .905 in seven NHL games, he had the best statistical season of the three goalies in 2022-23. Although he only had a brief audition with the big club, he's expected to be a big part of the franchise's future, and I expect him to have ample opportunity to grab the starting job.
Luukkonen's results have been a mixed bag, so it's tough to predict how he will perform. He played well in limited NHL minutes from 2020-2022, but last season, he struggled, posting a .892 SV%. However, he has the potential to bounce back; he's only 24, after all. He has a good chance to start the season in the NHL, but unless he drastically outperforms Levi early, he won't get the majority of starts.
Eric Comrie could be the odd man out this season. Goaltenders can sometimes be late bloomers, but Comrie has likely already shown what he's capable of. He has bounced between the AHL and NHL for years, and his most successful NHL stint was in 2021-22 with the Winnipeg Jets, when he posted an impressive .920 SV%. Recapturing that magic should give him a chance to play significant minutes, but the younger goalies will have a longer leash. Comrie will need to make every minute count. It is Levi's net to lose.
Dylan Cozens Will Be a Point-Per-Game Player
There's been a lot of hype about the meteoric rise of Tage Thompson and the development of Rasmus Dahlin into a franchise defenseman. Another rising star who could make headlines this season is Dylan Cozens. At 6-foot-3, the 22-year-old will only get stronger as he fills out his big frame. Cozens has increased his point totals significantly each season in the NHL, and I expect that trend to continue.
Cozens will continue to grow as a player, and teammates might have a positive impact on his production, too. Young guys like JJ Peterka and Jack Quinn have the potential to break out offensively this season. Better linemates could do wonders for Cozens' offensive numbers. Even strength isn't the only place where he will have a chance to improve offensively, however. Given the talent on the team, they could find another gear on the power play, where Cozens could pick up a ton of offense. The Sabres ranked third in goals scored in 2022-23, so we know they have the offensive personnel to improve their ninth-ranked power play. I'm predicting 35 goals and 47 assists for an even 82 points from Cozens.
Victor Olofsson Will Score Fewer Goals
Last season, Victor Olofsson reached a career-high in goals and had his career-low in assists. He wasn't shooting the puck any more than in previous seasons; he was simply capitalizing more often. His shooting percentage of 17.39 was a career-high by far. I predict he will score around 20 goals this season, which is closer to his career average. In the long term, he might be replaced by the youngsters coming through Buffalo's pipeline. However, as long as he remains effective on the power play, maintaining close to 40 points again in 2023-24 should be doable.
---
Latest News & Highlights
---
This is also the final year of Olofsson's contract, which carries an average annual value (AAV) of $4.75 million. With internal competition heating up and a new contract on the horizon, he will be doing everything he can to continue producing, even though his goal totals will probably dip.
Owen Power Will Get 40 Points and Improve His Defensive Game
History indicates that Owen Power will produce at a similar rate to last season. Most blueliners take several years to break out in the NHL, and even if Power is off to an excellent start, we should set manageable expectations.
He must improve his shot for any massive jump in production, and that could be a lengthy process, considering it has never been a significant part of his success. If he does, however, he could reap the rewards in a few years. I'm predicting a 40-point season from Power in 2023-24, as he focuses on improving his defensive game and getting more comfortable defending against elite competition. Improved positioning in the defensive zone will also be crucial because the Sabres lean on Power a ton. 
Peyton Krebs Will Continue to Be Utilized in a Defensive Role
Last season marked a transition in Peyton Krebs' role with the Sabres. He was acquired along with Alex Tuch in the Jack Eichel trade, and the expectation was that he would develop into a top-six forward. However, Krebs had trouble finding consistent offense, so the Sabres started utilizing him differently last season.
The coaching staff deployed Krebs on the penalty kill regularly for the first time in his career, and his 51 minutes last season dwarfed his previous career high of less than five minutes. Not only was he relatively successful on the kill, but Krebs also showed strides in his 5v5 defense. With so many offensive players coming up through the Sabres' system, I expect him to be used in this defensive role again.
Can the Players Meet Expectations?
There has been a lot of buzz surrounding the Sabres going into 2023-24. They were on the cusp of making the playoffs last season, and fans want to see them take the next step. The organization appears to be taking the team in the right direction, but time will tell if the players are ready to reach the postseason.
All stats from Natural Stat Trick, Moneypuck.com, and NHL.com